IF YOU WANT TO BUY 3 OR MORE SEED PACKETS, PLEASE CONVO ME FOR A CUSTOM ORDER. YOU WILL SAVE ON SHIPPING!!!

ALL ADDITIONAL PACKETS ARE .40 CENTS SHIPPING!

Days: 25-85

This elegant and aromatic amethyst basil has been homegrown in my professor's windowbox without chemcials and pesticides! As a gourmet fanatic and avid gardener, he would love to share this heirloom with you!

The Osmin purple basil is a unique heirloom basil variety that has darker violet leaves than any other purple basils. This unique and delectable herb is often used in Italian cuisine or used as a savory spice or garnish. A popular and trendy use is in the Caprice salad on picture 3.
Purple basil offers a more mellow and less intense flavor as compared to it's green cousins. It's leaves are smooth and savory and are excellent for aromatherapy as well. Complimenting especially well with tomato dishes, the purple basil is an excellent way to infuse the traditional basil flavor without overpowering your dish.
Somewhat less brisk, bold, and intense than the green basil, purple basil can be used in exactly the same way. Doubling also as a garnish and dye plant, this basil provides fanciful leaves that can tint fabrics, create non-toxic paints and dyes, and be used as a decorative touch in dish presentation or arrangements.
Basil plants will grow from 1-2 feet tall but can be shorter if trimmed or harvested often. Tiny purple flowers will appear on tall stalks in the summer-fall! Adorable and practical!

Each hand designed and child decorated packet contains at least 25 organic homegrown seeds! Each seed packet features it's own special image drawn by our residential little artists! We do not use pesticides or chemicals in our gardens!


Shipping costs cover the base shipping and the handling- this includes production of seed packets, seed harvesting, and preservation. We also isolate plants to ensure strain purity and harvest, dry, and clean each seed pod by hand! All the best, because we care!
Learn more about the shop and process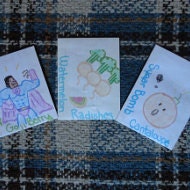 Sophie
Listed on Jul 26, 2016
4847 views