15" relief sculpture, bronze patina


The theme of Death and the Maiden stems from an age where the fragility of life was ever present. While the danse macabre theme emphasizes how mortality affects all of humanity, regardless of social status, Death and the Maiden introduces an element of sensuality and eroticism. The skeletal eombodiment of Death contrasts with the vibrant, lush flesh of youth in an embrace. His fingers comb through her hair in a caress that also draws her closer to him. The Maiden both twists away from him and yields to his enveloping cloak, his gentle but irresistible pull.

cast in high quality resin and hand painted, brass hanger on the back.
Learn more about the shop and process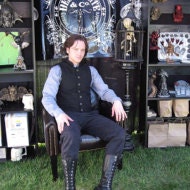 Michael Locascio
Death and the Maiden wall plaque
---