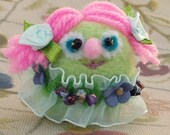 Sorry, this item sold.
Item details

Reviews (212)

reviews

Shipping & Policies
Meet Amy, your new smallish best friend.

She likes ice cream and hot cocoa, and asked to be adopted by a person who will provide these for her. I , of course, promised to do my best and so I shall!

She is a one of a kind hand sewn (by yours truly) little doll. I was planning to make Amy into a brooch or magnet (cruel cruel world!) but then decided to let her be.

Amy is green and oh so soft. She wears pink pigtails and a nice blue beaded skirt. Her nose is pink and her eyes are beady. What more can you ask for in such a small being?

Ice cream and hot cocoa lovers, with a soft spot for smallish beings, Amy wishes to come live with you happily ever after.