Singe Note Solid Perfume Wonders Abound: Imagine, if you will, that aroma blends are a small symphony, with individual notes falling upon a scale just as notes in a musical movement fall. Tease apart those singular notes & chords and individual aroma elements become fabulously nuanced "tones". And much like notes in a symphony, each aroma element resonates & hums in its own unique way...
So, by popular demand from those connoisseurs of the beauty inherent in the solitary tone, Pixxxie Pie & Posie presents a single-tone, solid perfume collection called "La Petite Miette". In classic, old world fashion this translates to "the little crumb" in French. Emulating the single-note perfume compacts of yesteryear, these are exceptionally potent, single-tone perfumes & colognes. A conjuration not for the faint of heart, this ensemble of 30 solitary tones can be worn by themselves or they can be layered with other aromas that tickle your fancy. Since they are extra special, each is stamped with a wax seal and is shipped with a lovely bag of antique lace or faux leather (see drop down menu).
An act of sweetest alchemy, these solid perfumes are a Victorian delight to the senses. Each aroma blend is meticulously forged to be an act of seduction, beset with tender tendrils & nuanced layers ever anxious to evolve against the warmth of your skin.
●▬▬▬▬๑۩۩๑▬▬▬▬▬●Available Aromas●▬▬▬▬๑۩۩๑▬▬▬▬▬●
Consider This: Copy, paste and print the menu. Mull over it slowly while drinking tea or coffee: take your time. If you need help choosing the aroma that's right for you I'm more than happy to give you an email consultation. Just convo me via Etsy with info regarding the types of aromas you like (and don't like) and I'll get back to you with recommendations within 24-48 business hours =)!!
Aroma Gender & Nuances: My aroma blends hold an intricate charm and a certain "green" and "dark woodsy" sensuality. And many are unisex, so they're perfect for all manner of mysterious gentlemen and oddly whimsical women.
—–Faun – Moroccan Amber
Personality: A provocative aphrodisiac, Faun is an aroma that is extremely rich, warm and long lasting. Golden, entrancing and vibrant, it's much like a lovingly refined Ambergris pressed closely against a smoky bed of cinnamon bark and roasted vanilla beans. The smell is sensual, primal and evolves against the skin in complex and fascinating layers. In true old-world fashion, this sent is striking, mildly sweet and completely intoxicating.
—–Skeleton Key – Clove
Personality: Skeleton Key is delightfully full-bodied, and conveys the essence of pure Clove as it was meant to be enjoyed. Here, a spicy-hot sweetness wraps about a persistent, woody core that's exotic, lively, warm and invigorating.
—–Umber – Fossilized Amber Musk
Personality: Carefully composed with another member of the aphrodisiac family of resins, Umber is richly layered, musky & deeply sensual. Resinous, enticing and euphoric, dark notes polish the edges of this concoction with uniquely woody meanderings.
—–Oberon – Frankincense
Personality: Fascinating & boldly stimulating, Oberon yearns to steal you away in the middle of the night. Dark, balsamic-spicy and heady, this exotic aroma bears a delicate, subtle sweetness that's resonant and warmly refined.
—–Wolfsbane – Patchouli
Personality: Close to the earth, this sweet-woodsy bouquet is complex, uplifting and boldly insistent. Akin to standing in a forest of strange trees, the heart of this potion is stitched with golden threads of musk and notes reminiscent of smooth vanilla. It may help with warding off werewolves or it may very well attract them depending on your disposition.
—–Poison Ivy – Vetivert
Personality: Also known as the Oil of Tranquility, Vetivert makes this concoction calming and deeply verdant. Multi-layered and a touch grassy, Poison Ivy stands out as sweetly redolent with a delightful, herbaceous muskiness.
—–Kashmir – Sandalwood
Personality: Kashmir is warm with a woody, golden heart. Pure Vanuatu Sandalwood is evocative, rich and rare, with warm sensual overtones that bespeak a depth that reaches back through the sands of time.
—–Green Parchment – Cedarwood
Personality: Sylvan tones make this cedarwood forest vibrant and nuanced, its outer edges laced in clean rain, its loamy floor awash with green leaves and rustling earth.
—–Mandragora – Tea Tree
Personality: Fresh, vibrant and green, Mandragora is a wonderfully camphorus interpretation of what I imagine noble Mandrake Root to smell like. Boldly herbaceous, Tea Tree essence makes this act of alchemy quite stimulating in a way similar to pure Rosemary or Lavender.
—–Silver Morgan – Davana
Personality: Silver Morgan is a luxurious treat, like a hot, spiced rum with a pulsing heart of bold vanilla bourbon. Ribbons of caramel dance about her edges, rounding things out in a certain velvety and subdued sweetness.
—–Briar Rosewood – Rosewood
Personality: Indulgent, warm, vaguely sweet and lushly wooded, Briar Rosewood is elegant and bright. Her cheeks blush with the whispered hint of roses as she settles herself into a nest of bent branches and vines.
—–Paranvoi – Oakmoss
Personality: Paranvoi is a forest floor, dew-moist and carpeted in soft, sweet mosses, wild grass and velveteen underbrush.
—–My Devil's Heart – Immortelle
Personality: Semi-precious Immortelle Blossoms have a woody core bound tightly in sashes of silken caramel. A distinctly musky sweetness is balanced by exotic, smoky undertones.
—–Datura – Neroli
Personality: Her wanton sensuality is lightly sugared and soft as fresh green shoots at spring's first blinking. This is a sensuous floral bouquet pressed from delicate orange blossoms, compelling and daringly similar to Jasmine or Honeysuckle.
—–Verdigris – Anise
Personality: Verdigris is deep pools of milky Absinthe that glimmer and glow about your bare feet. A thin mist of sugar slips in on quiet and the tall licorice bends like reeds in the wind.
—–Edgar Allen – Ravensara
Personality: Woody and bold, Edgar Allen is beset with an abiding and inky complexity. Black-feathered in spicy chords reminiscent of Patchouli, Nutmeg and Spruce, this potion has a rather dark and brooding uniqueness thumping just beneath the floorboards.
—–Emily Dickenson's Bloomers – Cardamom
Personality: Richly layered in silks and spice, Emily Dickenson's Bloomers reveal a surprisingly playful spirit. Hemmed in black lace and bows, at the center of this aroma lies a rich core that calls to mind noble Allspice crossed with Cinnamon, Clove and antique Sandalwood long locked in dusty attic.
—–Nightshade – Clary Sage
Personality: Earthy, layered and herbaceous, Clary Sage reveals Nightshade with mildly floral overtones inlaid with bold, green jewels. An understated spiciness lingers, pale stitch work on a chartreuse canvas.
—–Faust – Cinnamon
Personality: Faust is rich, exotic, sweetly spicy and fiery hot all the way down to the core. Sri Lankan Cinnamon is richly quilted wonderstuff: woody, persistent and uplifting, it seems peppered with a host of golden, sultry notes.
—–Concubine – Petitgrain
Personality: My Concubine simmers sultry, tight-laced in green corset. Held against a bed of blood oranges, there are soft ribbons of sweetness clinging to her with vibrant & woody vines.
—–Imriel – Labdanum
Personality: Sun-dappled Imriel is a seducer, evocative and magnificently complex. Softly dark, deep and resinous, Labdanum expresses honeyed, musky overtones that are maple-syrupy & heavily timbered. This intense aroma lingers and evolves in debaucherous ways reminiscent of Ambergris or Amber Musk.
—–Fogwood – Blue Yarrow
Personality: Strangely soothing, this aroma has a woody timbre with soft, lemony undertones. Fogwood is extremely unique and distinctly herbal, a smell like the pages in an antique book of pressed flowers, sun-baked and dusted with fine sands.
—–White Wolf – Balsam of Peru
Personality: The White Wolf roams a snow-capped grove of Cypress and Pine trees, footfalls silenced by a carpet of dusky needles. Dripping in odd magic and heady musk, the bouquet is multifaceted, crisp and natural.
—–Ophelia – Geranium
Personality: Ophelia shivers with spring rain, tender flower tops in her hair, thistle at her feet. All lily pads and sweet swamp brambles, she smolders in heavy green pools: beautifully full-bodied, perfect and strange.
—–Arcadia – Bergamot
Personality: An unspoiled wilderness in a far off land, Arcadia is citrus-y, lavish and energetic. A sweet little tart of an aroma, the tones here are effervescent with subdued hints of flora.
—–Sayyadina – Rosemary
Personality: Sayyadina reveals classic Rosemary, all bright evergreens bound to camphoric wild flowers. This aroma is bold, persistent, wildly herbaceous & insistently aromatic.
—–Coraline – Coriander
Personality: A pale, emerald halo glows all about the aroma, sultry & pungently herbal in the old-world, Victorian fashion. Glimmering about her clockwork edge is a sweet green lace that seems to center and ground one as the hours drip by.
—–Fedaykin – Indian Agarwood (also known as Oudh, Oud or Aloeswood)
Personality: A many faceted heart lies at the wooded center of this aroma, deeply resonant, warm and savage. Dark, full-bodied, complex and richly persistent, Oudh oils are precious and rare, an amber syrup beset with flakes of gold.
—–Lilith – Lavender
Personality: Pure Lavender makes Lilith bright, lively, defiantly herbal and magnificently nuanced in ways synthetic lavender can never express. This aroma is bold, exhilarating, elaborate and camphorus like old-fashioned medicinals trapped in clouded, antique bottles.
—–Jabberwock – Spikenard
Personality: Jabberwock is chords of deeply pungent base notes entangled in a sweetness that is mild and earthy. The aroma has a uniquely masculine charm that makes it a one-of-a-kind: a musky brew proud to be an acquired taste reminiscent of spicy Valerian or dried Hops Flowers wrapped in a web of rare spices.
—–White Honey – Honey
Personality: White Honey is bright sunshine distilled from sugary honeycombs. Delicately spiced, an intriguing warmth pervades this natural aroma and radiates from its musky base in saccharine waves.
----Velveteen - Blue Tansy
Personality: Velveteen is a nest made soft with strange blue flowers, tender mosses rendered soft as felt. Faintly sugared and absolutely unusual, lush Blue Tansy is an otherworldly courtesan whose beauty defies the confines of words.
----Silkwood - Pink Lotus
Personality: Silkwood summons the preternatural beauty of the Pink Lotus flower with a subtlety and a uncommon grace. The aroma is haunting: lingering in all the right ways, Silkwood is the sweetest of carnality. Effortlessly erotic, she is enigmatic and irresistible: a sacred mystery on the verge of blushing bloom.
Link to 1/8 Oz Sample Size:
http://etsy.me/1dkApbD
♥▬▬▬▬๑۩۩๑▬▬▬▬▬●FORGET-ME-NOTS●▬▬▬▬▬๑۩۩๑▬▬▬▬♥
♥-----GIFT BAG CHOICES: For those of you that don't care for lace, this product can also be sent in little bag made of brown faux suede, embossed black faux leather, or embossed brown faux leather.
Take a look at my perfume wallet products to see the black & brown embossed faux leather (http://www.etsy.com/shop/pixxxiepieandposie?section_id=6161030&page=1).
Take a look at Calamity Jane's Stash Bag exterior to see my faux brown suede fabric.
(https://www.etsy.com/listing/80051871/faux-suede-clutch-calamity-janes-stash)
♥-----NATURAL COMPONENTS: About the potion: Handmade by mine own hands, my luxurious solid perfume/cologne blends are natural and eco-friendly. The base of this solid perfume consists of 100% natural and organic ingredients that help moisturize the skin while offering longevity to the aroma blend itself. Wholesome oils are used from Olive, Castor & Soybeans. A dash Carnauba Palm oil & Jojoba oil round things out a bit more. Topping it all off, the noble bumblebee contributes lush beeswax to complete a extra-powerful potion that leaves the skin ultra soft and supple and smelling practically otherworldly.
Only the finest essential oils are used for these Victorian-inspired concoctions, along with top quality botanical oils, pure plant resins & absolutes. Most ingredients are organic or wild crafted, fair trade and all are phthalate and GMO free.
♥-------ALWAYS PATCH TEST: Always remember to perform a patch test on a small patch of skin so you can make sure you're not sensitive to the essential oil components utilized. Many natural perfumers use a host of exotic oils, (some of which you've never heard of, much less ever been in contact with) so test things out before rolling around in your new aroma product.
♥-------NUANCES OF NATURAL PERFUMES/COLOGNES: If this is your first time to try a natural perfume/cologne oil, consider checking out my blog article regarding the various nuances of natural perfume/cologne oils via the following handy link: http://www.pixxxiepieandposie.com/?page_id=38. Natural perfumes aren't like harsh, department store perfumes. Many essential oils smell quite different from the interpretations of popular fragrances made with synthetic fragrance oils & alcohol. I.E.: Ginger, Lavender, Vetivert, Geranium, Sandalwood, Oakmoss, Thyme, Rosemary & most florals.
♥-------PRODUCT COLOR: Solid perfume color varies between white, butter cream and various shades of amber, light green or even light blue in the case of aromas containing Blue Tansy Essential Oil. Color variations are due to product taking on natural tints inherent in the essential oils used therein and these natural colors should not stain the skin. Perform a patch test if you are extremely fair of complexion.
♥-------WEARING TIME: These Pixxxie Pie Potions commonly have a wearing time of 3-9 hours depending on your body chemistry. Those made w/ persistent oils like Patchouli have an even longer wearing time in the 12-15 hour range. You should be able to pull around 45-70 applications from your pan of Pixxxie Pie & Posie solid perfume/cologne.
♥-------OLD WORLD VICTORIAN GIFT-WRAPPING: Product will come to you in gift-style trappings, packed w/ love and care w/ moss and petals. Most product labels & such are produced in-house & are completely composed of recyclable parchment paper. Peel off labels & keep tags to tuck away as keepsakes or bookmarks! Or keep the wee perfume bottle, compact, locket or vials for other uses since they are high quality & can easily be washed & up-cycled.
♥-------SHIPPING: Orders shipped in the USA are sent via USPS Priority Mail for super fast shipping with a handy tracking number that gets emailed to you through Paypal and USPS.com. Orders for international clients also ship via USPS with a customs tracking number. This business is a one-woman-show...so all orders ship out within 3-7 business days of payment receipt. Please send email or leave a note if you need your order shipped out by a specific date for a birthday or similar special occasion and I'll be happy to oblige.
♥-------NEED A LARGER QUANTITY? Send an email if you require multiples of this product & the quantity available will be updated accordingly (once I check inventory). Pixxxie Pie's Victorian inspired solid perfumes & colognes make great gifts and favors for all sorts of events. Perfect for all manner of fairy tale weddings, anniversaries, birthdays and showers, they also make great tea party favors to boot! Brides, grooms & bridesmaids also find these quite captivating.
♥-------CARE & KEEPING: Natural solid perfumes and colognes are the sparkly vampires of the perfume realm so do consider keeping yours in a place that's cool and dark. Avoid leaving in high temperature areas. Your product should last 1.5-2 years in optimal conditions. Compact is fabricated in such a way to stave off tarnishing. If product becomes to warm, sit the compact/locket/tin/tube in the correct upright position and the solid perfume will migrate back into place to solidify all over again. Allow the compact to sit in a cool place for 15-45 minutes to ensure solidification. Little carrying bag can be washed by hand and should sit out to dry.
♥------Products/Photos/Label Design © Pixxxie Pie & Posie
Learn more about the shop and process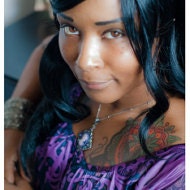 Raquel VanDerZee
single note solid perfumes - over 30 aromas- 1/4 oz tin of victorian wonderment - la petite miette collection - single tone solid aroma
Overview
Handmade item
Materials:

oils from olive, castor and soybeans, a dash carnauba palm oil and jojoba oil, beeswax, love and eye of newt, essential oils, botanical oils, plant absolutes, golden tin

Ships from

United States

to select countries.
Feedback: 1569 reviews
Favorited by: 95 people
Listed on Apr 23, 2016
1306 views