Selected by Etsy's style and trend editors.

Price: $1,240.00+
Loading
Hanging Room Décor, Colorful Chandelier Lighting. Glass Pendant Light for Unique Room Décor. Hand Blown Glass,Art Chandelier for Dining Room
Handmade

Materials: Glass
There was a problem calculating your shipping. Please try again.
486 reviews
5 out of 5 stars
Loading
My Gleams dining room light is truly a piece of art and so beautiful even with my difficult situation of a severely sloped ceiling. 25 pendants ,sand plate ;just lovely with matching screws, extra pieces of glass, screws , and bulbs came with it; and easy straight forward instructions how to install. Was pretty simple actually. One month of communication with Miri back and forth before I actually made the purchase. My worries were all unnecessary as they did a magnificent job of putting it all together and listening to what I wanted. Packaged very well. The two electricians who installed it took many pictures to show others as they have never installed anything like this before. No idea why pics coming out sideways. Will only let me submit one photo Pics don't do it real justice.
The gleams chandelier is both a work of art and a functional light. It is unique and beautiful and provides a special feel to our dining room. I appreciate that the lights are dimmable to customize the ambiance. The artists were so helpful providing advice and helping us design what we needed for our space. Everything is high quality - the glass, the baseplate, the craftsmanship. The items were shipped securely, and assembly was straightforward. Highly recommend! (the photo shows the lights partially dimmed)
I absolutely love our light, was excited that I could pick the colors and it looks stunning in our kitchen. Everything came securely packaged with easy to follow directions. I would definitely recommend their products to anyone looking for a custom chandelier.
Shimal'e's work is beyond beautiful, it is inspiring and joyful, dazzling and delightful. I jumped out of bed this morning, while the house was quiet and the sun not yet up, just to sit and take it in. And I love that I have a piece of the glory and spiritual presence of the land of Israel in my home! Light, beautiful colorful light, how absolutely fitting for our home which we have always wanted to be a place of refuge and peace for others. I am going to need Shimal'e to send me more light bulbs sooner rather than later as I won't be turning off the light anytime soon!
Disclaimer: Button/coin batteries may cause serious injury and even death if swallowed. Items containing button/coin batteries should not be easily accessible without the use of a tool. Sellers are responsible for complying with all applicable labeling, design, testing, packaging, and other safety requirements. Etsy assumes no responsibility for the accuracy or contents of a seller's listing. If you have questions about button/coin batteries, contact the seller by sending a Message. See Etsy's Terms of Use for more information.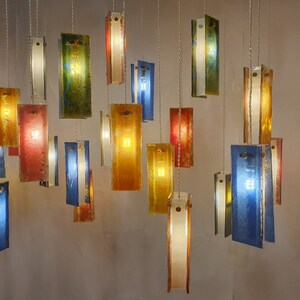 Browse collections for more inspiration