Inspired by what nature would look like on other planets, this is a LIVE Bulbosa Air Plant living on a Apophyllite crystal cluster from India.
Apophyllite specimens are found in ancient lava and basalt flows. The crystals grow in the now solid cavities, called amygdules or vesicles, formed by air bubbles when the rock was molten. Apophyllite is also found in the voids in the contact metamorphic zone limestones that surround intrusive rocks.
The details on both specimens make this an extraordinary one of a kind piece!
Air Plants, also known as Tillandsia, are very low maintenance. They don't require soil to grow, only moderate light, proper air flow and a good soak every week.
Together these make BEAUTIFUL GARDEN of energy thats waiting to transform any space into a healthy and happy habitat.
Detailed care instructions will also be sent with purchase.
Crystal without plant measures approx 2.5"L x 1"H
A FREE 4oz bottle of ESW Air Plant Fertilizer is included with purchase!
http://www.etsy.com/listing/78156569/air-munchiez-fertilizer-for-air-plants
Learn more about the shop and process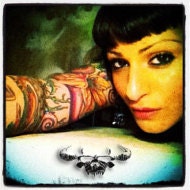 ursula - SeaWitchWarrior
Frequently asked questions about EarthSeaWarrior
Air Plant Crystal Garden- White India Cluster w/ Bulbosa Air Plant Garden
---