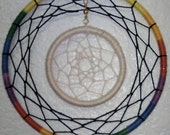 Sorry, this item sold.
Rainbow Dream Catcher in a Dream Catcher
Item details

Reviews (13)

reviews

Shipping & Policies
Title: Joseph and the Dream Catcher of Many Colors

Hoop: 4 and 7/8ths inches diameter wrapped in rainbow-colored crochet thread; 2 inches diameter wrapped in eggshell white crochet thread

Thread: Black crochet thread, eggshell white crochet thread

-----

Dream catchers are a Native American craft that have been around for many generations. According to Chippewa lore, an elderly grandmother watched a spider at work spinning his web for several days. One day, her grandson came in and wanted to kill the spider, but the old woman told him not to hurt it. In return for saving his life, the spider weaved a web in her window and told her that the web would catch her bad dreams. Only the good dreams would be able to get through the webbing.

I made my first dream catcher in June 2011, after being plagued for weeks by devastating dreams. I hung it over my bed, and I have not had a single bad dream since then. The same care and love I put into my very first dream catcher, I put into every single catcher I put in this store. I have complete faith that these pieces will not only be a beautiful addition to any home, but that they will also be successful in keeping bad dreams away. Every dream catcher is of original design and completely one of a kind -- I have never made the same dream catcher twice. Thank you for looking at my dream catchers, and sweet dreams!

***NOTE*** The "Other" payment option is specifically for other Etsy store owners who I have set up a trade with. Please do not use the Other option unless we have exchanged messages about a trade or alternate payment method already. Thank you.