A light, bright casual bracelet made with the cooling blue energies of 6 and8mm Turquoise, Aquamarine and Larimar, assisting in self forgiveness and communication. It is finished off with a silver angel wing charm and sterling silver lobster clasp. Wear your bracelet with positive intentions and the electromagnetic energies of the stones will assist you in developing strength and manifestation of their properties. A gemstone description card and gift box are included.

All bracelets are shipped 7-1/2" long (average size), unless the buyer requests a different size. You have the option of a sterling silver lobster clasp or a toggle clasp shown under Options.

GEMSTONE PROPERTIES:
TURQUOISE
Stone of wholeness and truth, intuition, and spiritual expansion. Aids in communication and manifestation of those qualities. Represents the wisdom that comes from all life's experiences. Efficient healer, providing solace for the spirit and well-being for the body. Stone for self-forgiveness, self-acceptance and release of useless regrets. Teaches wisdom, passion and forgiveness. Purification stone. Dispels negative energy, clears electromagnetic smog. Unites sky energy to earth. Helpful to connect with Mineral, Plant or Animal Kingdoms. Strengthens awareness of the interconnectedness of all life and useful if you feel separate from others or the natural world around you. Teaches you to honor your physical body. Has a healing effect and strengthens the awareness that we are all healers. Can help promote honest and clear communication from the heart. Enhances intuition and meditation. Purification stone, dispelling negative energy and clearing electromagnetic smog. Said to protect against pollution in the environment, and to bring abundance. It is very powerful for grounding and protection. Calms the nerves during public speaking. Aids creative expression. Helps mood swings, brings calm. Good for artists and teachers. Provides soothing energy and a 'healing of the spirit'. Can refresh us when tired or exhausted. Relates to the throat chakra.
Can also help speed the healing process, and is known as a master healer stone; has anti-inflammatory and detoxifying effects. Helpful for arthritis and rheumatism. Oxygenates the blood and increases 'prana' in the physical body. Helps exhaustion, depression, immune system, eyes, cataracts, anti-inflammatory, cramps, pain.

LARIMAR
Known as the Dolphin Stone, Larimar is made from a rare variety of Blue Pectolite and is only found in the Dominican Republic. It is one of the premier Atlantis and Lemurian connection stones in this new age of Aquarius. It is formed volcanically inside Mother Earth and carries the Light Blue Ray. Benefits the throat chakra, providing power of clear communication and the emotional strength and stability to enable one to speak from the heart. Soothes emotional body, releasing stress and undesirable attachments. Helps one feel calm, cools tempers. Awakens the Divine Feminine within. Helps one release oneself from unhealthy inner bonds to others or to things that do not serve one's highest good. At the throat, it unleashes the voice of one's deepest wisdom. Great for brainstorming when starting a unique service that helps people in some manner or thinking of a new way to conserve a natural resource. Stone of balance, healing and nurturance. Calms excessive fear and anger. Helps one to learn to love what is and live in the moment. Helps clear deep emotional patterns. Teaches self-respect; encourages communication; useful for those with phobias, panic attacks, fear and anger. Store away from direct sunlight, as the color can fade if exposed to bright sun over a period of time. Powerful for the throat chakra.
Helps with hot flashes; helps singers to enhance and protect the throat; wonderful for mothers during and after pregnancy; alleviates postpartum depression; relieves high blood pressure and stress-related illnesses; alleviates fever, infection, inflammation; helpful during colds or flu to regulate mucus production, sore throat and fever.

AQUAMARINE
A variety of beryl. Stone of courage, clarity and fortitude and spiritual growth. Assist with quick intellectual response, sharpens intuition and clairvoyance. Gives peace, clarity, and shielding for the aura. Assist with calming communication issues and strongly enhances communication. Helps reduce anger, fears, stress. Helps one attune to nature; excellent for meditation. Protects travelers on water, and sailors. Gives luck, intuition, self-expression, balance, angel communication, preparedness. Shields the aura and aligns the chakras, clearing the throat chakra to bring communication from a higher plane. Calms the mind. Calms one's temper, promotes gentle communication. Promotes honesty. Brings light heartedness. Clears confusion. Helps release emotional baggage. Good for teachers, counselors, chiropractors, lecturers and massage therapists. Throat chakra. Can fade in the sunlight.
Heals throat, laryngitis, sore throat; heals inflammatory diseases, soothes skin irritations and quiets the nervous system. Helps growth and hormone balance. Improves far sightedness. Assists with allergies.


NOTE: Crystal Healing is not meant to replace conventional medicine, but rather to compliment and enhance it. It is not to be used as a prescription, diagnosis or treatment. The information given is purely metaphysical in nature and is by no means medical. Crystal Healing is not an independent therapy, but one that is part of a holistic healing approach. By using this site and associated materials, you acknowledge and agree that you personally assume responsibility for your use or misuse of this information.
Learn more about the shop and process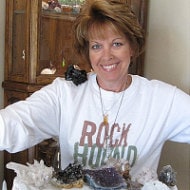 Lynn Leaderbrand
Frequently asked questions about WalelabyLynn
Self Forgiveness & Respect Bracelet with Turquoise, Aquamarine and Larimar
Overview
Handmade item
Materials:

larimar, aquamarine, turquoise, sterling silver beads, silver plated pewter beads, silver plated pewter charm

Made to order
Ships worldwide from

United States

Feedback: 775 reviews
Favorited by: 67 people
Listed on Nov 10, 2016
1083 views