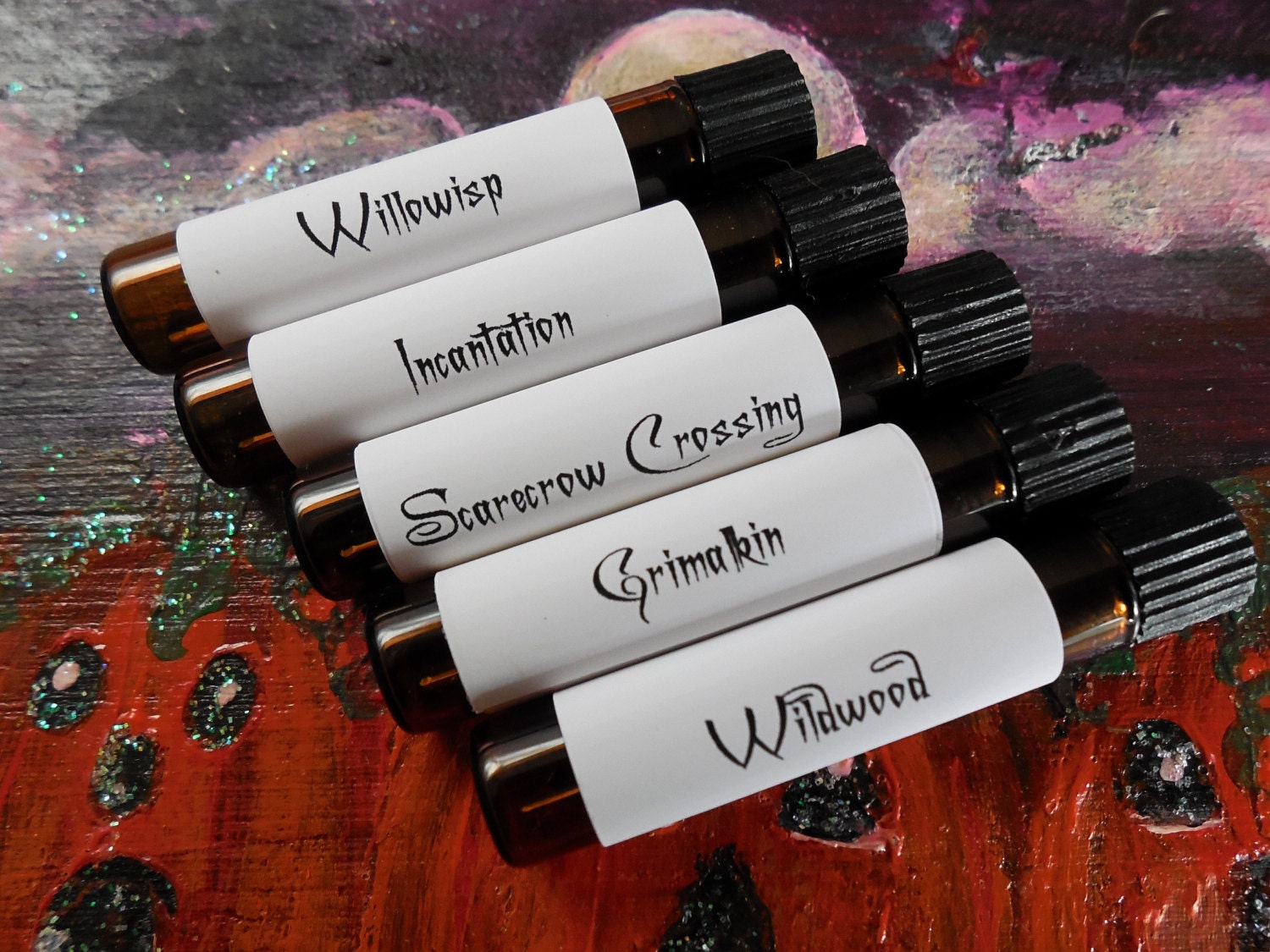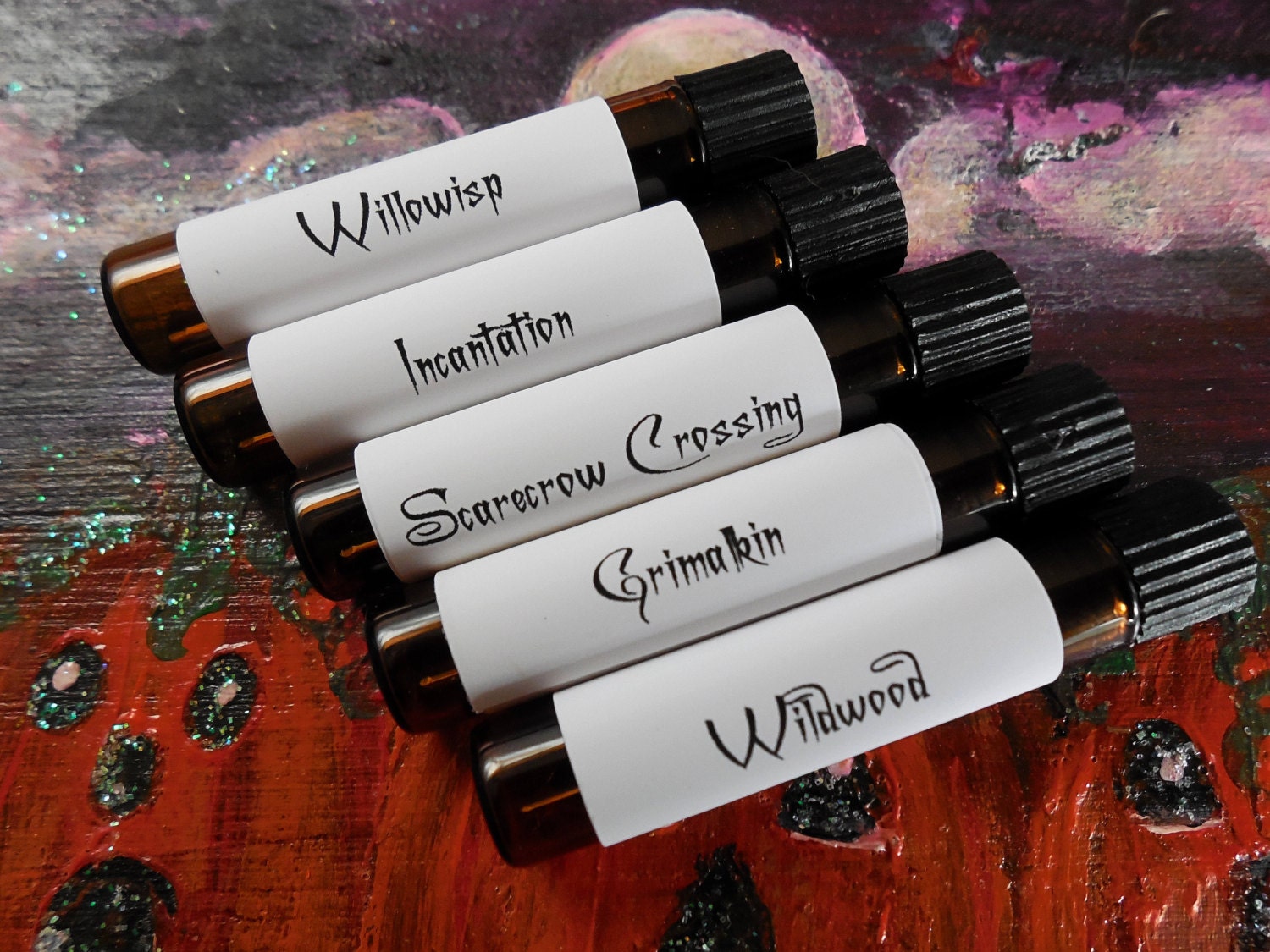 Halloween Perfume Sampler Set # 4: The Wild Night Set includes 5 1ml vials of the following scents:
Grimalkin
Scarecrow Crossing
Incantation
Willowisp
Wildwood
Each sample is 1 ml and comes in a little amber glass vial with a plastic stopper and label. They come packaged in a little black organza gift bag.
All samples are available in full size roll-on bottles in my shop.
************************************************
Grimalkin Perfume Oil:
He watches costumed children from his perch on high, eyes flickering in the light of an all souls moon. His mistress's voice calls to him on the warm autumn breeze, carrying with it familiar scents of home. He meows softly and vanishes.
Familiar, rich and earthy notes of butter rum, pumpkins, cream, dried oak leaves and mocha coffee with background notes of sage, moss, earth and dried currants…. Comforting, eerie and enchanting.
*************************************************
Scarecrow Crossing Perfume Oil:
She walks the crossroad, staff in hand, tracing patterns in the dirt to keep strange spirits off the roads. The scarecrow catches her eye. Did it move? She mutters a charm to keep it from following her home. A cackle carried on the wind reminds her of her duty, and she is off to the next crossing.
Acorns, hay, dried leaves, and soil, with background notes of licorice, spiced candies, and very dark and strange places.
**************************************************
Incantation Perfume Oil:
An incantation, a plea … the elven sorceress opens the oddly patterned and greatly worn book. The smells of the leather and aged paper mix with the autumn scents of dried leaves and a love long past. Willing him to return to a new time and a place he was taken from long ago…she raises her arms to the sky, and begins.
She can recall the scents of her human wizard beloved: Old leather, aged paper, dried leaves, wormwood, and the tiniest notes of dark evening dew.
***************************************************
Willowisp Perfume Oil:
The ghostie lights will pull ye in, so dinna be lurking about the woods and marshes when the moon is dark. Tis a fool who sees the false joy and beauty, the tastiness of it all…it will lead ye from the safest path!
But wouldn't it be fun to be led astray anyway? YUM! Dark chocolate, cinnamon wood, fresh apples, light woods, and Egyptian amber make for an atmospheric treat!
****************************************************
Wildwood Perfume Oil:
Balanced notes of: Pumpkin bread, incense and resins, acorns, dried apple and orange peels, and faint notes of a fading bonfire….an homage to all things comforting, warm, orange, and bright.
"WILD WOOD", by John Keske, copyright 2013. Used with permission of the author, for use by Deep Midnight Perfumes ONLY.
Little orange riding hood
Riding through the wild wood
Running from the demon dread
Bringing Gran some pumpkin bread.
Eyes that follow through the night
Eyes that shine with orange light.
Hoofbeats pound around the bend
Hunted softly in the wind.
In the cottage drawing near
Gran had lit a fire there.
Windows glowed with orange warm
Warding travelers from harm.
Horse and rider turned to stand
Orange fire in her hand.
In the shadow demon dread
Turned into the night and fled.
In the doorway Gran now stood
Taking rider's little hood.
On the door she marked the rune
Underneath the orange moon.
***************************************************
These scents debuted in the Deep Midnight Perfumes line in August 2013.
All perfumes are available in my shop in full 9ml (1/3 oz.) frosted cobalt blue roll-on bottles.
**Copyright 2010-present Deep Midnight Perfumes All Rights Reserved. The product descriptions, product names, notated photographic images, logos, banners and product/label designs are the intellectual property of "Deep Midnight Perfumes" and may not be reproduced in any way without written consent. **
**BACKGROUND is a prop only, but if you like it, you can find more fun Halloween items here at Ghostgap! Folk painting created by Julia Chibatar of Ghostgap.
https://www.etsy.com/shop/ghostgap
My perfume oils are hand blended using the finest essential and/or fragrance oils and organic jojoba oil for superior skin absorption and longevity of the scent. All perfumes are Vegan, Cruelty-Free, Preservative Free, and Alcohol Free. Thank you and enjoy!
Learn more about Deep Midnight Perfumes here:
http://www.etsy.com/shop/DeepMidnightPerfumes/about
Please take a moment to familiarize yourself with my shop policies:
http://www.etsy.com/shop/DeepMidnightPerfumes/policy
Learn more about the shop and process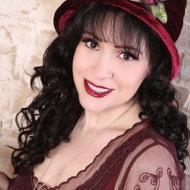 Cat
Halloween Perfume Sampler Set #4: The Wild Night Set, Halloween Perfume, Gothic Perfume
---