Time is a poem I wrote many years ago, and it is now given new life, being combined with a black and white photograph of an analog clock. Perfect for modern décor an any featuring a literary focus. Readable even in small 4x6 form.
Time
White brick reveals nothing but a clock
sitting, slowly echoing that time
is quickly running out.
Life would be much different if one
did not always live life
by the clock sitting on the wall.
Distraught faces peer from behind an office wall.
People forgotten except by the ticking of the clock
that dictates how they live their life.
The ebb and flow of tides will not outlast time
yet as humans we worry that one
more second would be too much, and time would run out.
Faces smile, because through obscure loopholes a way out
was found from the scary monotony that ticks from the wall
made of white plaster. Then one
discovers that life can exist outside the face of a clock
and there is no serious shortage of time.
Existence would be scary if life
could only exist how a clock would live life,
with the monotony of a metronome never moving in or out
of different meters. Time
can be a vice, squeezing you against a wall
or a plague with the ticking of the invisible clock
torturing a mind to a point where only one
thing makes a difference and that one aspect becomes the motivation for life
to keep moving. The clock
should be nothing but an ornament on the wall not an out
to a life of freedom, but the wall
holds fast the lifeblood called time.
Open eyes can see that time
will not easily run out and that if one
can live only by the dictates of an ornament on a wall
then one human life
is wasted. One life has lost out
on the glories of this world because of the ticking of the clock.
So in this game that we call life,
it is better to be the one
who lives freely and has never heard the clock.
This image is copyrighted © Sarah McTernen
No Watermark appears on the print.
Thank you for your interest in my work,
Sarah McTernen
Art Photography
smcternen.etsy.com
Art Jewelry
ardentlife.etsy.com
www.anardentlife.com
Learn more about the shop and process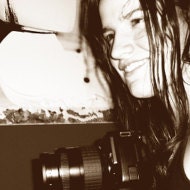 Sarah McTernen
Poetry Wall Art Time Clock Sestina Words on Photograph Literary Room Decor - Time - Poetry and Photography
---
Listed on Nov 7, 2016
317 views