Little Bo Peep has lost her sheep, and doesn't know where to find them. Leave them alone and they'll come home, wagging their tails behind them. Well, Bo Peep did just that - and all the little lambs, including that naughty black sheep, are coming home.

IN STOCK and READY TO SHIP.

An adorable nursery rhyme theme, hand-painted on the one-inch scale dollhouse miniature nursery furniture. A baby crib, with built-in drawers (working drawers), a wardrobe (with two doors), a rocking chair and a toy chest (lid opens so you can fill it with toys). Furniture is sponged pink, with hills and meadows in aqua, smoky blue and lavender tones. Then the little white (and black) lambs are added, along with the little shepherdess - Little Bo Peep.

I had actually designed the set before I went shopping for the fabric - which is very unusual for me, since I usually start with the fabric and go from there. But I knew I wanted to design a Little Bo Peep nursery - so sketched it out on paper - then went fabric shopping. When I saw this delicious pink, aqua, smoky blue and lavender fabric - I instantly knew that it was exactly what I needed.

There is a little pillow, with a pearl bead inset in the center - sitting in the corner of the crib. And there are bumper pads all around - so baby won't get her hand or foot stuck in the railings. A soft pink blanket is draped over the crib railing.

Perfect furniture for a nursery-rhyme nursery. 1:12 Scale. Your dollhouse miniature baby will love it!!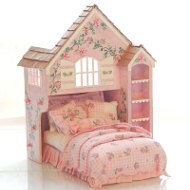 Diana
LITTLE BO PEEP Hand-Painted Miniature Nursery Crib Set - Pastel Pink Aqua - Nursery Rhyme 1:12 Dollhouse Furniture
---
Listed on Mar 22, 2017
1893 views