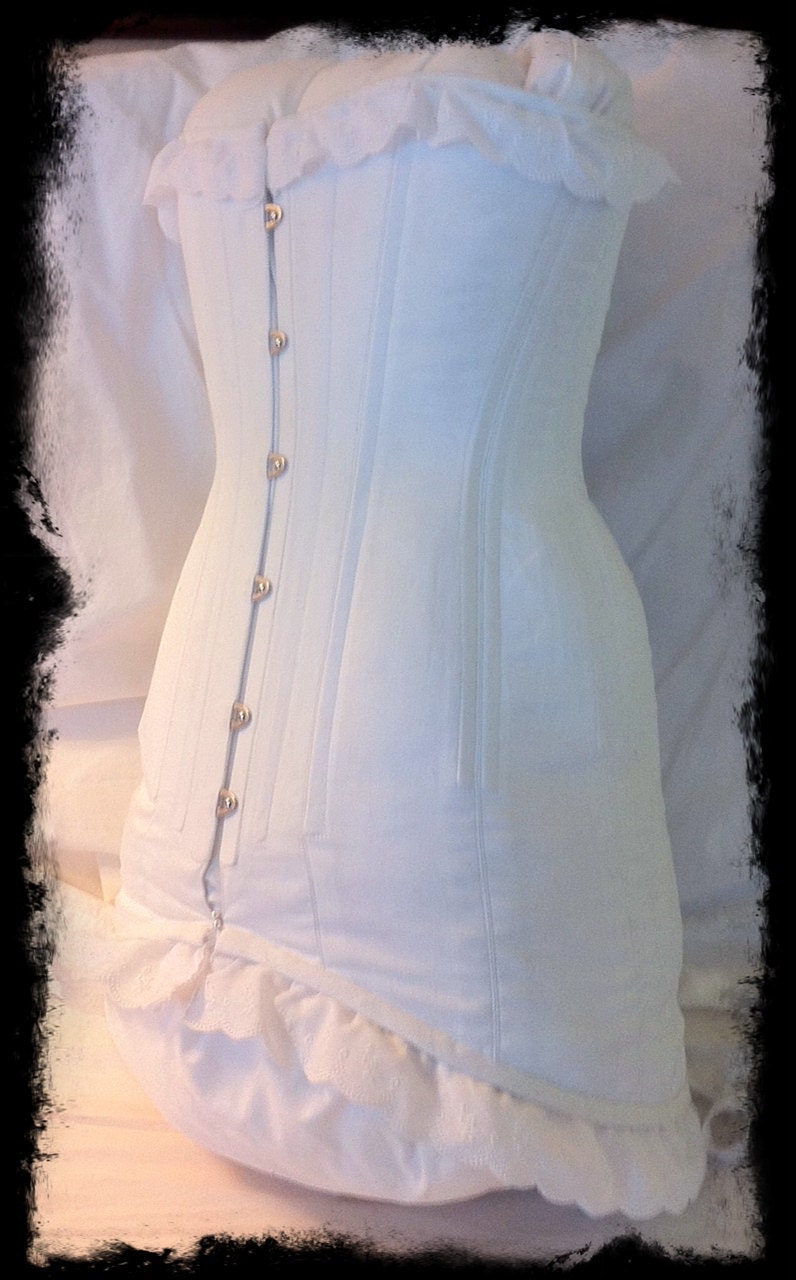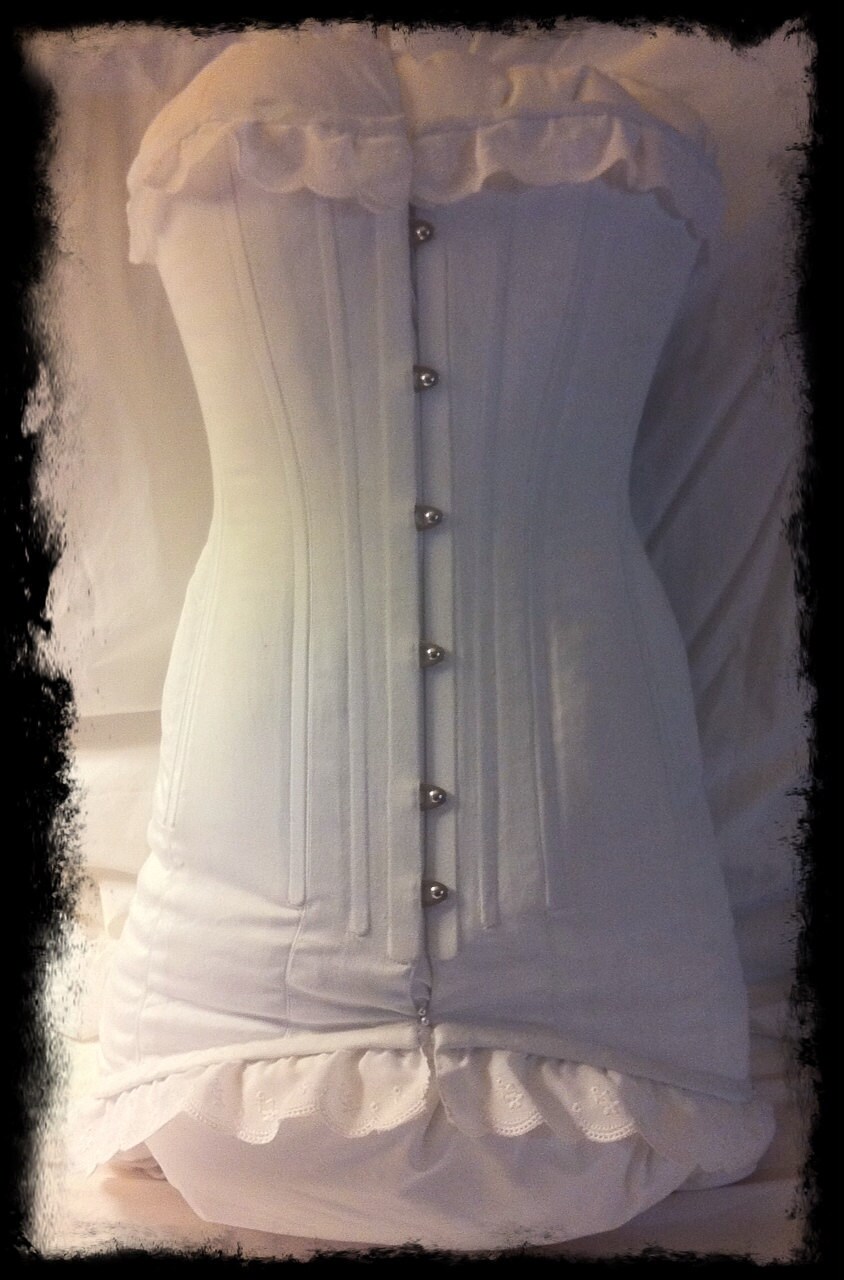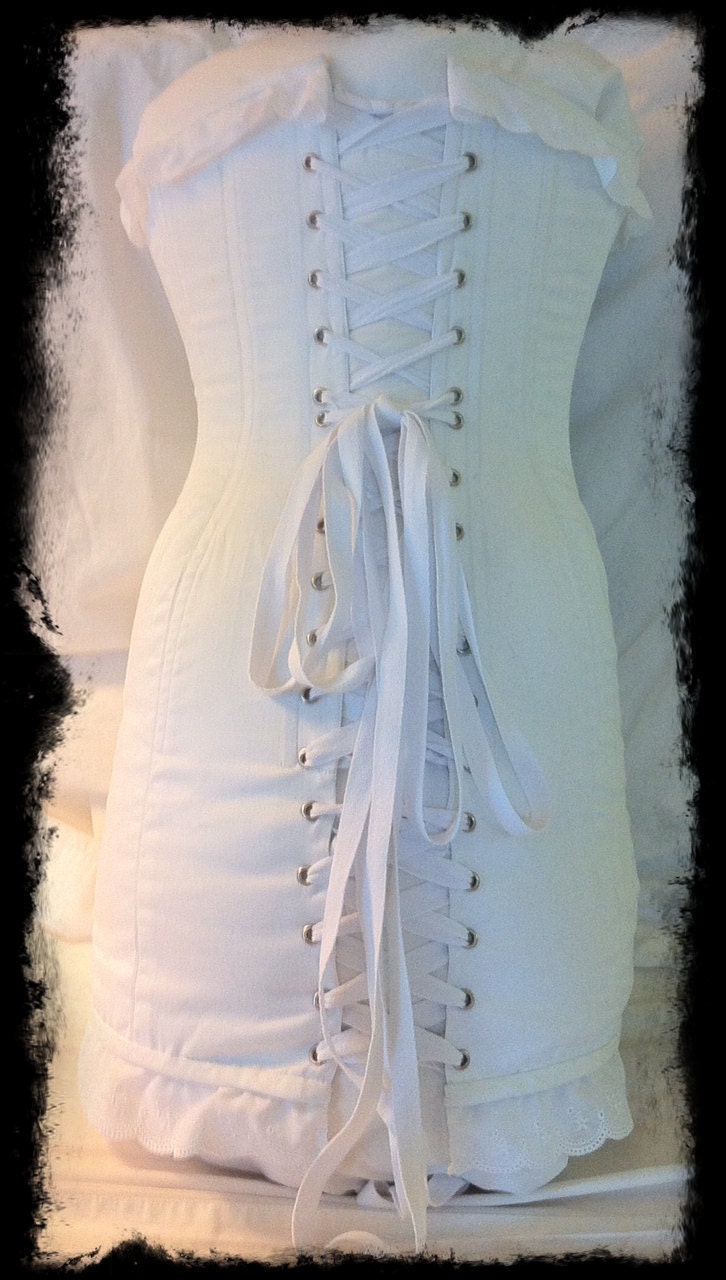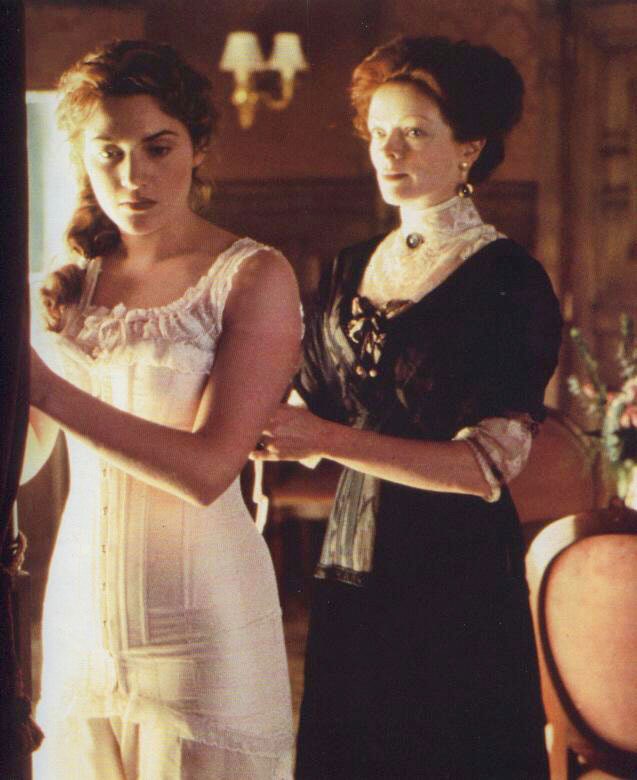 Please see more examples of my work on my Facebook page at http://www.facebook.com/AriaCouture
PLEASE NOTE: This listing is for the installment! For this corset I will require a non-refundable deposit of $237.50 to secure the order with one balance payment of $237.50 plus shipping due with the second payment for a total of $475 plus shipping. This corset will not ship until both payments have been made.
This is also available as a custom pattern:
https://www.etsy.com/listing/106060571/custom-pattern-roses-titanic-edwardian
For Rose, being laced into her corset by her mother was intentionally and directly symbolic of being bound into the future her mother and society expected. For you, there is no such symbolism, only an undergarment of beauty.
Corsets were once serious business. Without one, a woman may as well have been naked. Some states even enacted laws prohibiting women from being in public without one. Yes, it is easy to the trained eye to tell is a lady is in a corset, a bra, or nothing at all. In states without laws mandating corsets, only the boldest of women went without corsets.
Edwardian corsets were often much longer than corsets of previous eras, extending down to the hips giving a very clean line, free from tummy bulge. For this they are called longlines. Usually they ended under the bust with the chemise underneath pulled tightly to contain and smooth the bust. Rose is an exception. Titanic happened a couple years after the end of the Edwardian era (1912 was when Titanic sailed and sank, and the Edwardian era ended with the death of the king in 1910). Your corset can be made mid-bust, as Rose's, or under the bust, which was far more typical.
I used 1/4" flat steel bones for this corset, with a stainless steel busk, and match the bone placement as closely as possible to Rose's corset, such as which seams have two bones versus one. The bones end where a non-longline corset would have them end for comfort and because extending them all to the bottom would prevent sitting. The corset laces in back with two-piece metal grommets with washers which is much stronger than fabric store one-piece eyelets that split. I use your choice of polished cotton or coutil for the outside and line with coutil, 100% cotton. The top and bottom are trimmed with 100% cotton eyelet lace in a period-correct pattern. Garters can be added on request for $10 per pair. Three pairs were common on most corsets of the era.
If you would like a mock-up for fitting purposes, which is the only way any seamstress can absolutely guarantee a 100% perfect fit on a corset that can't be fit in person, the cost is $100. However a seamstress who knows what she's doing should rarely have fitting issues. However, it can still happen due to the form-fitting nature of corsets. So far I've never had a corset that didn't fit. (*Knock on wood!*) But I will not pretend that it can not happen, for me or for anyone else. I can not guarantee an absolute perfect fit without one. But unless you have an unusual shape or fitting issues or are a man (yes, I will gladly make corsets for me - even though the styling was different, throughout much of history men actually wore corsets too!, but even i you want one like this, that's fine with me), then I suggest skipping the mock-up.
I typically will need between six and eight weeks to create your corset, depending on my current schedule. If you have a specific time you need your corset, please convo me ahead of time. Any corset needed sooner will incur a rush fee. As all the supplies are ordered from different companies (no one company carries all the supplies that meet my standards), there are rush fees I have to pay to get things sooner than the typical two-week window from time of order, plus who is happy to work overtime without being properly compensated? I do this full-time, often logging 8 hours a day six days a week with a day off (which is usually when I'll do rush-orders if I don't already have prior plans). My day off is worth something to me. :)
These pictures were taken on a couple pillows which aren't shaped like a body, so the outward pressure isn't distributed the same as it would be on a human body. Your body will not make your corset lumpy like this pillow made this corset. The bride this is for promised pictures after she finished making her own chemise, so I will share pics of this corset on a body once I have them.
See more of my work at http://www.facebook.com/ariacouture
SIZING: After you decide to make a purchase, I will contact you with measurements I need to make the corset. ALL gowns will involve a contract with measurements, ship-by date, shipping address, etc., for your protection as well as mine.
TIME: Please contact me. When my schedule is more open, this item can be made in as few as a couple weeks, and sometimes as long as twelve weeks. I am never in a position where I have no commissions scheduled. So please contact me PRIOR to purchase for a date, which will go into the above-mentioned contract.
SHIPPING INFORMATION: I DO ship internationally. Please convo me directly for international rates. All shipping is by UPS.
PAYMENT INFORMATION: I accept Square for payments. An invoice will be sent to you from from Square Invoicing with payment instructions, AFTER all sizing information is received and details are agreed upon. While payment isn't made the very second you order, it is much more secure than Paypal. By paying with a credit or debit card, you are protected and still have the right to file disputes, only with your card-issuer directly. Paypal also requires that good be delivered within 21 days, which is simply not alway possible when something is custom-made and will take longer than 21 days to produce and ship.
When purchasing, please check the "other" checkbox and an invoice will be sent directly to you. Thank you!
Rose's Titanic Edwardian Corset - FIRST PAYMENT of two for a total cost of 475
---
Overview
Handmade item
Materials:

cotton, coutil, bones, steel bones, grommets, lace

Made to order
Only ships within

United States

.
Feedback: 28 reviews
Favorited by: 228 people