This item sold on September 1, 2013.
In the spirit of the ecological, sustainable lifestyle I believe in and carry, I've created this unique jewelry from up-scaled, repurposed leftover or discarded materials I found. It can be worn diversely as a chocker / bib or as a long necklace. An original, conversational, one-of-a-kind peace, I hope you'll enjoy.
Materials used: Leather-like fabric; real puzzle pieces, glass stone used in aquariums, metal jewelry rings.
Creation methods: machine sewn, special strong glue.
Measurements: 2 1/2" (6 cm.) long (excluding the dangling puzzles), 5 1/2" (13 1/2 cm.) at it's widest part on the bottom; 39" (98cm) long strap.
Please pay within 7 days of purchase using Paypal. I send twice a week via a regular air mail and it normally takes 10-14 business days for delivery to the USA. If interested in registered mail, please add $1.50 to the shipping cost. For combined shipping-rate, kindly write me which items you want using the "contact" option at the bottom of my page.
Also, if interested in gift-warp or express delivery, please let me know prior to buying, so I can check prices and estimated delivery time.
I'll appreciate if you'll take a minute to read my "shop policies".
Wishing a smiley day to you and all the people you love and care for. Tamar
לישראלים שלום וברוכים הבאים.
ברוח גישתי האקולוגית וברת-הקיימא בה אני מאמינה ועל פיה משתדלת לחיות, יצרתי פריט ייחודיי זה משימוש-חוזר, שינוי מטרה ושדרוג מגוון שאריו חומרים ופריטים שמצאתי.
חומרים: בד דמוי עור; חתיכות אמיתיות של משחק פאזל; אבן זכוכית המשמשת בדרך כלל לאקווריום וטבעות תכשיטים.
שיטות עבודה: תפירה במכונה, הדבקה בדבק חזק מיוחד.
מימדים: הגובה 6 ס"מ(לא כולל חלקי הפזל התלויים), הרוחב בחלק התחתון 1.2 13 ס"מ, אורך הרצועה 98 ס"מ.
נ.ב. הקלקה כפולה בימין על כל תמונה במרכז דף כל שהו, תגדיל אותה עוד יותר.

נא לשלם תוך שבוע מיום הקנייה. אני מבצעת משלוחים פעמיים בשבוע. ישראלים הרוצים לשלם בדרך אחרת מאשר פיי-פאל, המעוניינים לרכוש יותר מפריט אחד באותו המשלוח, צריכים אריזת- מתנה, וכן בדבר דמי-המשלוח בארץ לדואר רגיל או רשום - בבקשה כתבו לי בטרם הקנייה באמצעות אופציית הקשר המצויה בתחתית הדף של כל פריט. כנ"ל לגבי אנשי – עסקים המעוניינים להזמין כמות ומגוון פריטים למכירה בחנותם.
אודה לכם אם תקראו על הרקע שלי ואת מדיניות החנות (SHOP POLICIES ).
כל-טוב והמשך חיים מרתקים וחייכניים.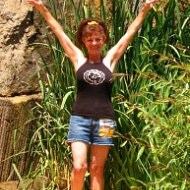 Tamar
Israel upsycale art jewlery - Funky jewelry chocker / bib / pendet NECKLACE leather fabric. puzzle pieces violet yellow cream blue black
Overview
Handmade item
Materials:

cardboard, leather like, glass

Ships worldwide from

Israel

Feedback: 31 reviews
Favorited by: 14 people
Listed on Aug 25, 2013
834 views