*** I have two intensities of orange that you can choose from -- the intense color shown and a perky orange that is a bit less intense. If you can tell me in the notes to seller which you prefer =)!
Gauze wraps -- super from newborn to toddler - I've used them with both! =)
Woven wraps lend needed support past the snuggly newborn stage up into the heavy chunker toddler stage =). Because of this, woven wraps are the logical choice for a wrap that will work from newborn to toddler stage!!
These wraps are ideal for year round use as they are made from very lightweight cotton gauze. With this listing, you will receive a gorgeous tangerine orange wrap with a rolled hem in white.
Here are the specifics:
****
Length - @ 6 yards
Width - @ 22-25 inches
Fabric content: 100% cotton
Edge: Rolled hem in white
Color: Tangerine
Fabric Heft: semi-see through (this works well for baby wraps since 2-3 layers support your child).
These are excellent at distributing weight and can be used from infant up through toddlerhood. An accompanying DVD will show you front carry (facing in and out), hip carry, and back carry (only for advanced users, please!)
Because they come with instructions and are not "sized" like a pouch sling, wraps, just like the ring slings we carry, make excellent gifts!
Don't forget to buy a LPK WrapSac to help keep your wrap clean and organized! See our expanding choices here:
http://www.etsy.com/shop/lilpeeperkeepers?section_id=7136126
And remember to check out the rest of our shop!
http://www.etsy.com/shop/lilpeeperkeepers
ABOUT LI'L PEEPER KEEPER CARRIERS: Great care has been taken to make sure that these carriers are sewn with quality and safety in mind. Pouches are sewn with a reinforced seam, known as a French seam, to shape the carrier. Ring sling fabrics are chosen with care as to style and strength, and each sling is carefully reinforced at the rings.
Babywearing is both a joy and a responsibility. Although Babywearing is simple, it will take practice and precations, just like anything else. Don't expect you or your baby to "sling like a pro" the very first time. Keep at it – it's worth the effort!
Some precautions to take while wearing your baby:
1. Always check the carrier first for signs of wear or any rips. Don't use if damaged.
2. Practice holds with a stuffed animal before trying them on your baby.
3. Use common sense while wearing – i.e. do not bend from waist. Don't use around the water, while cooking, showering, or other potentially hazardous activities.
4. Always make sure your baby has sufficient airflow.
5. Remove baby from sling before placing in bed.
6. While making adjustments, always make sure the baby's weight is supported.
7. If a child is fighting against going into the sling, wait until he is calm and try again.
8. If a child is fussing after being placed in the sling, talk to him, pat back, move around, just as you would normally do to soothe a child.
9. Follow safety guidelines: you use at your own risk, accepting the responsibility for the safety of your child.**Please be responsible to learn and practice safe babywearing. That is the only way these products will be used properly. Check your carrier before use EVERY time for signs of wear or damage. If you find any wear or damage, discontinue use immediately. Carrier "shelf life" depends greatly on the way a carrier is used, is washed, and stored between uses.
Learn more about the shop and process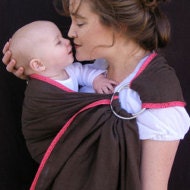 Rebecca
Cotton Gauze Baby Wrap Carrier -Nonstretchy Cotton in perky Flame Orange - 20 choices in shop - babywearing DVD included
---