Knittique's Entrelac Pillow pattern includes instructions for 2 sizes: 18" square (shown here in Be My Valentine) and 14" square. It also contains a full explanation of the entrelac technique, including a schematic. The 2 overlapping back panels are knitted diagonally in garter stitch, and the pillow is assembled with a single-crochet edging.

You need to know how to: Cast on, knit stitch, purl stitch, increase (knit into front and back of stitch), decrease (knit/purl 2 together, slip slip knit), pick up stitches, bind off, single crochet (trim only).

Materials: The larger size, as shown here in Be My Valentine, was made with 3 180-yd. Scraplet Skeins; you also have the option of using 1 200-yd. Scraplet Skein for the pillow top only, and using about 350 yards of coordinating heavy worsted-weight yarn for the backs. The smaller pillow requires a total of about 350 yards: 1 120-yd. Scraplet Skein for the entrelac top, and the rest in coordinating yarn for the pillow backs.

The smaller (14") size is shown here in Fade to Black (this color will be available by 7/15/12). This version uses pretty much every bit of 2 Scraplet Skeins (120 yds. each); I had about 15 yds. left after working the crochet edging.

Needles: Both sizes are made on a U.S. 9 needle. (13-14" straight needles are recommended, at least for the entrelac part.)

If you'd rather use something besides Scraplet Skeins, self-striping yarns are a perfect choice; the gauge called for works with yarns such as Noro's "Kureyon" and "Silk Garden", or other yarns that work up fairly tightly on a U.S. 9 needle.

PLEASE NOTE: You are purchasing this pattern in PDF format, which requires Adobe Reader or another PDF reader. The digital file will be available to you when your payment is received.

ALSO NOTE that this PDF file is approximately 13 MB in size; in order to get it down to this size (from 21 MB), I had to reduce the resolution of the photos, so if you print the pattern, be aware that the print quality of the photos will not be wonderful.

*Some of Knittique's Scraplet Skeins™ are sold here in our Etsy shop, and they are also available in retail yarn shops. If you'd like your local shop to carry Knittique products (or if you're a shop owner yourself), please let us know who to contact; we produce an electronic catalog that can easily be e-mailed to your shop. Thanks for helping to spread the word!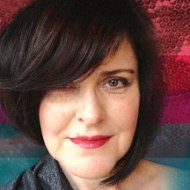 Lindy
Entrelac Pillow PDF pattern from Knittique
Listed on Sep 29, 2015
420 views