Did you know that Knittique is now a part of Colormusing.com? Find our complete selection of fabulous yarns, patterns, samples, and much more here: http://www.colormusing.com/collections/knittique

•••••

This lovely Feather-and-Fan wrap pattern includes instructions for several sizes, including a shoulder wrap, large shawl (not shown), and blanket (shown in Early Spring, last photo)! The small wrap is shown here in Spring Reflection (first 2 photos), and in Never-Boring Neutrals (3rd photo). The wrap can be made with 2 120-yd. Scraplet Skeins (first 2 photo), 1 250-yd. skein (3rd photo; we only have 1 of these jumbo skeins left in this color), or you can use 1 Scraplet Skein alternated every 2 rows with about 140 yards of bulky coordinating yarn (shown in 4th photo in the sold-out Tulip Festival colorway).

FREE PATTERN NOTE: The pattern for the Wrap only is available FREE on my website (knittique.com); the complete version sold here includes instructions for the stole and blanket variations.

Feather-and-Fan is easier to knit than it looks; it's a 4-row repeat, of which there is only 1 where you have to count. And it's fantastic for showing off all the textures in Scraplet Skeins!

You need to know how to: Cast on, knit stitch, purl stitch, yarn over, knit 2 together, bind off. For the version where you alternate contrast yarns, you also need to know how to carry the yarn not in use up the side of your piece.

Materials: 2 120-yd. Scraplet Skeins* (or 1 250-yd. skein) are used for the basic version; 1 120-yd. skein plus about 140 yds. coordinating yarn is needed for the version where you alternate yarns. 4 120-yd. skeins are used for the blanket; here too you have the option of using only 2 Scraplet Skeins, and alternating them every 2 rows with about 260 yds. of contrast yarn.

Needles: U.S. 13 needles.

If you'd rather use something besides Scraplet Skeins, self-striping yarns are a perfect choice; the gauge called for works with yarns such as Noro's "Kureyon" and "Silk Garden", or other yarns that work up fairly tightly on a U.S. 9 needle.

PLEASE NOTE: You will receive this pattern in PDF format, which requires Adobe Reader or another PDF reader. The digital file will be available to you when your payment is received.

ALSO NOTE that this PDF file is approximately 3.4 MB in size; in order to get it down to this size (from 15 MB), I had to reduce the resolution of the photos, so if you print the pattern, be aware that the print quality of the photos will not be wonderful.

If you are also ordering Scraplet Skeins, you have the option of requesting a printed version of this pattern; patterns are printed on white paper, with a color printer, and come in a page protector. The price for printed patterns is double the cost shown here; please send me a message before ordering so I can make a custom listing for you.

ALSO NOTE that this PDF file is approximately 3.3 MB in size.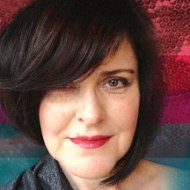 Lindy
Scraplet Skeins Feather-and-Fan Wrap PDF pattern from Knittique
---
Listed on Dec 17, 2016
360 views