This item sold on August 14, 2013.

Melted Beeswax on panel

12" x 12"

This piece is one of a 12 piece series I created titled "Chaos Concealed".

In this series, I draw attention to an aspect of my life that I tend to overlook and push aside: the stressful and chaotic area of my life. "Chaos Concealed" is all about what goes on everyday in my mind that I try not to let others see.

Each piece of this minimalist series is composed on panels on which I attempt to organize and map out the areas of disorder in my life. Some panels reveal more distress and bring chaos to the forefront while others are more held together and tuck away the crazy behind layers of calm color. In using a minimalist composition, I mask the seemingly impossible problem of time and everything that goes along with it. I disguise worry, doubt, ambition, and stress by covering them with blankets of pigment and brushstrokes.

On my panels I am experimenting with encaustic paints, graphite, and image transfer paper in ways that have been both therapeutic and exciting techniques for me to discover. It is in these new discoveries that I stop hiding from chaos and make an effort to conquer it. It is my hope that I may inspire others to find an outlet and do the same. We all live mutually in this crazy world and although many of us seem to have it all together, the reality of our togetherness is really just "Chaos Concealed".

This piece is shipped wrapped in bubble wrap and packaged to protect from any shipping damage.
Learn more about the shop and process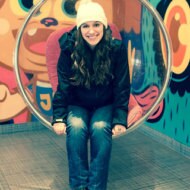 Gina Hoppe