This item has had a high sales volume over the past 6 months.
Sonoran Desert Hedgehogs Bucket Wheel *Ready To Ship!*
There was a problem calculating your shipping. Please try again.
713 reviews
5 out of 5 stars
Loading
We got this to replace Carl's original wheel. He LOVES it! We had to do a little rearranging of his house to get everything to fit and flow, but he seems to be more than happy with the new set-up and wheel! It's super quiet (the old one made noise) and easy to clean. I also the wheel that came with a handy pan that slides under it. So helpful for our pan training we are embarking on! The seller was super easy to work with and shipped our items out FAST! Thank you!
Absolutely love this wheel, our hedgehog, Sparrow, is obsessed and spends literally hours running every night on it. Its simple to put together, easy to clean and looks super cute. I especially appreciate how quiet they are! Excellent product!
It's pretty good quality but If you have a fat hog this is not the wheel for you haha. I chose the largest I could and it still came out too small for my hedgie it's not wide enough. It just took a while to come in and when I messaged the seller about it they never answered so I was pretty happy it actually came in.
Great product! I definitely did not need the larger base though, it's huge in my 40g stock tank enclosure! But it'll be nice and sturdy and I may switch it out with my chunkier hedgehog. It took me a bit to put together, but a great product and even my baby hedgehog can use it easily!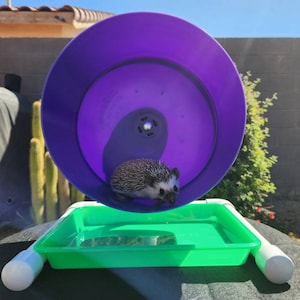 Browse collections for more inspiration