34 Sales
|
On Etsy since 2009
This listing is for the PDF crochet pattern only, not the finished item. Please note that the spider in the photo is not for sale and is present only for illustrative purposes. To learn more about me and my work, see my blog at: http://AberrantCrochet.wordpress.com.
~~~~~~~~~~~~~~~~~~~~~~~~~~~~~~~~~~~~~~~~~~~~~~~~~~~~~~~~~~~~
This pattern gives you PERMISSION TO SELL your finished items if you list and credit the design to Aberrant Crochet and list the shop link:
http://AberrantCrochet.etsy.com
. See licensing details at the end of this listing.
~~~~~~~~~~~~~~~~~~~~~~~~~~~~~~~~~~~~~~~~~~~~~~~~~~~~~~~~~~~~
Though I will have some of my finished variant crochet spider web art listed in my store as always, I do not have time to custom make spider webs for people this year. If you purchase my pattern and would like to be listed on my website as someone willing to make this spider web for someone by custom order, let me know! I'm happy to support you for supporting my design work and to refer custom spider web work over to you. Right now I'd like to focus on designing and support my customers who do the making.
Note: the necklace worn by the model in this photo is for sale here:
http://www.etsy.com/listing/45787703/crochet-choker-gothic-turquoise.
Description:
We have a tradition every October. Near the beginning of the month, I put up a lone spider web in the front yard. After a couple days, I put a spider out near the web somewhere. Then every couple more days, we add another & another, until it's a veritable invasion! This is my full color pattern for a crochet spider web that can be made up to about 6 feet in diameter! The kind you can display across your front porch or wear for costume. I include instructions on display as well. I hope you have fun with it!
This is one of the only published patterns for a large crochet spider web that you will find that does not use multiple skeins of yarn to make. I designed it deliberately that way and with multiple levels of experience in mind as well as the need for strength when displaying outdoors and being exposed to the elements. I also designed it with display in mind. If you're displaying a spider with web, it should look good - right? Eventually, I'd like to publish several spider web designs specific to spider species. After all, each type of spider in nature has a unique signature web. Wouldn't that be kind of cool? I think of spiders as Nature's fiber artists, hence the inspiration involved with these designs.
Many people have asked about a pattern for my spider webs. Though the spider webs you will see in my ready made PixieWorx shop are all OOAK and each unique, I have written this more simplified pattern for a 9 radial spider web that can be easily customized to the size you need, up to approximately 6 feet in diameter. Once you've learned the principle of how to make this spider web, you can actually go even larger without trouble, but I kept the instructions shortened to about 6 feet. Actual size will depend on your skills, stitch habits and gauge.
This detailed 5-page pattern offers a variable sized crochet spider web for display or costume wear. It includes glossary of terms, color photos, display guidelines and instructions for sizing up to an estimated 6 feet in diameter. Gauge is not particularly important to the construction of this pattern, but it will affect the end size.
Stitches are over-all fairly straight forward. However, this pattern requires a lot of counting, basic lace concepts and prior knowledge of extended crochet stitches beyond double crochet.
As such, this pattern ranks as intermediate crochet according to pattern standards guidelines and is written in American English terms. You will find a glossary of abbreviated terms used in this pattern on the last page.
Hook size: 10 (J) or 6 mm
Yardage: 300 - 600 yards
Sizes available: variable up to about 6 feet depending on your tension
Designer's Notes: Though this pattern officially ranks at an intermediate level according to yarn standards, I do believe that it is straight forward and repetitive enough for an adventurous beginner to make. If you are still learning stitch and tension control, then this pattern may be difficult for you. I recommend very even and loose stitches for this pattern and a highly structured worsted weight acrylic yarn. However this pattern does work with sparkly and novelty yarns for an eclectic look under a black light or "in the shadows.'
PLEASE NOTE: These spider webs are designed for decor and when worn, with teens and adults in mind. Spider webs are NOT toys. And a spider web should never be hung or left where a small child might get tangled in it or where it could pose risk or present a hanging hazard.
~~~~~~~~~~~~~~~~~~~~~~~~~~~~~~~~~~~~~~~~~~~~~~~~~~~~~~~~~~~~~
All Content Copyright © 2008-2015 by Julia Meek Chambers, Aberrant Crochet and Pixie Worx, all rights reserved.
Finished products created with this pattern may be used for commercial sale as long as they are not mass produced. If you have a charity project in mind which would require multiple volunteers, please contact me.
Purchase of this pattern grants you permission to make and sell items created from it, but not to republish, share or resell the pattern itself. A lot of time, cost and technical expertise go into my designs, as well as over 35 years of intensive study and application. Tech editors, etc.. So my patterns may NOT be reproduced or distributed — mechanically, electronically, or by any other means, including photocopying, without written permission. Please do not hurt my ability to feed my family and pay for medical bills. Thanks!
Other licensing inquiries: worx [!at] pixieworx.net.
Learn more about the shop and process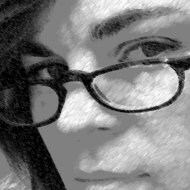 Julia Chambers
Shop similar items from sellers around the world