~Saint Francis...

The backside is St. Clare of Assisi.

Now you can get this design with an extra "attachment" jump ring that I will put on for you. Or just get the pendant as is in the photo.

♥Size 18mm x 25mm
♥Bronze
♥Purchase is for ONE

Francis' birthname was Giovanni. He was nicknamed 'Francis' because of his father's love of France. He was the son of a wealthy cloth merchant in Assisi, and he lived the high-spirited life typical of a wealthy young man, even fighting as a soldier for Assisi. While going off to war in 1204, Francis had a vision that directed him back to Assisi, where he lost his taste for his worldly life. On a pilgrimage to Rome, Francis begged with the beggars at St. Peter's. The experience moved him to live in poverty. Francis returned home, began preaching on the streets, and soon amassed a following. His order was endorsed by the Pope in 1210. He then founded the Order of Poor Ladies, which was an order for old women, as well as the Third Order of Brothers and Sisters of Penance. In 1219, he went to Egypt where crusaders were besieging Damietta, hoping to find martyrdom at the hands of the Muslims. Supposedly, Francis achieved personal rapprochement with the Muslim sultan who declared he would convert if possible. By this point, the Franciscan Order had grown to such an extent that its primitive organizational structure was no longer sufficient. He returned to Italy to organize the order. Once his organization was endorsed by the Pope, he withdrew increasingly from external affairs. In 1223, Francis arranged for the first Christmas manger scene. In 1224, he received the stigmata, making him the first person to bear the wounds of Christ's Passion. He died in 1226 while singing Psalm 141.
--S. Chiara--
Clare of Assisi (sometimes spelled Clair, Claire, etc.) (July 16, 1194 – August 11, 1253), born Chiara Offreduccio, is an Italian saint and one of the first followers of Saint Francis of Assisi. She founded the Order of Poor Ladies, a monastic religious order for women in the Franciscan tradition, and wrote their Rule of Life—the first monastic rule known to have been written by a woman. Following her death, the order she founded was renamed in her honor as the Order of Saint Clare, commonly referred to today as the Poor Clares.
Learn more about the shop and process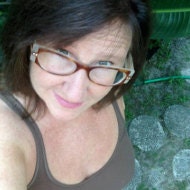 Cathy Dailey
Saint Francis of Assisi Pendant or Big Charm in Gold Bronze -114yb
---
Listed on Feb 17, 2017
2891 views