New Zealand

1963

half penny

copper

bit larger than a US quarter


Here's a quick 'wiki' blurb on the Hei-Tiki:

"The hei-tiki (English pronunciation: /haɪˈtiːkiː/) is an ornamental pendant of the Māori which is worn around the neck. Hei-tiki are usually made of pounamu which is greenstone, and are considered a taonga (treasure). They are commonly referred to as tiki, a term that actually refers to large human figures carved in wood, and, also, the small wooden carvings used to mark sacred places. Tourist versions - either from real jade or sometimes from cheap plastic - are also commonly found throughout New Zealand."

Thanks for looking.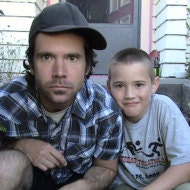 Rob Johnson
1963 New Zealand - cut coin pendant - w/ Hei Tiki
---
Listed on Dec 9, 2016
325 views