13870 Sales
|
On Etsy since 2011

*******Single Dream Catcher Earring*********
**Please let me know which color….SEE LAST IMAGE ON LISTING***
These hang 8-9 inches long.
For a long time I've been trying to design the perfect dream catcher earring. Dream catchers are so beautiful and have a very powerful symbolism. These are made with round metal loops wrapped with maroon colored string, a silver colored bead and a variety of natural or dyes feathers.
These are great for daydreamers...These earrings are made to filter out negative thoughts and keep the positive ones close to you!
*For a set of dream catcher earrings please see listings below:
http://www.etsy.com/listing/83187257/dream-catcher-feather-earring-set-extra
http://www.etsy.com/listing/80651746/long-dreamcatcher-feather-earrings-candy
Dream catcher Symbolism:
It's dark. The night air is filled with dreams...good and bad! A dream catcher is hanging close to the cradle or bed, swaying in the night breezes. Dreams must pass through it to get to the sleeper. Bad ones get tangled in the web, but the good ones know how to pass through the center hole and glide down the feathers. The morning sun shines on it and the bad dreams caught in its web "expire".
The dream catcher originated
with the Ojibway (Chippewa) tribe.
Feather Symbolism:
White feathers symbolize purification, spirituality, hope, protection, peace, and blessings of the Moon.
Red feathers symbolize physical vitality. Also courage, good fortune, and life.
Blue feathers give mental abilities, peace, and protection. Also psychic awareness.
Yellow feathers give cheerfulness, mental alertness, prosperity, and blessings from the Sun.
Green feathers symbolize money, prosperity, growth, health, and fertility.
Green and red mixed feathers affect financial matters.
Orange feathers bring attraction, energy, and success.
Pink feathers attract love.
Gray feathers symbolize peace and neutrality.
Brown feathers give stability and respect. They also symbolize the home and grounding.
Brown feathers striped in black, like the tail feathers of a pheasant, give a balance between the physical and spiritual life.
Brown feathers banded or mixed with white bring happiness and give the kind of protection that enables one to go unnoticed amidst those who would harm them.
Brown and red mixed feathers bring healing to animals.
Black feathers give the mystical wisdom that comes with true spiritual initiation.
Black, iridescent feathers give mystical insight.
Black and white mixed feathers give union and protection.
Black (or gray) feathers banded or mixed with white give hope, balance and harmony.
Black mixed with purple means deep spirituality.
Black, white, and blue mixed feathers brings change.
TOP
The "eye" on the end of the peacock tail feather protect against the "evil eye" and stimulates inner clairvoyant vision.
The rooster's two prominent tail feathers (called sickles) are symbols of the God and Goddess. The black ones are sacred to the God because of their resemblance to the curved horns of the Horned God. They are also a symbol of male virility.The white ones are sacred to the Goddess because they resemble the tool (the sickle) with which grain (sacred to her) is reaped. They also resemble the waxing and waning Moon.
Made with love, Enjoy!
AZ
Learn more about the shop and process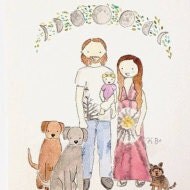 Alyssa Zynda
Handmade Dream Catcher Feather Earring Extra Long 8-9 inches, You Choose Feather Symbolism, Grizzly Rooster Hair Feathers
---
Overview
Handmade item
Materials:

feathers, beads, dream catcher earrings, string, silver bead, wire, red feathers

Ships worldwide from

United States

Feedback: 3322 reviews
Favorited by: 603 people
Shop similar items from sellers around the world