The Chair is "SIMPLY STUNNING" like a piece of art in a room


"Impeccable and Incredible Craftmanship that you will not find anywhere else, the quality or the style! All are 100% Made by Hand and Made-to-Order just for you"


THE STORY: This chair was originally designed back in 1877 for the English troops campaigning the war of the 19th Century. The idea was to create a chair that is comfortable, easy to assemble/ disassemble, and convenient to transport with its own bag with handle and made of 3 simple components: wood, metal, and cloth. This is a slightly different look by changing the shape from narrow and square to having a little more curves and wider, making it elegant and sleek and not only practical. The BKF chair was inspired in 1938 by this chair but each have their own distinct look.

This chair introduces luxury to comfort. Perfect to place in a living room, office, bedroom or indoor patio. The cover is made of a thick 100% Argentine full-grain cow vegetable tanned saddle leather. You can customize to any of the color stains listed below. This chair is completely 100% made by hand. The leather is stained to the color you want and then finished with a silicone protectant coating to protect from wear and then buffed to ensure it has a beautiful finish. The leather will last you a lifetime and will continue to look even more amazing as it ages due to the nature of this type and quality of leather. The color is stained into the leather and is not painted on(which is normally done on all leather products that are not of the best quality). This is a much better technique to color the leather as with time, you will never have a cracking effect of the color of the leather. Also when you stretch the leather, the color will still be embedded in the leather so you will not have any white stetched lines. Another detail to point out is that the farm that these cow leathers come from do not cage the cows nor are they fed a ton of chemicals in feed lots. They are free roaming cows around the farm and only eat grass. This gives you the results of much better leather in general in every aspect but you may have some characteristics in the leather that are just more proof that your chair is made with real leather and does not look artificial. This is just one more reason why our chairs are so highly regarded, due to the fact that the leather is clearly genuine and that is what gives it such a distinct difference and edge above all other leather chairs.

The frame is made of guindo wood(super hard wood and light weight) and metal hinges. The frame is completely carved by hand and then stained to your preferred color. The chair frame easily folds together and comes with its own carrying bag. You just do not find chairs made of this high of quality leather anymore nor this high level of craftmanship that only a few artisans in the world know and still practice, all by hand. The wood frames are a true piece of art as well, and have such interesting lines along with the metal- giving you a chair that every detail is thoroughly thought out well and done with excellence. This chair will last you a lifetime!

-------------------------------------------------

Leather Colors Options (top row in last photo) : natural, vintage, cigar, chestnut, bordeaux , dark chocolate,


Wood Color Options (bottom row in last photo) = natural, light cherry wood, dark cherry wood, wengue

SHOWN IN: vintage leather cover + natural wood frame


MEASUREMENTS: (Our BKF chair with wood frame is a little bit smaller overall than our BKF chairs with iron frames)

Cover only dimensions:
28 inches (70cm) width of top two corners
27 inches (69cm) width of bottom two corners
40 inches (101cm) length from top corner to bottom corner
16 inches (40cm) length front to back of seat

Frame only dimensions:
26 inches (66cm) width of two top corners
23 inches (59cm) width of front two corners
31 inches (79cm) from top corner to same side bottom corner
40 inches (101cm) diagonal length from top corner to opposite front corner

Chair dimensions with cover on:
36 inches (92cm) height
28 inches (73cm) width
31 inches (79cm) depth
14 inches (36 cm) height of seat


PAYMENT METHODS ACCEPTED: You can make payment to us using a credit card, debit card, or PayPal. Payments made with a credit card or debit card are processed through PayPal but you do not need to be a registered user nor do you have to open a PayPal account just to pay with a credit card or debit card. It is super fast and easy!

SHIPPING: We ship WORLDWIDE. All products are shipped directly from Argentina. Allow 4 to 6 weeks to receive box after payment is received from PayPal, as each product is handmade and made-to-specific order.

INSTRUCTIONS FOR ORDERING: Follow through with the order. On PayPal, you have an area to write any comments. Please write the color of the leather you would like and then the frame color(listed above). If you need to ask us about any details or special requests, please feel free to write us and we will answer you right away.
Learn more about the shop and process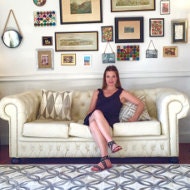 Cara Welch
Tripolina Butterfly Chair - Premium Leather and Wood Folding Frame Chairs
---