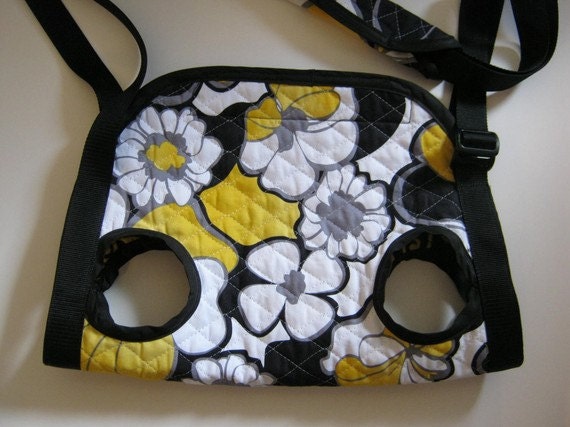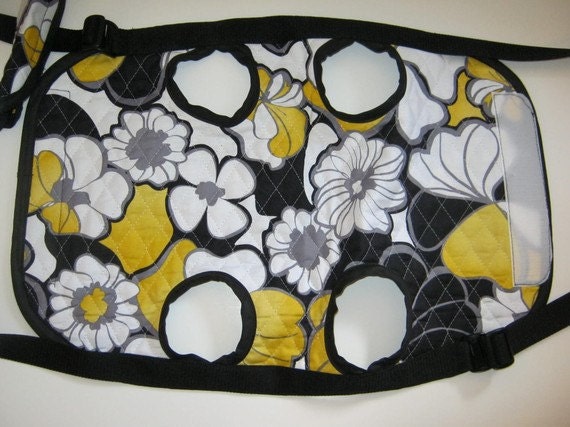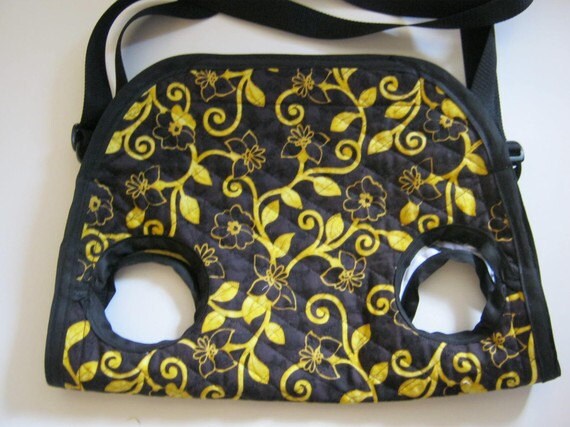 What a great concept! A dog carrier that also doubles as a walker. Or, shorten the adjustable straps and carry like a purse! Reversible, machine wash and dry, you are hands free and your four legged friend is not confined in a closed up carrier!

Made from reversible, quilted cotton fabric, this carrier is designed to be worn across the body, leaving you hands free, and your pup thinking he is being carried.

The 60" straps are adjustable. The best position is where the dog sits right at your hip or waistline. It will be easier if you put your friend in the carrier first, then over your head, cross body, adjust.

With your arm down at your side, your hand just under your pups belly, this should be the perfect adjustment for both you and your best friend. Velcro across the top makes securing easy, adjustable and comfortable! It will be easier if you put your friend in the carrier first, then over your head, cross body, adjust. This is a one time adjustment, unless other family members will be using the carrier. And you also receive a shoulder pad!

Your dog has no binding or irritation, plenty of leg room. He gets to see everything going on, but you are still in control. His body weight is supported from front to back under his belly. Front haunches to back. No choking!

The average measurement from the shoulder to the hip, is the same as from the hand to the ground. All you do is slip it off yourself , place puppy, still in the carrier, on the ground, and now you have a walker.!

Yes, looks can be deceiving, it looks like a jacket, but just like a carrier or stroller he is confined in , he has to be removed to relieve him or herself.

Did I mention REVERSIBLE? Check out the photos. No special instructions, just use the opposite side. The padded shoulder strap is also reversible.

If you cut your dogs nails, this is a great aid! Place your dog in the carrier, then on a sturdy hook, just off the table. He isn't going anywhere, clip away!

Sz Small will fit most dogs weighing about 5 to 7.5 pounds with a chest of about 13 to 15 inches.
Measure your dogs chest by starting at his spine, under his ribcage, and back to his spine.
Some dogs are tall and skiny, others a little shorter and rounder aound the middle. The Chest measurement is the first measurement you want to go by.

I use the wide velcro, so there is room for adjustment .
Puppy Purse / Walker / Sz Sm
---