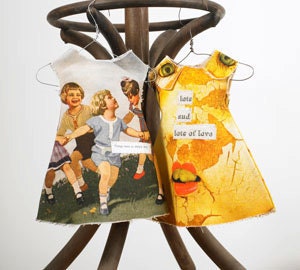 (This Listing is for the dress on the left ONLY. All other images are for reference)
I'm not a seamstress. I make no pretence of being one. My sewing can be slapdash and hurried. i don't care.
My reminiscence dresses are 'sketches'. They have the loose, unfinished, suggested lines of a quick drawing. What I'm trying to do is t o capture memories, emotions, times and places, quickly.
Our lives and our memories are as imperfect as my stitching. Sometimes a stitch drifts off, intersects another or even comes undone.
Isn't that how life is? I think it is.
Approximately 42cm x40 cm in size, people ask whether they're meant for little girls. I made them as art pieces, with little hangers to go on your wall, but you could put them in a picture frame, or if you really wanted to on a child! (they don't all have fastenings or openings)
Unusual, one of a kind and evocative of a bygone era, they will make a lovely gift to a loved one or even yourself!
Things Were So Simple Then Reminiscence Dress
---
Overview