This set of Feather Eyelashes is perfect for punky people who like pretty peacocks! Great for Costumes, Clubbing, Raves, Festivals, Woodland Weddings, or anytime you want to turn heads! All of my Feather Eyelashes are reusable. Wear them like other false eyelashes using eyelash adhesive found in the cosmetic section of most stores. No two feathers are exactly alike so each pair of eyelashes are unique. I created these lashes using peacock eye feathers that were naturally molted and gathered with no harm to the bird.
See more at...
http://www.intrinsicimagination.etsy.com
SHIPPING: Your lashes will be protected in a cotton filled jewelry box that you can use to store them in. Perfect for gift giving!
*NOTE: You will need to use Eyelash Adhesive to attach your lashes with. It can be found in the cosmetic section of most stores for under $4. I recommend using the clear Ardell brand in a tube because it always works for me. It holds tight & is easy to remove when needed. Make sure you follow directions and let the glue sit on the lashes for at least 30 seconds before trying to apply. Most people that have trouble trying to put on false Eyelashes don't wait long enough for the glue to become tacky first. This is the most important step to remember in order to be successful attaching your lashes!
-o-o-o-o-o-o-o- CREDITS -o-o-o-o-o-o-o-
Photographer: Novella Photography
Makeup Artist: Christy Lavallee
http://www.facebook.com/MakeupArtistrybyChristy?ref=ts
Model: Leah Santello
model mayhem # 1748570
-o-o-o-o-o-o-o-o-o-o-o-o-o-o-o-o-o-o-o-o
*ABOUT PEACOCKS AND THEIR FEATHERS*
Indian Peacocks or peafowl (pavo cristatus) have been domesticated for about 3000 years. Their native range is through India, Pakistan, western China, Bangladesh, and Sri Lanka.
The male peacock sports about 150 of the long "eyed" peacock tail feathers with which most of us are so familiar. These feathers are shed annually during the molt and gathered as a valuable "crop" in many countries through its range.These feathers are actually long extensions of the upper tail covers. They are supported from underneath by the much shorter tail feathers. These feathers grow to be several feet long, but are shed each year just after the breeding season. Each of these long feathers also has a design near its tip which resembles an eye.
The shimmering color of the peacock feather is due to a phenomena known as interference. Each feather consists of tiny flat branches. When light shines on the feather, we see thousands of glimmering colored spots, each caused by minuscule bowl-shaped indentations. This same principle is also responsible for vibrant shimmering colors of butterflies, pheasants, birds of paradise and humming birds. Recreating the unique color of the peacock feather has posed a challenge to artists and ceramists for centuries.
Handmade with love in Portland, Oregon
~ by Ilya Hobgood
Thanks for viewing!
Notes: I try my best to match feathers as close as possible, but no two feathers are exactly alike. This means that the feathers on pair of lashes will be a little different. I think this just makes every pair more special & unique, and ensures that each set of Eyelashes is OOAK.
I also work with each picture to make sure colors are a true representation of what your product will look like. Colors may still vary slightly from picture due to different computer monitor projections.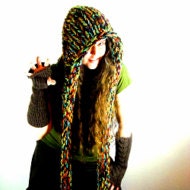 Ilya Hobgood
Handmade Feather Eyelashes - Punky Peacock
Overview
Handmade item
Materials:

peacock feathers, eyelashes

Made to order
Ships worldwide from

United States

Feedback: 502 reviews
Favorited by: 392 people
Listed on Sep 1, 2016
4442 views