This lovely little book is the ideal gift for a Christian friend. This book is NOT a bible, but rather a collection of mini essays on various spiritual topics. This book contains four smaller books with several chapters each. The first book is "Admonitions, Useful for a Spiritual Life", the second book is "Admonitions Concerning Inward Things", the third book is titled "Of Internal Consolation" and the fourth book is "Concerning the Communion".

Title: Of the Imitation of Christ
Author: Thomas a Kempis
Publisher: Rivingtons'/Henry Frowde, Oxford Warehouse and Longmans, Green and co.
Publication Year: Unknown but handwritten dedication is dated 1905.
Pages: 207
Size: 9.5 cm x 14 cm.

This book has a lovely soft vellum cover, dyed very dark blue with a mottled pattern. The spine is rubbed and faded to a pale brown colour, as are the edges of the covers. There is a small tear at the top of the spine, approximately 1 cm long.

The text block has pinked gilt edging. Some of the pink has bled into the pages. However the main part of the pages is nice and clean, no foxing, with a few pencilled annotations scattered throughout. A few pages at the front are coming loose but the rest of the binding is secure and all the pages are present.

There is a handwritten dedication on the title page; "To Hilda, from Ernest, 1905". At the back someone has left a small hymn pamphlet from 1922 and some sort of poem or religious commentary on a piece of paper. Since these came to me through this book I have decided to leave them with it for the next owner.
Learn more about the shop and process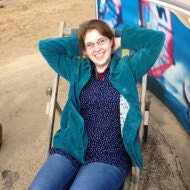 Katie
Of the Imitation of Christ by Thomas a Kempis
---