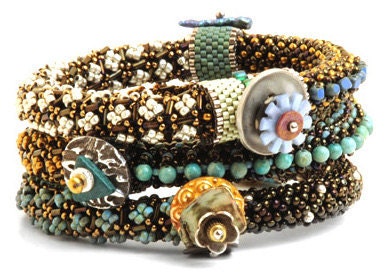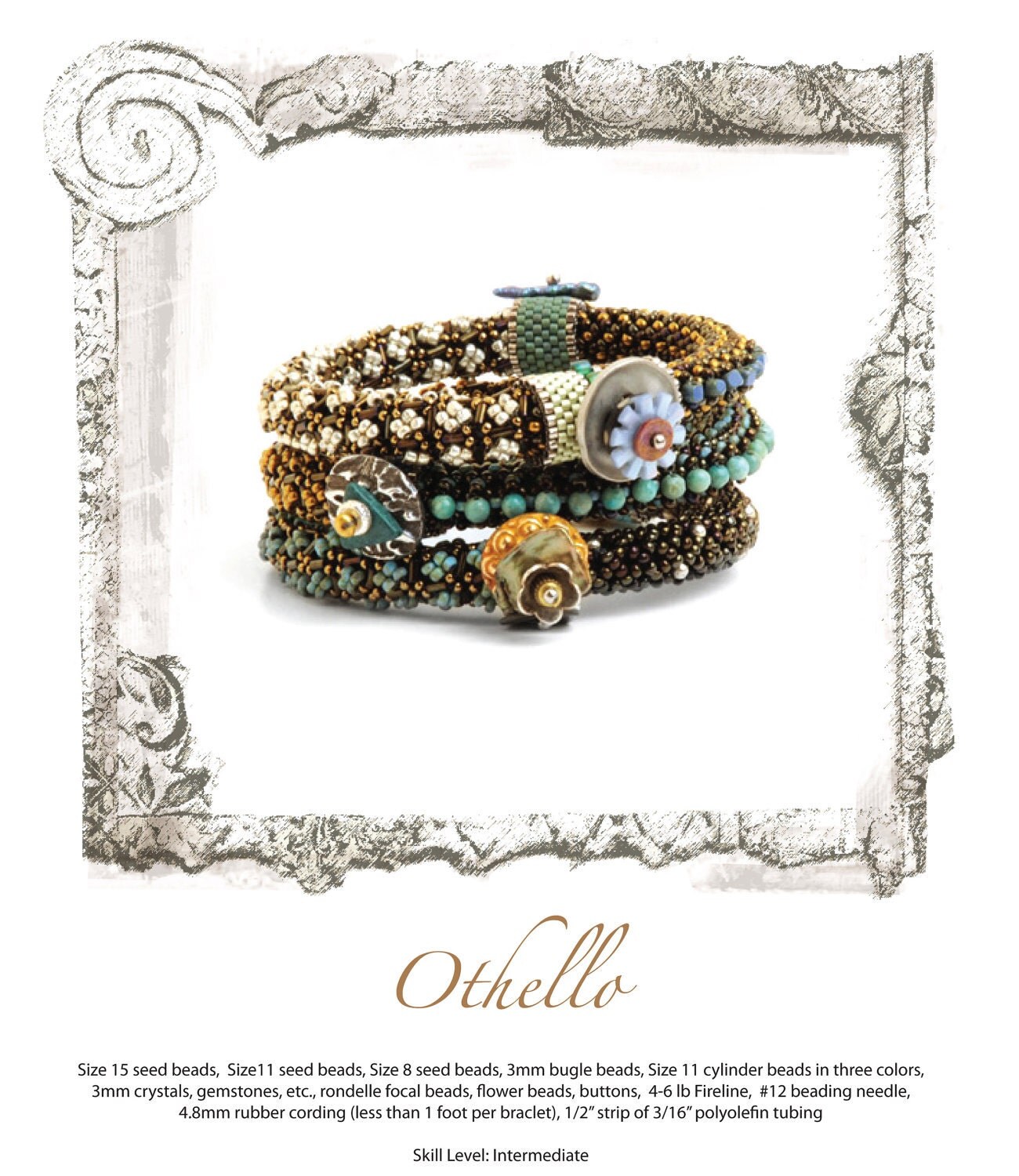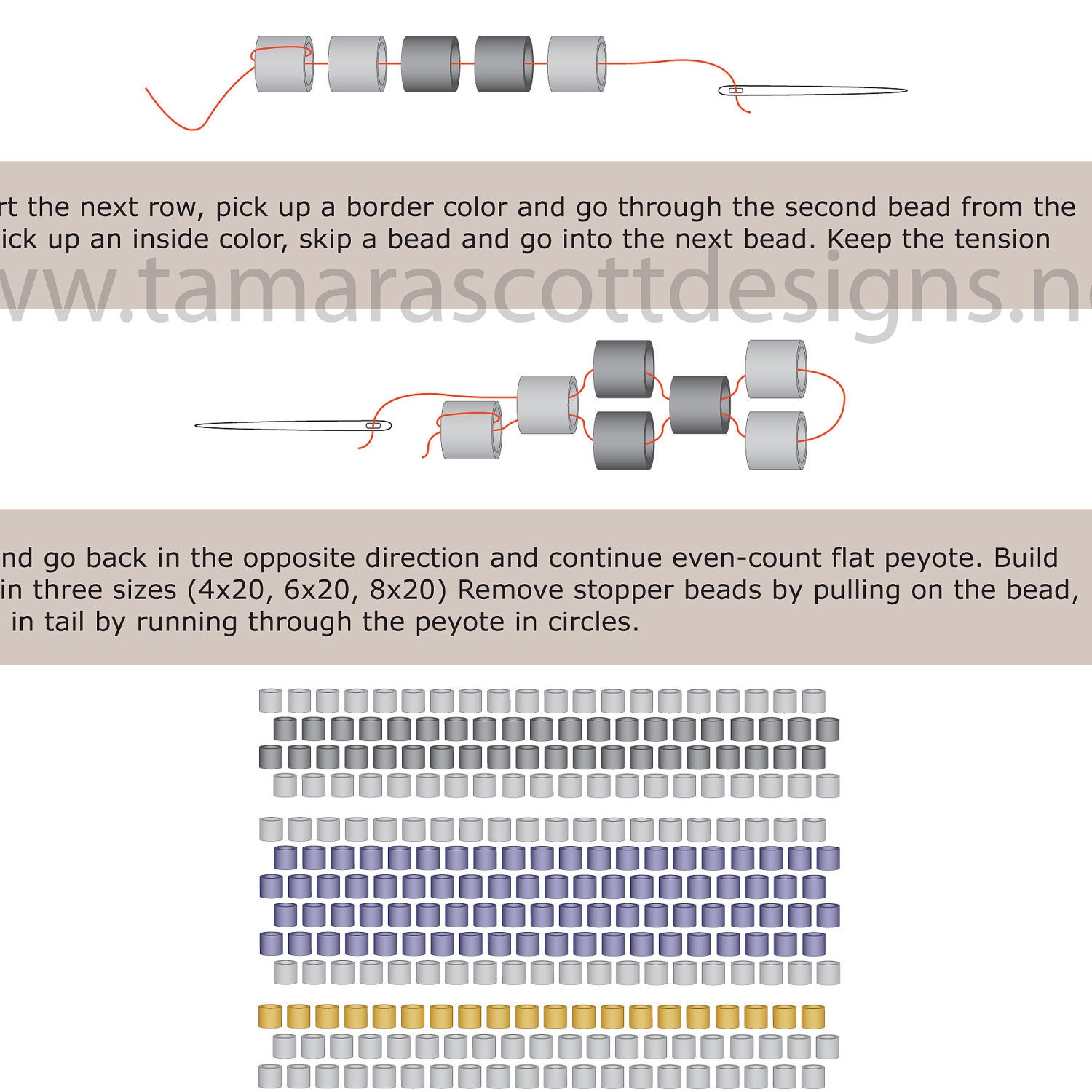 This is a pattern in a PDF format. Othello features a thick rubber core base. A spiral is created with bugle beads. Focal beads are added and the design is embellished with pearls, crystals, or semi-precious stones with unlimited variations to make an elegant bracelet. These can be worn in multiples to enhance the design. This pattern is 15 pages long and is full of detailed photographs and computer illustrations. File size for this PDF is 1.93MB.
Technique: Right Angle Weave, Netting, Peyote and Embellishment.
Skill level: Intermediate
Bead weaving experience is recommended
Supplies required:
Size 15 seed beads, Size 11 seed beads, Size 8 seed beads, 3mm bugle beads, Size 11 cylinder (Delica) beads in 3-6 colors, 3mm crystals, gemstones, etc., rondelle focal beads, flower beads, buttons, 4-6 lb Fireline, #12 beading needle, 4.8mm rubber cording (less than 1 foot per bracelet), 1/2" strip of 3/16" polyolefin tubing, Bronze/Silver focal beads (optional), Bead mat, E-6000, color printer.
*NOTE ABOUT PERMISSIONS* By purchasing this tutorial you agree to the terms of use below: The file and its content are copyrighted and are offered for sale for personal, non-commercial use only. This project and all pages of these directions are copyrighted to Tamara Scott and are not to be taught, transmitted, or copied without written permission from the artist.
This PDF is available for immediate download once we confirm your payment. You will be sent an email letting you know your PDF is ready for download. This email is in addition to the purchase confirmation email. You will also see a "Ready to download" button on your Purchases and Receipt pages. You can download the files at any time once their payment has been confirmed. There's also no limit on the number of times you can download the files you've purchased.
RUBBER CORDING
http://www.etsy.com/listing/70731244/rubber-cording-48mm-1-yard
http://www.etsy.com/listing/77776946/rubber-cording-48mm-3-yards
http://www.etsy.com/listing/74126984/rubber-cording-48mm-6-yards
TUBING-3/16" Polyolefin-2
http://www.etsy.com/listing/70835307/tubing-316-polyolefin-2
FOCAL BEADS
http://www.etsy.com/listing/50999767/handmade-bead-silverbronze-set
http://www.etsy.com/listing/59134533/handmade-pmc-bead-silver