This hand crafted Sterling Silver ring features a natural light blue sapphire and really cool little magical creatures that crawled out of my imagination and onto the ring. Blue sapphire is the birthstone for those born in September.
My Stone Protectors are little fantasy - mythological creatures that I first created back in the mid 1970's, and still use today in many of my jewelry designs. They kind of look like little bug-eyed salamanders without legs. You can see them better when you click on the pictures to enlarge them. They are magical little creatures who's power is to protect the stones they guard, and keep them from harm or loss. Tolkien never described them in his books, but in my mind's eye they are indigenous to Middle Earth. Being creatures of fantasy, they give the ring a Mythic or Mystical feeling, as if it were created in another time and place of magic.
This hand crafted sterling silver ring will be made to your finger size when you order it, and set with a natural light blue round sapphire. The sapphire was mined in Africa, measures about 3.5mm in diameter, and weighs about .26 carats. The top of the ring measures about 6mm across, and the shank measures about 1.7mm wide and .8mm thick at the thinnest spot in the back. The ring weighs about 1.55 grams, and is stamped Ster inside. A significant portion of the sterling silver I use to make these is newly refined and alloyed recycled silver.
Rings are always stronger when the shank is cast to size as opposed to being cut and sized later. So rather than set this stone first, and then need to size the ring to fit your finger, I will cast your ring to size when you order it and then set the stone. I will have the ring ready to send within 3 or 5 days. The first 4 pictures show the exact stone I will use for your ring, but you will notice that it is just sitting on the ring and the prongs are not set to hold the stone. The last picture shows a similar stone set in the same style ring to show you what the prongs look like when the ring is finished.
PROPER FINGER SIZING: There is no way to accurately guess or estimate the finger size you need for a ring to fit properly. The only way to obtain an accurate measurement is to use the METAL finger gauges used by jewelers. Go to a store that sells rings, and get the finger measured. They will be happy to do this for you. Finger size is totally unrelated to body size or shoe size. Using string or ribbon to measure the finger is not accurate. Printing a paper off the internet and wrapping it around your finger may work if you plan to wear a piece of paper on your finger; but if you plan to wear a silver or gold ring, it probably won't work. Again, the only reliably accurate way is to use metal finger gauges graduated in 1/2 sizes, until you find the one that fits best. Also keep in mind that fingers are smaller when it is very cold, and larger when it is hot and humid. Receiving a new ring that is too large or small is quite disappointing. You will be far happier if you take the time to obtain an accurate size before ordering.
I have this ring and similar design rings listed in my Etsy shop with several other gems. If you like the stone protectors design, but would prefer a different gem, I can probably make one for you. I have thousands of gems to choose from. I also have hundreds more fancy color sapphires that I can use in custom pieces for you. Please contact me to discuss your needs.
Gemologically Speaking; This is the educational part:
Did you know that ruby and sapphire are actually the same stone? Most people think of blue when they think of sapphire, but it actually comes in all colors. Sapphire is the mineral corundum, or aluminum oxide. It occurs naturally in blue, yellow, green, orange, purple, clear, pink, red, and in every shade, combination, and intensity of these colors you can imagine. Medium to dark red to red-purple corundum is called ruby. Pink-orange to orange-red corundum is called Padparadscha Sapphire. But it's all the same rock; corundum.
Corundum is crystalline aluminum oxide (Al2O3). The various stone colors come from very small quantities of some other metal in the crystal lattice. In the case of ruby, chromium is the metal that makes it red. Titanium by itself makes sapphire clear, and Iron by itself makes sapphire yellow. Iron and Titanium together make sapphire blue. All the other colors come from mixtures of 2 or 3 of these metals in the crystal lattice. Corundum is actually fairly common in low silica igneous and metamorphic rock, but as gray or brown grains, not in translucent gem quality crystals. It takes very special conditions to form transparent gem corundum or star corundum crystals. Corundum is usually formed in metamorphic rocks such as marble, schist, and gneiss. It is very hard, having a hardness of 9.0 on the Mohs scale. Common corundum is used as an abrasive, such as in sandpaper. Being hard and heavy, with a specific gravity of 3.95 to 4.1, as large amounts of corundum bearing rocks are eroded and weathered away over time, corundum crystals become concentrated in placer deposits in drainages below the corundum containing rock strata; just like gold nuggets in gold placer deposits. Since gem crystals are few and far between in the rock, it is usually not possible to mine the rock in the mountains to find the crystals, and make a profit. But the corundum crystals become concentrated together by gravity in the placer deposits formed below. Thus almost all ruby and sapphire mines in the world are placer mines where miners "pan" through the dirt and sand in stream basins to find the rubies and sapphires. For millennia it has been common practice for miners to heat the corundum they mine to improve the color of their stones. Truly unheated natural sapphire or ruby is very rare today. This stone has been heated.
Metaphysically Speaking:
The powers of sapphire are psychism, love, meditation, peace, and healing. Historically sapphire has been associated with alignment with and realization of an individual's destiny. It has been said to promote mental clarity, clear perception, and wisdom because it has the ability to draw out knowledge and wisdom buried deep within the sub-conscious mind. It can assist the wearer in finding and accomplishing their purpose here in life. It is a powerful stone to be used in meditation to increase the flow of wisdom. It has had a position of importance in all historical religions throughout the world, due to this connection with divine wisdom. It is also a stone to facilitate and help all human relationships; love relationships, business, friends, extended family, and everyone else you connect with in your life. As the guardian of love, it attunes the feelings of lovers for each other, and promotes fidelity. It works the same for you in business dealings or any other dealings with people. It just makes the relationship flow and work. Physically it is said to strengthen the eyes, halt fever, and stop nose bleeds. It can aid communication, ameliorate depression, and increase mental clarity, intuition, clairvoyance, and calm.
**Upgrade to Priority or Priority Express shipping to an address in the U.S.A. is available at checkout. You can also purchase an upgrade to Priority shipping from me here:
https://www.etsy.com/listing/118405172/upgrade-to-priority-us-post-shipping-to?ref=shop_home_active_5
*International shipping to listed select countries is by insured Priority International U.S. Post or Federal Express at seller's choice. Average shipping time is 6 to 30+ business days, depending on how fast or how slow your country's postal system is. Most countries charge a customs duty tax on items you import from the United States. It will be your responsibility to pay this tax when your package is delivered to you. Please check with your local postal service's customs office to learn how much your customs tax will be when your item arrives. In some countries this tax can be quite high.
Learn more about the shop and process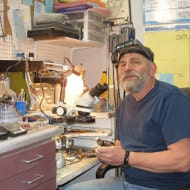 Paul Badali
Light Blue Sapphire Mythological Stone Protector Critters, September Birthstone Sterling Silver Ring
Overview
Handmade item
Materials:

sterling silver, natural sapphire

Made to order
Ships from

United States

to select countries.
Feedback: 816 reviews
Favorited by: 38 people
Listed on Jun 17, 2016
613 views