I always wanted to see what my favorite TMNT bumbling villain 'Bebop' would have looked like in real life so here he is! Assembled from a huge mounted boar head, real turtle shells and skull, coyote teeth, vintage red denim jacket and handmade 'Devo' glasses. This unique Teenage Mutant Ninja Turtles bad boy would be a awesome taxidermy-twisted addition homage to TMNT on your walls. COWABUNGA!

Located in Chicago, free local pickup available, just contact me. If you are in Chicago you can see him in person along with tons of other cool stuff at Woolly Mammoth Antiques and Oddities:
http://www.yelp.com/biz/woolly-mammoth-antiques-oddities-and-resale-chicago

Dimensions:
The plaque is solid oak, shield shaped, and is 23 1/4" tall and 18 1/2" inches wide at the widest part of the shield. The mounting board is 3/4" thick, plus the 'turtle-shell shoulder pads' make it even wider adding another 8-10".

The tusks are 2 3/4 to 3" inches long. and the head juts out from the wall 23 3/4 inches.

Bebop weighs around 23ish Lbs before shipping.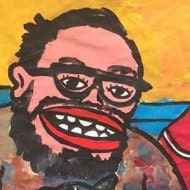 Darick Maasen
Listed on Oct 17, 2011
6308 views