This item sold on January 6, 2012.
We've never had a proper Halloween release at Sweet Anthem. Sure, there have been perfume appropriate for this season before – Rebecca, Louise, Anton, to name a few. We like our fall notes around here. But the age-old tradition of All Hallow's Eve is a tiresome one that tends to take over our incoming radar as early as September. There's so much magic out there to have fun with, though, that we couldn't resist a release of our own.
This year, I was inspired by St. Andrew's Day, most commonly known as a Scottish bank holiday, but also a saint's day in Eastern Europe celebrated toward the end of November. The air is cooler then, and many of the pine trees have begun to drop their needles. Wisps of snowfall tend to invade desolate streets, and even the quickest of breaths can be arresting in the frosty weather. The treats are still mostly sweet, but it isn't just the average confection. The festivities are some of the last before the all-out offensive of Christmas cheer hits the season. And the traditions are ancient – with most of them predisposed in the quest for a husband.
So as we lead in to the saint's day, let's celebrate three ways – with the day's saint himself, and two Greek goddesses. It's bound to be a good time, and will surely keep you well practiced in spreading all that holiday joy.
This listing is for (3) solid perfume twists from our Halloween 2011 collection. You will receive one of each from the list below.
------------------------------------------------------------
Sweet Anthem Halloween 2011 Catalog
034. ANDREJ (Gourmand)
As the wax shapes cast divine shadows on the wall, St. Andrew's Day closes in a meeting of the magical and the mundane. This auspicious mix of acorns, clove, hazelnuts, and orange peel accommodates a rather uncomplicated musk.
• Top Notes: Clove, Orange Peel
• Heart Notes: Hazelnut
• Base Notes: Acorns, Hay Absolute
035. PHOEBE (Woods)
While leaves crackle underfoot on cold dirt, the imminence of the year's inaugural snowfall looms in the sharp air. Northwest pines and a local lavender create a fougere for those transitional months, when the moon hangs high and your exhaled breaths are barely visible.
• Top Notes: Pinyon Pine, Snow
• Heart Notes: Lavender, Maple Sugar
• Base Notes: Amber, DIrt, Tobacco
036. VICKY (Gourmand)
Love don't take no reservations, love is no square deal. A devastating blend of almond, cinnamon, and sweet orange.
• Top Notes: Sweet Orange
• Heart Notes: Cinnamon
• Base Notes: Almond
------------------------------------------------------------
Solid perfumes are uncut perfume that has been hand-blended with organic soy wax and organic shea butter. Called the best on Etsy, these twists are a convenient and portable way to enjoy your perfume throughout the day. Each solid perfume twist is presented in a lip-balm style tube made of natural, recycled plastic that has a twistable toggle so you can push the perfume onto your skin. They contain 5ml of fragrance (~.15oz) and are good for 15-20 applications. Solid perfumes will remain fresh for 1-2 years after purchase.
This gift set of solid perfume twists is presented in our classic Victorian coffrets and signature apothecary branding. Each gift set is tied with baker's twine to secure during shipment.
------------------------------------------------------------
Find more at
sweetanthem.etsy.com
Learn more about the shop and process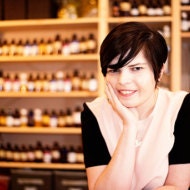 Meredith Smith
Halloween 2011 - Gift Set of (3) Solid Perfume Twists - Andrej, Phoebe, and Vicky
Listed on Oct 22, 2011
192 views