Sterling Silver Cougar ring set with a natural garnet cabochon. Garnet is the birthstone for those born in January. The garnet measures 8mm x 6mm x 3.5mm thick, and weighs about 2.00 carats. The design of the hand crafted sterling silver ring features a snarling cougar (or panther, mountain lion, or tiger) on tree roots and branches. The ring weighs about 12.55 grams. The ring shank at the thinnest place in the back measures about 3.8mm wide x 1.2mm thick. A significant portion of the sterling silver I cast these rings with is newly refined and alloyed recycled silver.
I will craft the ring to your finger size when you order it. I can usually have your ring made and ready to ship within 3 to 5 days of your completed order. I can make it any size from 6 up through 13 in half or even quarter sizes if you like. Smaller than size 6 is possible, but uncomfortable to wear as the cougar will press into the fingers next to the finger it is worn on. Larger than size 13 just costs an additional $10.00. If you need a larger size please contact me for instructions on how to order.
PROPER FINGER SIZING: There is no way to accurately guess or estimate the finger size you need for a ring to fit properly. The only way to obtain an accurate measurement is to use the METAL finger gauges used by jewelers. Go to a store that sells rings, and get the finger measured. They will be happy to do this for you. Finger size is totally unrelated to body size or shoe size. Using string or ribbon to measure the finger is not accurate. Printing a paper off the internet and wrapping it around your finger may work if you plan to wear a piece of paper on your finger; but if you plan to wear a silver or gold ring, it won't work. Again, the only reliably accurate way is to use metal finger gauges graduated in 1/2 sizes, until you find the one that fits best. Also keep in mind that fingers are smaller when it is very cold, and larger when it is hot and humid. Receiving a new ring that is too large or small is quite disappointing. You will be far happier if you take the time to obtain an accurate size before ordering.
Gemologically Speaking; This is the educational part:
The origins of the name Garnet are lost in it's long history of use as a gemstone. It may come from the Middle English word "gernet" which means dark red, or the Latin "granatus" which means grain and may also refer to the red seeds of the pomegranate. But whatever the origin on the name, Garnets are not all red. They are found in many colors including red, orange, yellow, green, blue, purple, brown, black, pink and colorless. The rarest of these is the blue garnet, discovered in the late 1990s in Bekily, Madagascar.
Garnet is not a single gemstone, but a group of closely related mineral species called neosilicates with the general chemical formula X3Y4(SiO4)3. X is usually Calcium, Magnesium, or Iron, and Y is usually Aluminum, Iron, or Chromium. Garnets are most often found crystallized in the dodecahedral crystal habit, but are also commonly found in the trapezohedron habit. There are 6 common species of garnet, and many uncommon species. The 6 common species which are used most often as gemstones are Pyrope, Almandine, Spessartine, Grossular (Hessonite and Tsavorite), Uvarovite, and Andradite. Tsavorite is green Grossular garnet. Grossular garnet from Kenya and Tanzania has been called tsavorite. Tsavorite was first described in the 1960s in the Tsavo area of Kenya, from which the gem takes its name.
The hardness of garnet varies from 6.5 to 7.5 because of the varying composition which makes the atomic bonds stronger in some species than in others. Almandine is the hardest. The refractive index of garnet is from 1.72 - 1.94. Garnet is mined from metamorphic and igneous rock all over the world. It has been used in jewelry since Roman times. Garnet is the state mineral of Connecticut, New York's state gemstone, and Star Garnet is the state gemstone of Idaho.
Metaphysically Speaking:
Historically Garnet was known as the Warrior's Stone, and ancient soldiers carried garnet to protect them against death and injury. It was also believed to bring victory, peace, and tranquility.
Garnet is January's birthstone and associated with Aquarius in the Zodiac. Garnet is thought to heal, to enhance bodily strength, to enhance endurance and vigor, to protect health of the heart and blood. It is said that garnet strengthens, purifies, vitalizes and regenerates body systems, especially the bloodstream. It has a strong affinity with the root chakra, helping to harmonize the potent forces of the kundalini. It stimulates the pituitary gland, and aligns subtle bodies. It has a positive affect on love, compassion, and enhances imagination.
**Upgrade to Priority or Priority Express shipping to an address in the U.S.A. is available at checkout. You can also purchase an upgrade to Priority shipping from me here:
https://www.etsy.com/listing/118405172/upgrade-to-priority-us-post-shipping-to?ref=shop_home_active_5
*International shipping to listed select countries is by insured Priority International U.S. Post or Federal Express at seller's choice. Average shipping time is 6 to 30+ business days, depending on how fast or how slow your country's postal system is. Most countries charge a customs duty tax on items you import from the United States. It will be your responsibility to pay this tax when your package is delivered to you. Please check with your local postal service's customs office to learn how much your customs tax will be when your item arrives. In some countries this tax can be quite high.
Learn more about the shop and process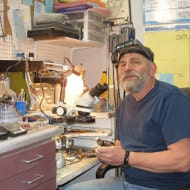 Paul Badali
Cougar, Mountain Lion Ring, Garnet, Recycled Sterling Silver, January birthstone
Listed on May 29, 2016
993 views