This item sold on December 16, 2012.
Stunning collection of three vintage faceted green glass vases. Two are the more typical emerald/grass-type green color, while the third is a special olive/yellowish green sort of color.
These must have been stored in a basement or attic for quite awhile, since they were pretty dirty when I got them. I have washed them several times and they are quite clean now except for the bottoms of the olive green vase and the tall vase with the vertical lines (the third vase is spic n' span clean). The olive green vase has the more stubborn dirt, but the more I wash it the more comes off each time. I will give these another washing once they are purchased before I ship them. The dirt on the bottoms is only noticeable on inspection, and assuming the last remnants can't come off, it won't be noticeable when on display during use. If you would like a picture let me know.
The shortest vase is the olive green colored vase and it has a curvy diagonal line pattern that appears to be a diamond pattern because the lines from the front and back of the vase seem to overlap each other through the glass. The bottom is unmarked. The vase has a scalloped rim. The top measures 4.75" diameter at the outside; the vase is 8" tall; and the base measures 4" diameter.
One of the tall vases is the grass/emerald green color and has long vertical lines running down the length of the vase. At the bottom of the vase are two bands of thick facets. Along the top of the vase is a band of interesting little pinprick size dots that I didn't notice until looking very closely. The bottom is marked "EO Brody Cleveland, O US". The diameter of the top measures 4.75" at the outside; the vase is about 9 3/8" tall; and the base measures 4" diameter.
The other tall vase is the same grass/emerald green color and has a lovely overlapping fish scale/scallop type pattern. All I can make out of the mark on the bottom is "Cleveland Ohio, A170" and perhaps an "EO". I would be willing to bet that it says "EO Brody". The diameter at the top measures 4 7/8" at the outside; the vase is about 9 3/8" tall; and the base measures 4.5" diameter.
The vases will be heavily padded to prevent damage during shipping and will be sent with insurance and delivery confirmation. The vases alone are very heavy (1+lb each), hence the shipping cost.
If you have any questions or would like to see more pictures let me know!
~~~~~~~~~~~~~~~~~~~~~~~
I refund shipping that is $1+ overcharged!
For more home decor, click here!
http://www.etsy.com/shop/mothrasue?section_id=10821820
Stay in touch!
http://mothrasue.blogspot.com/
Learn more about the shop and process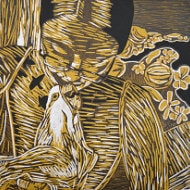 Emily Weihing
Three Vintage Green Glass Flower Vases Large Faceted Glass Vases Diamond Fish Scale EO Brody Country Cottage Chic Farm House Wedding Decor
---