11959 Sales
|
On Etsy since 2008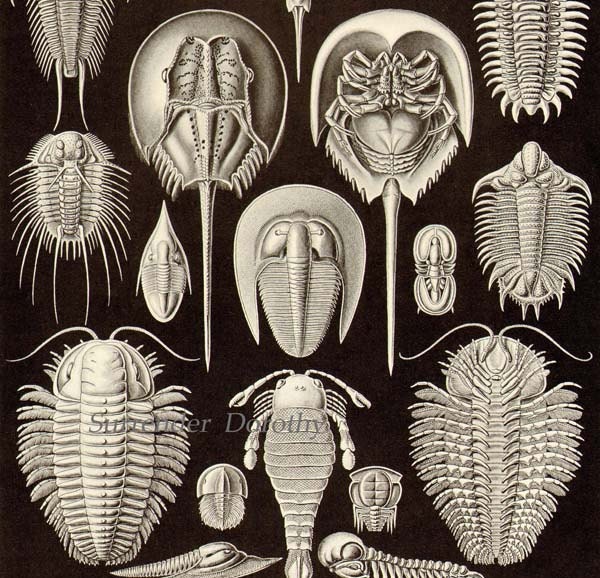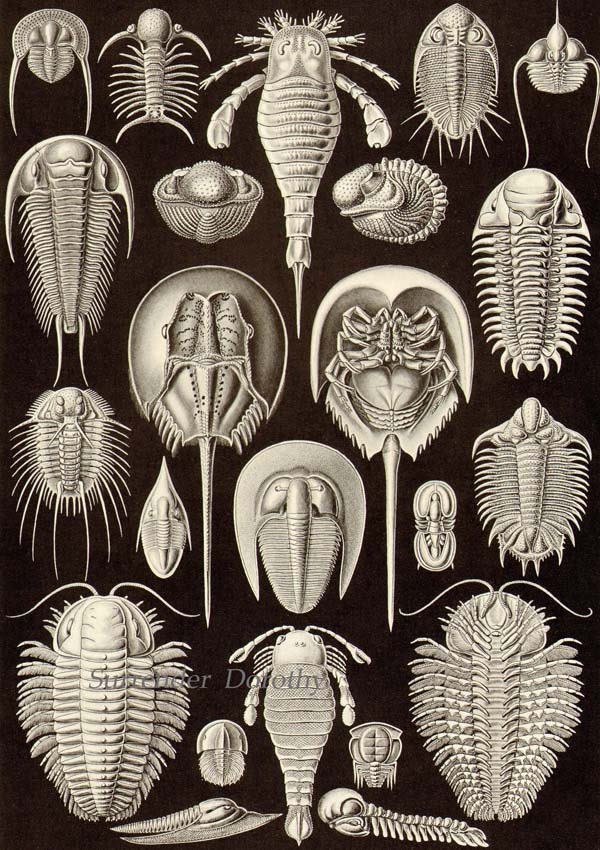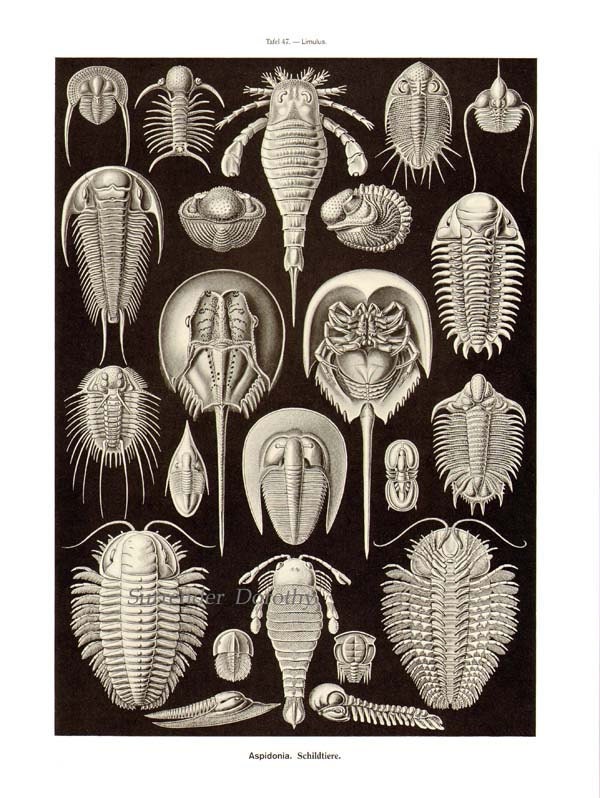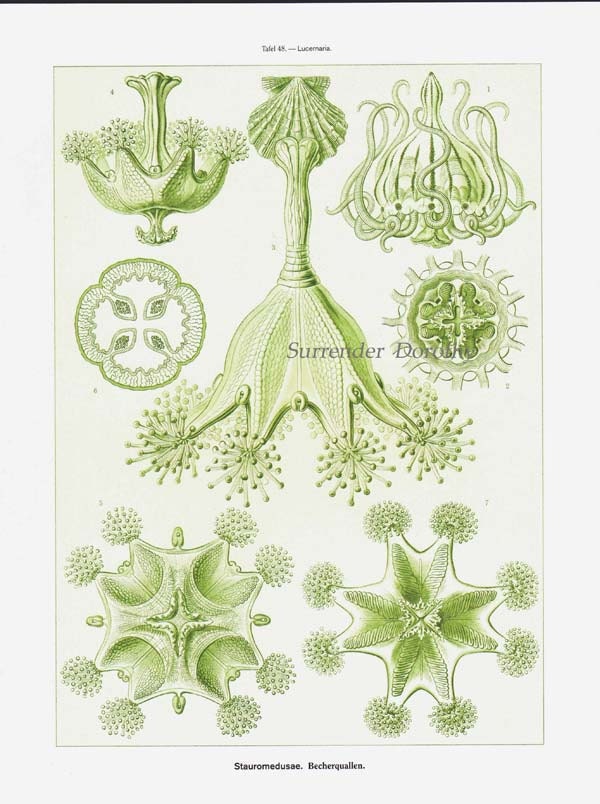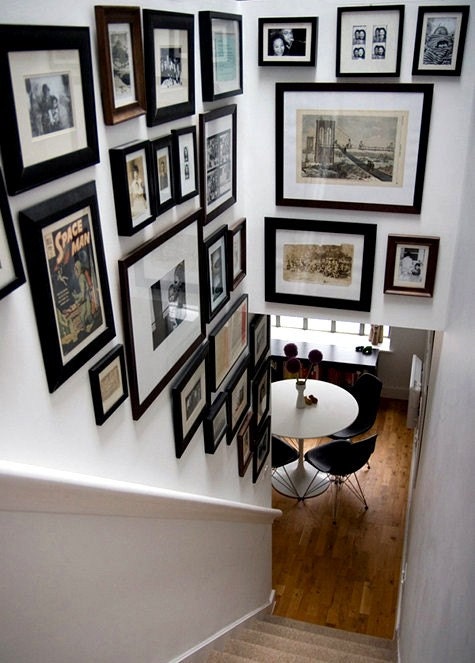 Trilobites & Horseshoe Crab Shell Formations by Haeckel.
This fascinating double sided Oceanography/ Natural History lithograph is from 1998, reproducing the very early engravings taken from nature by Ernst Haeckel himself; originally printed in the Victorian Era in Leipzig, Germany.
Horseshoe crabs, common along the Delaware coast, have evolved little in the last 250 million years. Still, they have survived because of their hard, curved shells, which have made it difficult for predators to overturn them and expose their soft, vulnerable underbellies. The horseshoe crab has also survived because it can go a year without eating and endure extreme temperatures and salinity.
The Delaware Bay region is home to the largest population of the American horseshoe crab (Limulus polyphemus), which is found along the western shores of the Atlantic Ocean from Maine to the Yucatan. Another three species live in the coastal waters from Japan to Indonesia.
Once called "Horsefoot Crabs" because of the resemblance of its shell to a horse hoof, the Horseshoe Crab isn't really a crab. Related to scorpions, ticks and land spiders, horseshoe crabs have their own classification (Class Merostomata).
Ernst Heinrich Philipp August Haeckel 1834 –1919 was an eminent German biologist, naturalist, philosopher, physician, professor and artist who discovered, described and named thousands of new species, mapped a genealogical tree relating all life forms, and coined many terms in biology, including anthropogeny, ecology, phylum, phylogeny, stem cell, and the kingdom Protista.
Haeckel promoted and popularized Charles Darwin's work in Germany and developed the controversial recapitulation theory ("ontogeny recapitulates phylogeny") claiming that an individual organism's biological development, or ontogeny, parallels and summarizes its species' evolutionary development, or phylogeny.
The published artwork of Haeckel; 'Kunstformen der Natur' includes over 100 detailed, multi-colour illustrations of animals and sea creatures.
'Trilobite & Horseshoe Crab' is printed on heavy quality satin finish card-paper stock. It measures a generous 9.25" x 12.25" overall with one inch snowy white borders all around. It's in excellent condition; no tears, folds, creases or marks... a fabulous print perfect for framing.
There's another equally fascinating full color illustration of Jellyfish done in Spruce green ink on the reverse side. You may have a bit of trouble deciding which of these lovely prints to frame first. I'll leave that choice up to you.
Matted, framed and displayed as a gallery grouping, these wonderful natural history prints are simply spectacular. (Please note that the framed examples in the last photo are just to show how this might look when it's framed. Your print will come unframed.)
Surrender Dorothy offers a non-stop jaw-dropping cornucopia of frame-worthy antique and vintage prints, drawings, posters, sketches, ads, plans, lithos, engravings, maps, charts and illustrations of all kinds to adorn every room in your happy home. Terrific finds to gussy up your workplace too.
Our entire inventory moves in and out of here very quickly and fresh selections are added each day. Please be sure to bookmark our shop and check back to visit us often so you don't miss our latest discoveries.
I'll send this to you First Class Mail by way of those nice folks at the USPS packed flat and protected in a rigid mailer.
====================================================
Many other works by Haeckel may be seen here:
http://www.etsy.com/shop/surrenderdorothy/search?search_query=haeckel
====================================================
View our Vintage Natural History Department here::
http://www.etsy.com/shop/surrenderdorothy/search?search_query=natural+history
====================================================
Our Sea Creatures may all be viewed here:
http://www.etsy.com/shop/surrenderdorothy/search?search_query=ocean
====================================================
More Shells are here:
http://www.etsy.com/shop/surrenderdorothy/search?search_query=shell
*********************************************************
Please View Our Shop Policies Here:
http://www.etsy.com/shop/SurrenderDorothy/policy?ref=shopinfo_policies_leftnav
Trilobite Horseshoe Crab Shell Formations Haeckel Vintage Print Natural History Oceanography Victorian Scientific Lithograph
---
Overview
Materials:

paper, ephemera, ink

Ships worldwide from

United States

Feedback: 3549 reviews
Favorited by: 77 people
Shop similar items from sellers around the world