*******(PLEASE NOTE: This item is RESERVED for DZEN. Thank you for looking!)*******

Offered is this very large beautiful 'Netted Taiwanese' hand blown fishing float in forest emerald green. The weight is King Kong - about 11-1/2 pounds! The float measures between 12 - 13 inches, around 12-1/2" or so is the glass, to be conservative - difficult to get an exact diameter with a thick rope net. The circumference is 42 inches with the net. When you wake up and see the light flowing through this amazing antique, you may think you're in heaven!

In addition to the beautiful color and net is the surprise waiting on the seal 'button'. The seal button itself is quite round and thick. The surround edge is nicely rounded but not flush with the surface glass the way many Japanese seals appear (that is, they thin out near the edge). This one remains thicker at its surround edge, almost as if raised a bit from the surface glass.

The surround edge is in beautiful condition - MINT - with no chips, no nicks, no grazing. The surround edge is marked with what is referred to in the West as the Taiwanese 'Pie Seal' marking. These are a series of small straight lines that run perpendicular to the edge of the seal - spanning around the seal - somewhat resembling the tines of the fork marks our Grandmother's used to crease the edges of a pie with (does anyone bake pies anymore)? To form this, the "pie seal" hot iron was applied to the outer edges of the seal and may be thin, or thick, the striations may be barely visible and far apart OR very raised, close together and bold. The striations on this seal are deep enough they can easily be felt with a finger tip, a very good sign. The Taiwanese floats in recent years have become highly collectible and sought after.

The center of the seal reveals some interesting movement and character. I've taken many close up photos, in attempt to look deeper in the hopes of identifying an additional marking of some kind, even albeit an obscure mark, besides the 'Pie Seal' marks - the signature for a Taiwanese fishing float. There may have been a mark or an attempt, but nothing seems definitive.

This appears to be a 'double seal' which is why I'd hoped to find something else.The method of marking the Taiwanese is referred to as "obscure". A blob of glass or initial seal is applied to plug the blow hole, the mark is applied to that – and then covered over with a second sealing button. It appears there is a 2nd seal fused onto the initial seal. A float buddy and myself are only able to make out what appears like a 'check' mark. This mark is part of a number of possible marks, however nothing else stands out but a good deal of movement and interesting confusion. We felt like archaeologists! Great fun! The 'Pie Seal' marks are bona fide and a 'Pie Seal' Taiwanese with an intact net will always hold value.

This wonderful float shows normal surface wear, nothing serious - actually in admirable shape for its many decades of hard work and journey at sea. The glass is amazingly clear with rich luster, lovely glossy sheen that glows in any level of light. It shows some swirls here and there, especially in the basal area. There are very, very light frost markings here and there between netting, but the high gloss of the antique, thick, lead heavy glass takes over and simply glows!

The net is, believe it or not, 100% cotton - thick heavy weight rope. How is survived so well is Good Fortune - and likely due to the fact it had been tarred at one time. This was commonly done in the 'old days' as a preservative. The net and float are clean enough, you will have no worries displaying it! (No mud or debris to deal with - whoo hoo!) The net naturally shows wear, being decades old and having worked hard. However it remains fully intact and in very good condition! To preserve the longevity of this marvelous intact, authentic antique cotton tarred net, I'd recommend that it not be used in a pond or subjected to water treatments. Also keep it out of direct, hot or bright sunlight. However, indirect bright light is fine. It has enjoyed low light and will even glow in the near dark!

This wonderful collectible will keep on giving.....and you'll be more and more grateful to have it over the years. Please give this 'disappearing species' the best home, feel and appreciate the immense Good Fortune within!

Thank you for helping to care for vintage fishing floats, which are rapidly being replaced with plastic or synthetic floats.

I value your time and energy. Thank you for your interest in lightinawormhole. Whether you purchase or not, Best Wishes!
***************************************************************************************************
(NOTE: THIS ITEM IS RESERVED FOR DZEN. PLEASE DO NOT PURCHASE UNLESS YOU ARE DZEN. THANKS FOR YOUR INTEREST & FOR VISITING lightinawormhole.)
****************************************************************************************************
SHIPPING: I RECOMMEND PARCEL POST SHIPPING FOR THIS FLOAT. WHILE IT'S A BIT SLOWER, IT IS MORE COST EFFECTIVE. THE FLOAT ALONE WEIGHS 11-1/2 POUNDS. DOUBLE BOXED WITH EXTRA INSULATION TO MAXIMALLY PROTECT THIS MAJESTIC FLOAT WHILE IN TRANSIT WILL BE AROUND 20 POUNDS. THE COST IS $40.00. THIS INCLUDES YOUR TRACKING NUMBER, FULL INSURANCE, & 'Signature Confirmation' REQUIRED. DUE TO THE SIZE OF THE FLOAT, DOUBLE BOXING WILL REQUIRE GOING TO AN 18" OUTER BOX. THEY NOW CHARGE FOR DIMENSION AS WELL AS WEIGHT & 18" ON 2 OR MORE SIDES PUTS THE PARCEL INTO A MORE COSTLY CATEGORY. TRUST IT WILL BE PACKED WITH ABSOLUTE CARE, TAKING EVERY PRECAUTION TO PROTECT ITS ANTIQUITY AND YOUR INVESTMENT. *** PLEASE ALLOW UP TO 3 DAYS ON MY SIDE TO GET IT OUT AND 2 TO 9 DAYS FOR THE CARRIER. MY GUESS IS YOU WILL HAVE IT IN A WEEK TO 10 DAYS. IF YOU REQUIRE THE ITEM QUICKER, PLEASE LET ME KNOW & I WILL GET IT OUT AS FAST AS POSSIBLE, BUT BE AWARE PARCEL POST IS A BIT SLOWER! ***

THANKS AGAIN FOR YOUR TIME AND INTEREST. HOPE YOU RE-VISIT lightinawormhole.
Learn more about the shop and process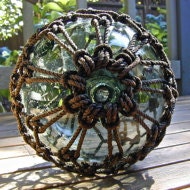 lightinawormhole by Robi
Glass Fishing Float, 13 Inch Net TAIWANESE Marks, RESERVED for DZEN, Nautical, Home Decor, Glass, Ocean, Sea, Beach, Cottage, Garden Decor
---
Overview
Vintage item from the 1940s
Materials:

glass, cotton

Only ships within

United States

.
Feedback: 836 reviews
Favorited by: 114 people