The Swift, handsome in flight, recognisable by long narrow pointed wings and short forked tail, may spend the first 2-3 years of life in flight and announces the arrival of summer here in the UK. It's profile captured in this uniquely designed gorgeous bespoke luxury locket made of Sterling Silver.

A great unisex locket and by exchanging the chain for a L&W black leather cord necklace you create a different look.

From our handmade locket, an intricate mould is created, then cast in Sterling Silver using recycled silver whenever we can, hand finished each to order. Due to this process each one is slightly different so the following measurements are all approximate. The back of the locket bears the UK Trade mark L&W brand initials. Each locket is Assay registered and we have our own L&W Assay Stamp with the Birmingham UK Assay Office.

The locket is 23-24mm in diameter, the pattern inside lid is 18-19mm and the inside base 20-21mm, weighing 13gm. It falls from a 46cm (18") medium round belcher chain with an L&W brand tag disc as standard.

Our lead time is usually 2-3 weeks although we average 10 days at the moment and we do our best to hit tight deadlines.

You will receive it beautifully packaged in its own L&W wooden jewellery box. You don't just own a beautiful piece of jewellery you also own a wonderful future heirloom.

"Everywhere I am, there you'll be....."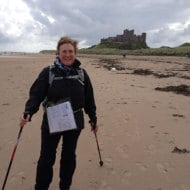 Gwen Bagier
Listed on Dec 17, 2014
295 views