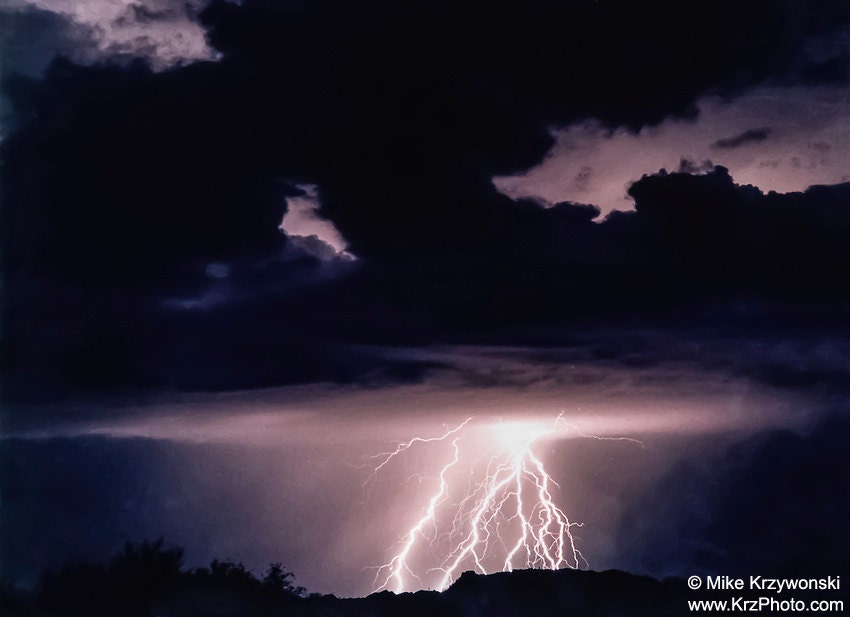 I shot this in the desert of Tucson, AZ during one of their monsoon electrical thunderstorms. Each year, I travel throughout the country in pursuit of severe weather. This is one of my most photogenic lightning shots to date. You can be one of the lucky ones to have this hanging on your wall, or impress a friend who is a severe weather enthusiast.

Print will not display the copyright watermark as seen on this image.
Contact me for additional sizes.
Be sure to visit my official website krzphoto.com to view my entire collection, & "Like" my Facebook page facebook.com/MikeKrzywonskiPhotography to keep up to date w/ my activity.

ABOUT METALLIC PAPER:
With a glossy finish and unique metallic appearance, these prints have extra visual interest and depth. They are printed on long-lasting Kodak Professional Endura Metallic paper. This paper uses a proprietary combination of film laminate layers that produce striking, three-dimensional lasting images on an ultra-bright background. The effect is sometimes described as "chrome on paper."

You'll see extreme sharpness, brightness, and color saturation with an intense black density that increases its appeal. The proprietary laminate layers also increase the durability and tear resistance of the final print, increasing the opportunities for display applications. When stored in the proper conditions, prints are fade resistant for up to 100 years.

ABOUT ALUMINUM PRINTS:
Not to be confused with metallic prints, metal prints are aluminum sheets with a dye infused layer coating the surface, upon which the actual image is printed. The result of this process is a rich iridescent sheen, bright vivid colors, and a depth of detail that can't be matched by conventional paper prints.

Metal prints are waterproof, weatherproof, scratch resistant, easier to clean, and do not require additional matting or framing. A 1/2" thick mount block allows the image to be hung and appear to float from the wall without the need of a frame.

These prints are more glossy and vivid than metallic paper prints. I personally prefer aluminum over all other display materials available. They cost more, but they're worth it.
Beautiful Desert Monsoon Lightning Storm in Tucson, Arizona
---