Calling all grill masters! Here is the ultimate grilling kit for that BBQ fanatic in your life.

This handsome kraft tube with flush fitting end caps holds 12 magnetic glass top containers each measuring 2 inches (53 mm) in diameter. They can be stored on any magnetic surface you like.

These rubs are not commercial mixes! I make them in small batches from my own recipes. and they are absolutely delicious. Includes serving suggestions on the ingredients insert included with the kit.

This set includes:

> Memphis BBQ Rub <

A new spin on a dry rub that originates from in and around Memphis, this mildly spiced and sweet rub is great on chicken and ribs. You can pat it on dry and baste with a smoky BBQ sauce, or just use it as is if you prefer dry ribs or wings. Instead of the traditional brown sugar, organic golden cane sugar has been used, which prevents it from being overly sweet.

> Java Love Rub <

Chili powder and espresso may seem like an odd combination, but they lend an awesome savory flavor that enhance the flavor of a steak or pork loin on the grill. Black pepper, minced onion and a touch of ceylon cinnamon round out the flavors in this unique blend. Marinate your steak for 2-4 hours in this rub and bask in the glory of its goodness.

> Southwest Chipotle Rub <

Chipotle chilies have been coming on strong in the last few years. You can now get lots of different chipotle sauces in the store, and the flavor is showing up in restaurants everywhere. Chipotle chilies have a distinctive smoky flavour and a moderate heat that is delicious on many types of meats and vegetables.

The chilies in this rub are the more authentic brown chipotle. Along with oregano, cut cilantro, black pepper, cumin and a dash or orange peel, this rub is delicious on wings, ribs, hamburgers or pork. For a great dip for french fries- combine 1/4 cup low fat mayonnaise with a 1/2 teaspoon of chipotle rub. Yum!

> Tropical Citrus Rub <

And now for something a little different- a bright, citrusy rub that adds a lot of pizzaz to your humble skinless chicken breasts. I love to use it on a Atlantic salmon filet, combined with a little olive oil and minced parsley or fresh coriander.

With a base of ginger, organic cane sugar and lemon and orange zest, the accents of this rub are nutmeg, cloves and black pepper. You can add oil to this rub and marinade your chicken or sprinkle it on a salmon filet just before you put it on the grill. You can even add it to a vinaigrette for a hit of flavor for your summer salads.

> Ancho Chili Rub <

When a ripe poblano pepper is dried, it becomes an ancho chili. Anchos are quite mild and are used in all kinds of traditional Mexican cooking. Anchos are deep red-brown and have a wonderful, sweet flavour that provide lots of personality to food without a lot of heat.

This rub combines ancho chilies with cumin, coriander, thyme and garlic, a great combination on a rib eye steak or beef kebabs.

> Tuscan Rub <

This rub combines all the elements of Italian cooking and its Mediterranean influences. Combining rosemary, sage, thyme, fennel seeds, crushed red pepper, paprika and coriander, you can use this versatile rub on firm white fish or even toss some into a pasta salad. Especially recommended for lamb.

> Chimichurri Rub <
This rub originates from Argentina. A mix of herbs and spices- when combined with oil and vinegar it becomes a sauce for grilled meats. Lovely on fish, veggies or red meats.

Contains: oregano, basil, parsley, thyme, coarse sea salt, black peppercorns, savory, smoked paprika (pimentón), garlic powder, crushed chili peppers.

> Cocoa & Spice Rub <
This fragrant cocoa rub works best when meat is grilled over a lower heat for a longer time period. The combination of dark cocoa and spices is heavenly, and great on some pork ribs.

Contains: white peppercorns, ground coriander seeds, ground cinnamon, coarse sea salt, dark unsweetened cocoa powder, ground nutmeg and ground cloves.


> Moroccan Spice Rub <
This rub is based on the traditional ras el hanout, which translates to head of the class. Best used with red meats or sprinkled over BBQ'd potatoes. Try making some authentic kebabs with this rub!

Contains: cumin seeds, coriander seeds, allspice, awojan, black peppercorns, ground cloves, fenugreek, coarse sea salt, crushed chili flakes.

> Scandinavian Rub <
This is the rub you want for every wild salmon filet you grill this summer. So simple and so good. Amazing added to pasta salad too!

Contains: dill weed, lemon pepper, sea salt and chervil.

> Jamaican Jerk Rub <
A taste of the islands that is great as a rub or as a marinade. You can use this on everything from chicken to pork to firm white fish, it's always a winner!

Contains: pimiento (allspice), chili powder, crushed chilies, coriander, mustard, black pepper, ginger, garlic, thyme, paprika, basil, cloves, oregano, salt.

> African Berbere Rub <
Berbere is the fiery heart of Ethiopian cuisine, a hot and earthy combination when used on the grill. Try some on steaks, grilled corn, or chicken wings.

Contains: cayenne pepper, paprika, salt, ground ginger, garlic powder, fenugreek, cardamom, ground nutmeg, ground cloves, allspice.

..............................................................................................


Each container weighs between 1 to 1.5 ounces (30-45 g).
You can store these on any magnetic surface.

The tube measures 12 inches (41 cm) long and 2.5 inches (6.5 cm) in diameter. The glass top containers are labeled on the side and are individually sealed for safe shipping.
Learn more about the shop and process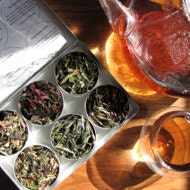 Julie Pedersen
the grill guru master kit. all the BBQ favorites in one sweet kit.
Listed on Oct 23, 2016
2591 views