This would make an amazing DIY gift for a yoga enthusiast.
Great for Studios and home practice spaces.
All proceeds from the sales of my Yoga Asana Series directly benefit the creation of my Children's Yoga Program and new website design now under construction for Yogabee.org.
THANK YOU!
BADDHA KONASANA ~ Sanskrit for Bound Angle Yoga Pose
Pronounced ~ BAH~dah~cone~AHS~anna
Basic seated Hip and Groin Stretch
This is the next in my Yoga Anatomy Series of prints designed to be displayed in a Yoga Studio.
I am a Registered Yoga Teacher (RYT) with the Yoga Alliance and a Nationally Certified Massage Therapist. I'm also one heck of a painter, seamstress & mother. I am the model in these paintings.
Just click the link below to view the entire series of Asanas to choose from.
These can be found in the ART OF YOGA Section of my Shop.
http://www.etsy.com/shop/YogaBeeVintage?section_id=10716607
"Know Thyself and All Will Bee Reveled"
These paintings are part of my lifelong journey with Yoga.
I'm in the process of painting the entire series of asanas. It is a life long process.
You can start by purchasing one or more of the poses. There's separate listings in my shop for each asana.
********************************************************************************************************
This listing is for one digital JPG image suitable for your own 8X10 printing.
After purchasing this listing, I will send you an non ~ watermarked JPG file of the first image pictured in this Yoga Series within 24~ 48 hrs after purchase.
© 2012 Jennifer Hagen/ YogaBee Vintage Designs
License Information:
Commercial Credit Required: You must give credit to Jennifer Hagen/ YogaBee Vintage Designs anywhere the art is displayed. You cannot SELL any YogaBee Vintage Designs AS IS or Altered digitally in any way without approval from me first.
(A Lot of time, care and study went into creating my art work. I consider it a common consideration that I bee given due credit for my works of art. Please be respectful of this fact.)
You may create as many prints as you like for personal display in your own home.
*** By purchasing this listing you are agreeing to my terms and conditions of use as well as all ETSY Policies concerning the purchase of digital art work.
THANK YOU! Namaste'
*******************************************************************************************************
Please look through my YogaBee Vintage shop and Add me to your shop favorites.
New poses will be added and your own yoga studio collection can continue to grow along with your own practice.
If you have an asana you are interested in (or being painted in), just message me. I'm also very interested in painting custom prenatal yoga asana portraits for mamas to be. I LOVE having these up on the walls of my daughter's room and telling her, "That's when you were in mama's tummy." :D
I'm always looking for new inspiration.
On BADDHA KONASANA:
This was one of the most relaxing poses for my pregnancy. All pregnant women should work actively every day to stretch and open the hips for the birthing experience. This painting was done in my 29th week of pregnancy with my daughter Baby Z. While Yoga did not save me from 30 hours of labor, I do believe it gave me the tools to have the strength to carry through with a natural birth. I did not tear, rip or need any interventions for the birth of my daughter. The first thing she did after she popped out was lift up her head and look right at me. It was the best moment of my life.
Learn more about the shop and process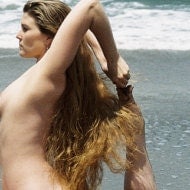 Molly Pepper
Yoga Art Anatomy Studio Series: Prenatal Bound Angle Pose ( 8 X 10 Digital Download)
Listed on Jul 19, 2016
1863 views