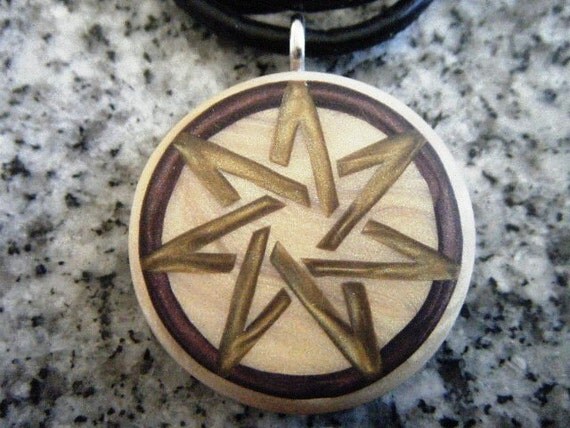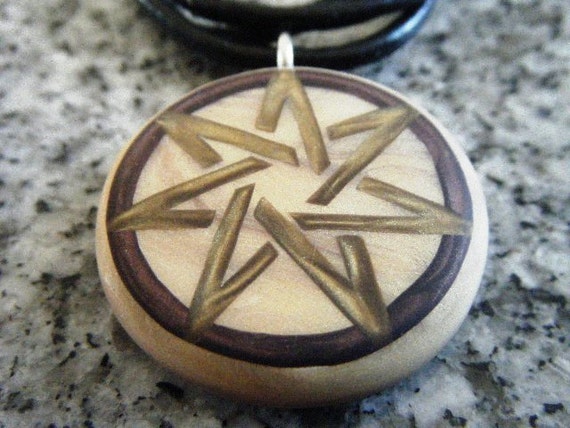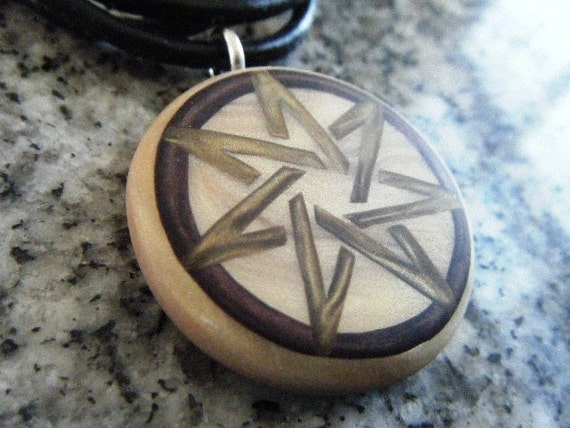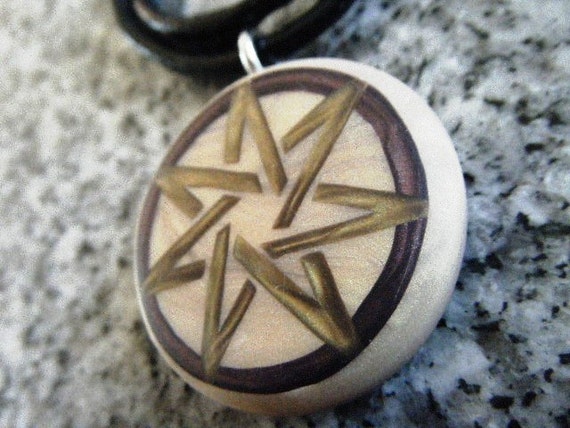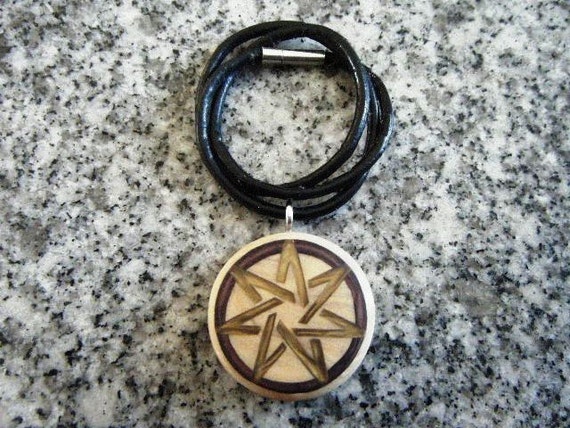 Each pendant has been hand crafted to perfection. Each piece is a unique and one of a kind creation. This pendant has been made with a lot of care and attention to detail. You are purchasing the pendant that is listed. These pendants are not mass produced or manufactured elsewhere but are all handmade by me. The pendant is light weight very smooth to the touch.

Product Details:

This Beautiful decorative 7 Pointed Heptagram Fairy Star has been hand carved on a light gold background. The circle inlay is a bronze pearl clay and the star inlay is antique gold clay. This pendant has been triple baked. I layered the colors all separately. I only use natural and organic materials to give each piece it's shine and luster.

Pendant Size = 1.5" round

Comes with a FREE 16", 18", or 20" long necklace w/ Brass Twist Clasp, Platinum Color.

IF NECKLACE LENGTH IS NOT SPECIFIED IN THE ORDER I WILL SEND 16" NECKLACE.

Elven Star or Fairy Star, a sacred symbol to those who follow the Faery tradition. Similarly, it has been adopted as an identifier by some members of the Otherkin subculture. Blue Star Wicca also uses the symbol, where it is referred to simply as a septegram. Heptagram is also a symbol of magical power in other Pagan religions.

The Heptagram is also used in Christianity to symbolize the seven days of creation and became a traditional symbol for warding off evil, thus the reason that most sheriff's badges are first heptagonal shaped.

The heptagram is also the symbol of perfection (or God) in many Christian religions.

In alchemy, a seven-sided star can refer to the seven planets which were known to ancient alchemists.

In the Phylosophy of Equalization a seven-sided star can refer to the seven elements of the universe.

The heptagram also relates to the seven chakras of the body.
7 Pointed Heptagram Fairy Star hand carved on a polymer clay light gold color background. Pendant comes with a FREE necklace
---
Overview
Handmade item
Materials:

3mm necklace, brass clasp, Metal screw eye, polymer clay, 3mm leather cord, Bayonet Clasp, 3mm clasp, Leather necklace, 3mm rubber necklace, 3mm leather necklace, Clay, Brass twist clasp, 3mm rubber cord

Ships worldwide from

United States

Feedback: 666 reviews
Favorited by: 54 people