I love this piece of electrical hardware art. The hardware dept. is my favorite place to shop for art supplies and where I get some of my best ideas because I get materials, find materials, look at materials and they are what suggest the ideas to me. I don't work from the brain to the matter, but just the opposite.
I got these great Halloween costume eyes in the mail, but they weren't at all what I was expecting, oh disappointment, not even sure how to use them, when suddenly I realized they fit perfectly!!!! into the opening of this particular piece of electrical hardware which i had been planning on somehow using like a periscope.
and for some reason, His Eye is on the Sparrow just suddenly popped into my head, along with all the little pieces you see, a small metal globe, that's the rest of us being watched over; the moon and stars off to either side (attached with fishing hardware which I love to use; all kinds of things you could say about fishing hardware). I left the barcode label inside the electrical box for a reason. There is a mechanized idea behind this universe, the notion also represented by the inner guts of a watch, the idea of god as a watchmaker who sets everything in motion and then essentially lets it run on by itself until it finally runs down. I prefer to think he, she, it set things in motion and provided all the raw materials. We are basically determining what to do with those materials and so far, it don't look good. But, there's hope, always hope, because that big compassion eye, the eye that oversees how much we've screwed up, also sees how much life buffets us in spite of sometimes our very best efforts, and is, in fact, up there watching over us.

The body is composed of an electrical outlet box (about 4" square) with conduit pieces attached as the opening for the eye; hopefully you see that the body of the piece also replicates the clock theme and has a pendulum hanging off the bottom composed of a wavy metal strip (can't remember its purpose) and assorted graduated washers. There is a hanger attached to the back, so you are ready to go the minute you unpack this piece.
Learn more about the shop and process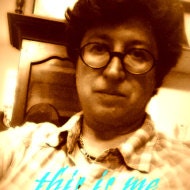 Torri Thompson
His Eye is on the Sparrow: Assemblage Art Electrical Hardware Deco
---