Clockman Stencil Art 24" x 30" Original Painting on canvas


I first started working on my 'clockhead man' character in 2004 in Tucson, AZ. I was working an office job that seemed incredibly far away from what I really wanted to be doing in life. The people around me seemed so robotic, programmed to act, dress and interact all in the same manner. While I was happy to have a job and respected it for what it was, I was really taken aback by how mind numbing the reality of it was. To help vent my frustration I started working on a large drawing of a man in a suit with a briefcase, surrounded by bombs. The basic idea was that there was inherent danger in total conformity and that everyone has a breaking point. The clock face was reversed suggesting the backwards notion of a life without creativity and individuality. There was also a fluttering of clock hands at the 9 and 5 hour marks, alluding to the typical 9-5 rat race. Not long after arriving in California I decided to rework the drawing and turn it into a stencil.

I started by putting down a multi toned grey background onto a 24" x 30" canvas. I then went over it repeatedly in watered down brown and gold acrylic paint. The figures were sprayed in red and black and a few more washes were added. Hardware attached, ready to hang!


*Please understand that while I do my absolute best to match the colors in the photo to the actual painting, no two monitors are the same and there may be a very slight color variation. If you have any questions or would like to see additional photos please let me know.
Learn more about the shop and process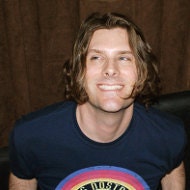 Michael Mahaffey
Stencil Art Clockman Original Painting on Canvas 18x24 CLONE 925 Spray Paint Acrylic Paint and Stencil Original Artwork Warhol Banksy Obey
---