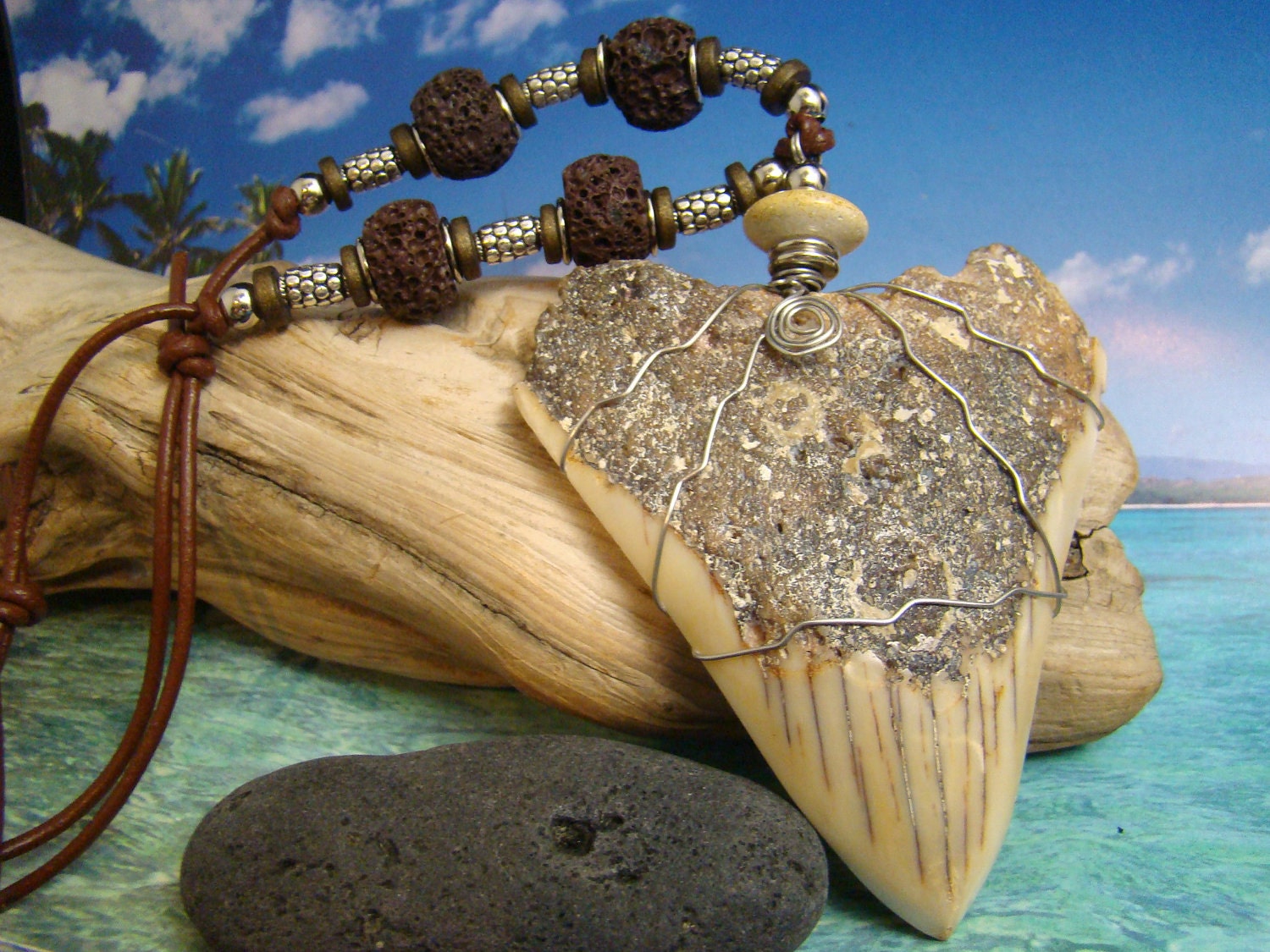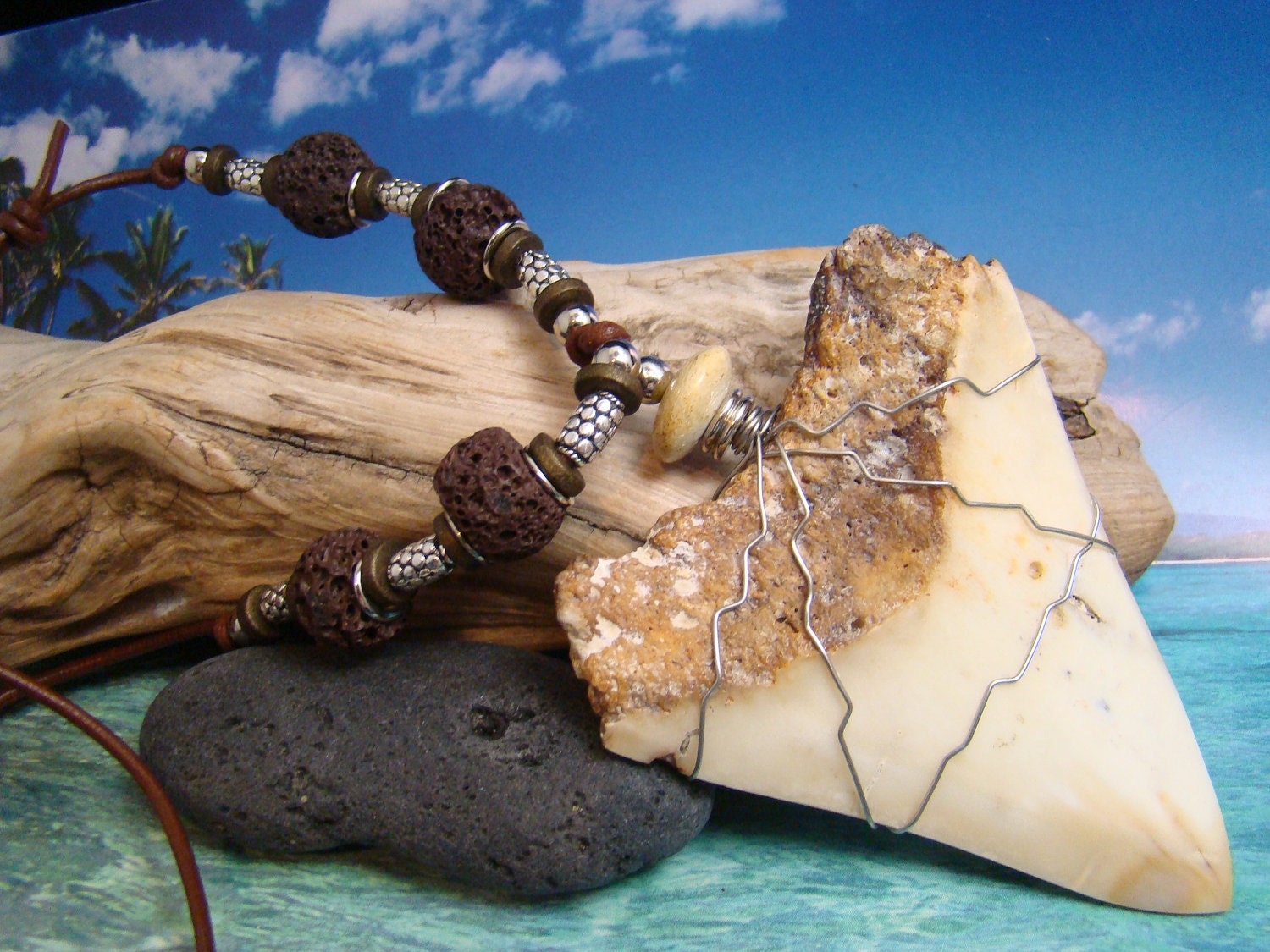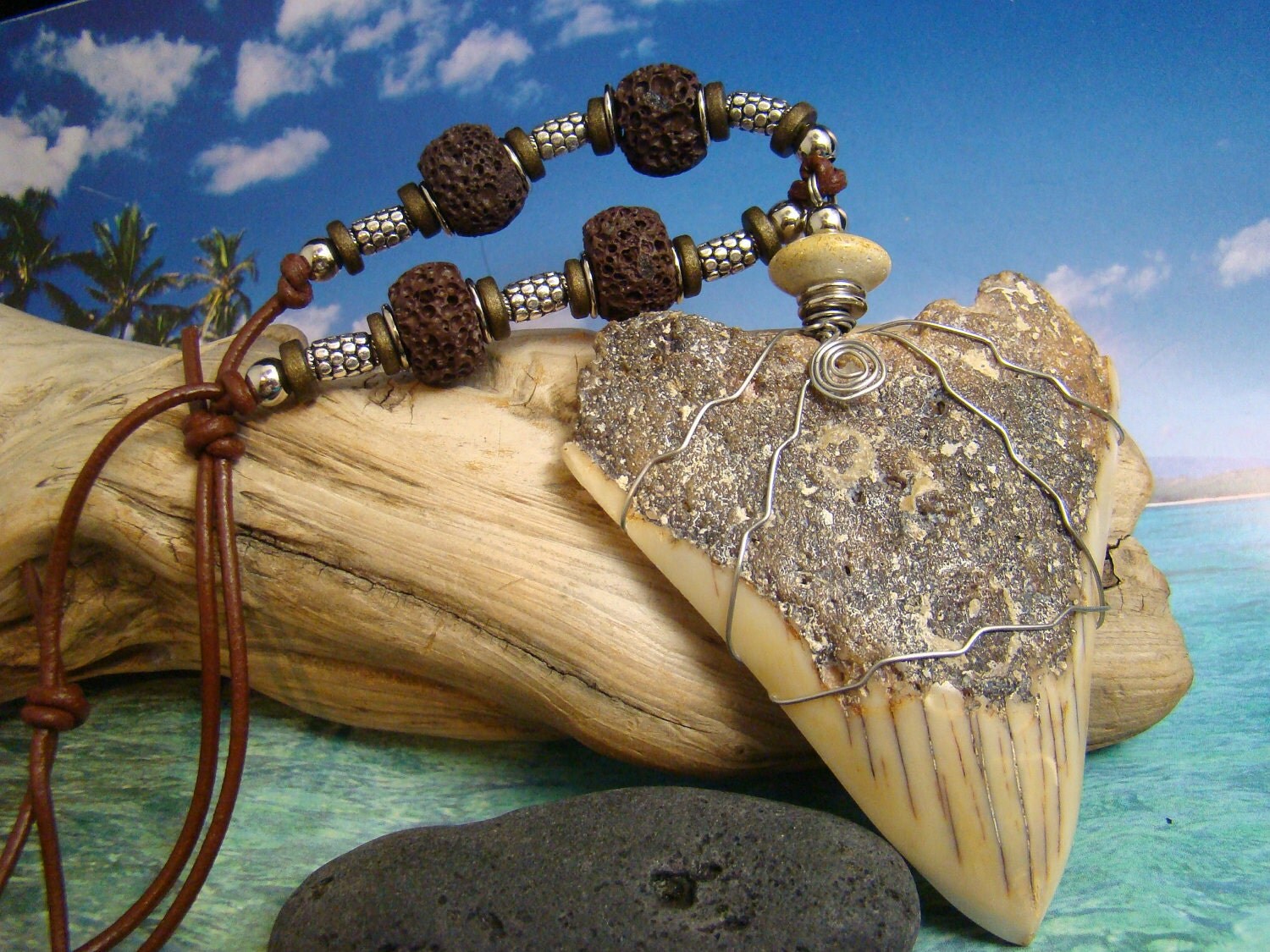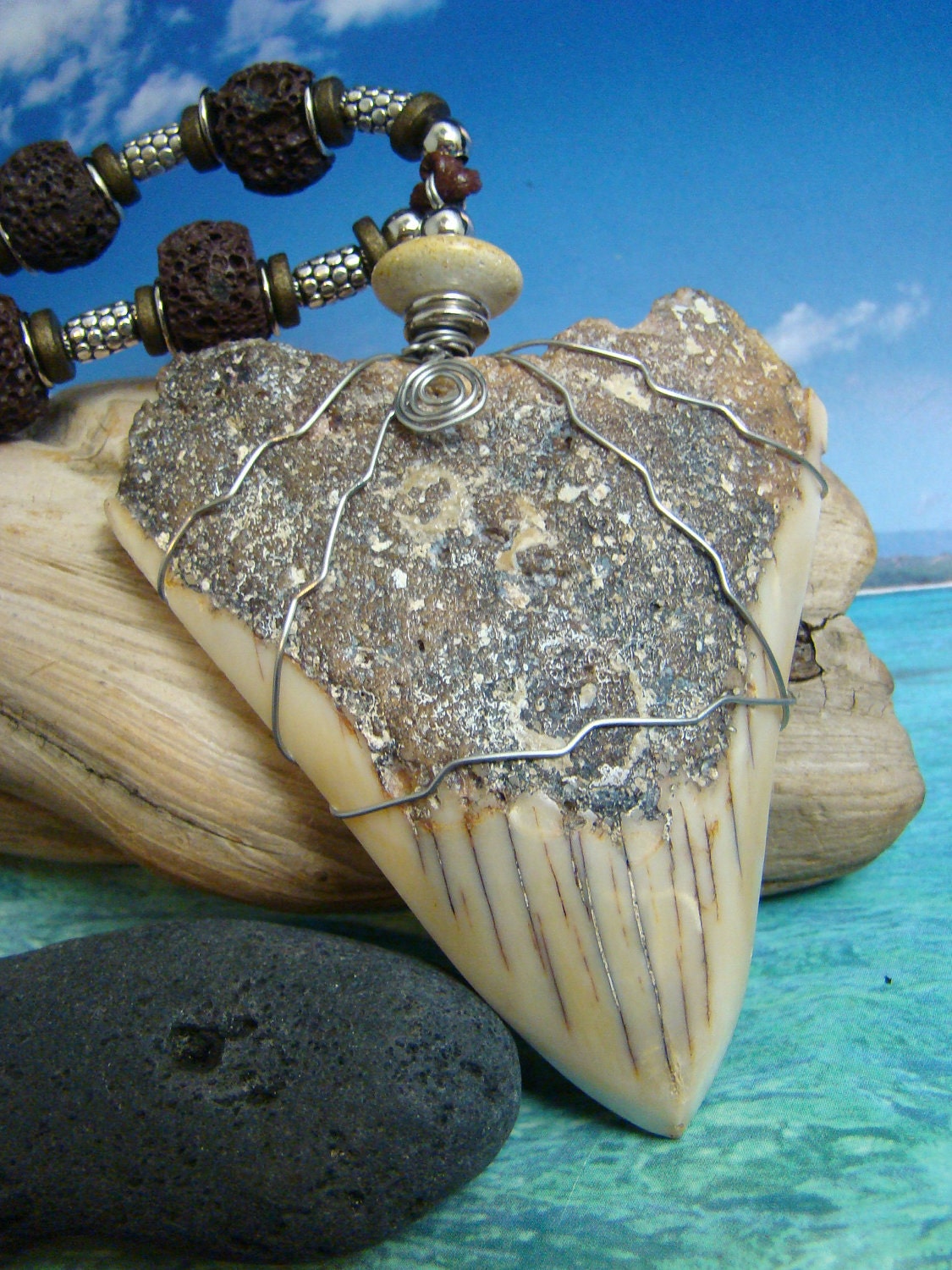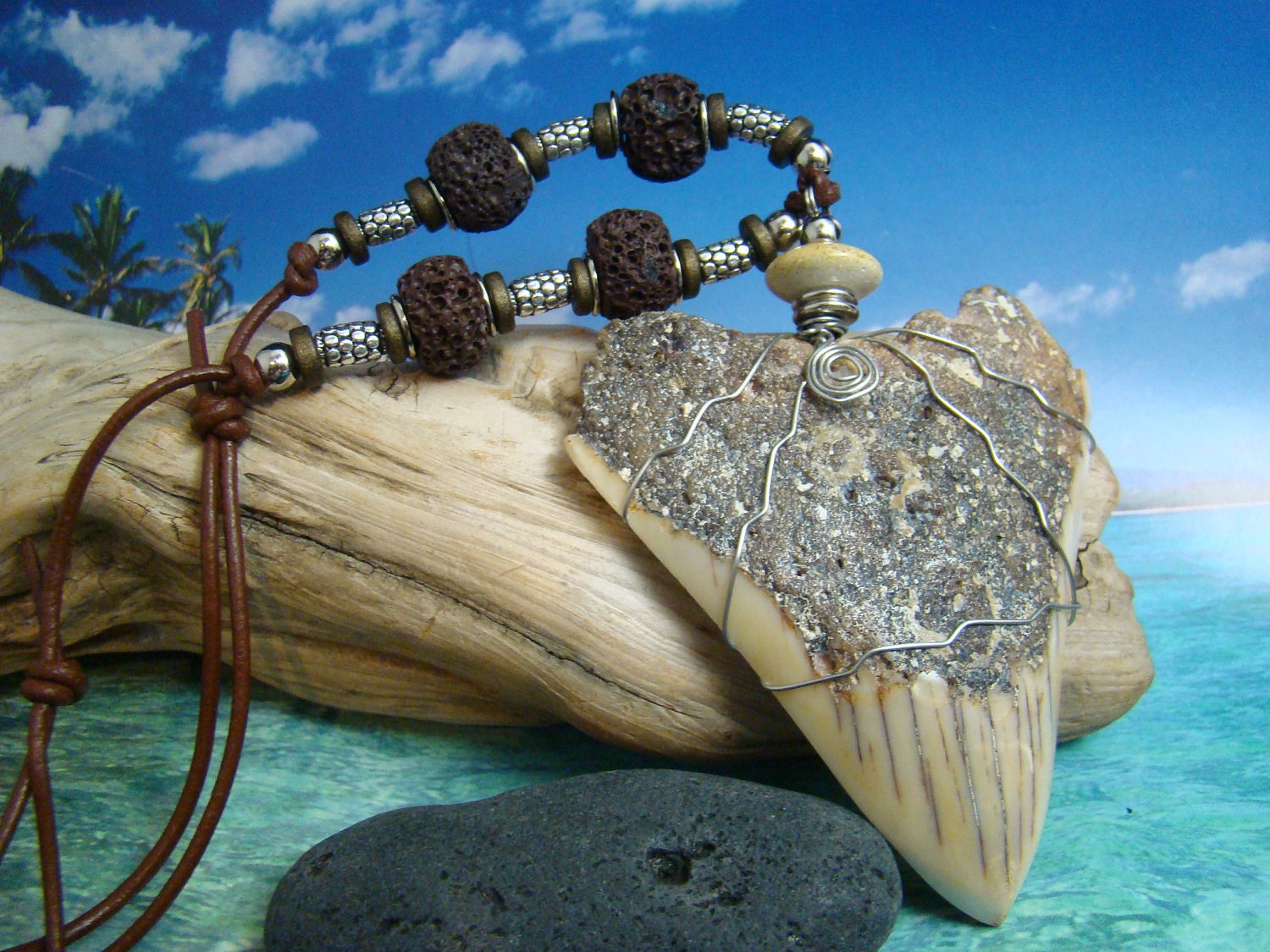 SALE! Was $124.99 Now! $99.99 - South Pacific 3 1/2" Fossil '' Megalodon Shark '' Tooth Necklace - New Caledonia - Fossil Corral and Volcanic Lava Beads - Beautiful, Silver Thailand Spacer Beads

This is '' One of The Best '' Shark Tooth Necklaces ever made!! !!

Nobody makes this large and rare Teeth Necklaces! Your Necklace is 100% " One of a Kind '' !!

A very rare South Pacific Ocean, New Caledonia, Fossil Shark Tooth

High Polished with diamond chip sanding disk.

Big Tooth! 3 1/2" L1 x 3 1/8" L2x 3"wide at root.

Necklace Materials: 4) Brown Volcanic Lava Beads ~ 1) Fossil Coral Bead ~ 12) Greek Ceramic Beads ~ 6) Thailand Silver Metal spacer Beads ~ 2mm Brown Leather cut long enough to fit over the head of an adult man or can be adjusted small enough for a child with 2 double adjustable knots for adjusting from 15" to 30" or cut to size!

Why just put your Fossil Tooth in a drawer or box when you can wear it and have it on display everyday as a conversation piece & a piece of precious jewelry?

Remember you can always change over to a metal chain! The bail has plenty of room to change to your Gold or Silver Chain

It really gets people talking, wanting to know more about your unusual Jewelry & about you!

The Beautiful Colors Exposed From The High Gloss Polish Are Hard To See In The Photos !

Miocene-Pliocene Epochs approx. 2 million to 24 million years ago. Extinct for over 2 million years. Carcharocles megalodon was the largest shark to ever swim the ocean. Reaching a length of approximately 30-70 feet, this shark was more than three times the size of the biggest modern Great White shark.

A rare and beautifully polished Fossil " Megalodon " Shark Tooth from the South Pacific Ocean. Found in over 1000 feet of water, 800 miles east of Australia, north of an island called New Caledonia It has all the characteristics of the rare South Pacific Teeth, from the gravely looking root, to its gorgeous blond color that is unique to these specimens . The color of the sediment and minerals it absorbed for Millions of years!

No where else produces spectacular colors and texture quite like this! They are getting harder to collect due to the difficulty in finding them and limited access !

A very Attractive and impressive specimen for your collection!

The wire on these teeth is tightened on the tooth to get the snuggest of all fits, the tough stainless wire does not ever loosen! Harley Stainless Steel Safety Wire, Hand Wrapped

Stainless Steel Wire is the only wire to use to wrap Fossil Shark Teeth!! Any other craft wire used (gold wire is the exception) just breaks down or corrodes quickly, will just ruin your tooth or worst the tooth is lost! I know because I have tried all other craft wire and had that result.

Only buy Stainless Steel Wire wrapped teeth!

Sent tissue wrapped, in a clear top gift box and Fossil Shark information papers. Free USA Shipping w/ Tracking include.
Low, one cost, $4.50 all items included, international shipping with Tracking also included. You never pay more than $4.50 for all items I mail to you ,from 1 to 100, it will cost you only $4.50 for all 1st. Class.
SALE - 61mm Fossil '' Megalodon Shark '' Tooth Necklace - South Pacific, New Caledonia - Fossil Coral, Volcanic Lava, Silver Thailand Beads
---
Overview
Handmade item
Materials:

megalodon, fossil shark tooth, ceramic beads, raku, greek beads, leather cord, stainless steel, gift box, Fossil Megalodon Shark Tooth, free USA shipping tracking, Volcanic Brown Lava Beads, Fossil Coral Bead on bail, stainless steel wire wrap

Ships worldwide from

United States

Feedback: 177 reviews
Favorited by: 16 people