Layaway is available for this item; please contact me for details! My layaway plans are quite generous, and I'm more than willing to work you to find a payment plan that works for your budget!

New or reclaimed from industry materials: Wolverine hide, deerskin leather, acrylic paint

Secondhand/recycled materials: Yarn

Description: This wolverine has a story behind him--literally! This headdress is a three-dimensional illustration of my original story, "How Wolverine Devoured the Sun", which you can read for free at http://therioshamanism.com/2011/11/29/how-wolverine-devoured-the-sun/ . The story, and the headdress design, was partly inspired by this work by one of my favorite artists: http://ravenari.deviantart.com/art/Wolverine-as-Totem-93962884

This hide is particularly appropriate to the story; during the tanning process, he was left too close to the fire, and it dried and hardened his hide on one side--not to the point of being completely inflexible, but he has a couple of small weak spots here and there that just need a little more delicate handling.

I don't limit myself just to the perfect, taxidermy-quality hides; in fact, I prefer taking ones that have been damaged in some way, and reclaiming them into something beautiful. And so I chose this one to be the carrier of this story of fire.

His back is decorated with a leather disk with a stylized Sun in it; the Sun is painted with blue and purple strands like DNA, signifying the fact that all life on Earth is powered by the Sun--an important detail in the story I wrote. I added hand-braided strands of secondhand wool and acrylic yarn to further symbolize the power of the Sun radiating out of Wolverine, as well as his blood being shed. (See why you need to go read the story? This will make so much more sense!)

The headdress is tied on with a pair of strong, hand-cut brown deerskin straps. Because the pelt's legs are missing, it's light enough to still be worn comfortably. While this headdress was designed around the story I wrote, it's appropriate for any sort of totemic work and ritual involving Wolverine energy.

This is a rarity--wolverine pelts are much harder to come by than, say, wolf or coyote! And you don't see them as headdresses/costumes very often, either.

I can also add details, such as my signature fangs, or other decor, for additional cost for materials and labor--customization is my specialty, so feel free to ask :) I guarantee the workmanship on all my masks and other headdresses, and should this ever need reshaping or other repair, I will do it free of charge!

Please be aware that the shipping includes insurance and delivery confirmation.

May only be shipped in the U.S.; WOLVERINE PARTS may not be sent to California. Please do not ask me to make an exception for you.***

I began making headdresses not as a trend or fashion statement, but because a decade ago I began dancing my own wolf at pagan festivals in the Northeast (particularly at Brushwood) and other people wanted to be able to do the same. Headdresses, along with the rest of my dead critter art, are an intensely spiritual work for me. I work with animal remains because I want to give them a better "afterlife" than being a trophy or status symbol. While not all my customers are animists, a fair number are, and I specialize in making the best connections for everyone involved.

There are a number of practices that I incorporate into making my headdresses that are specifically born from the spiritual angle of my work, though some of them are practical as well:

--I stitch up all tears and other holes in the hide, even small ones, as part of the spiritual "repair and reclaim" part of the artistic ritual. Even when the leather side looks like swiss cheese, it's entirely worth it.

--I don't do traditional taxidermy beyond shaping the heads of the headdresses. Part of this is because I want to use as few artificial materials as possible. Some of it is environmental; styrofoam (which taxidermy forms are most often made of these days) is bad stuff, petro-chemical based, and additionally the fewer new or nonbiodegradable resources I use, the better. Some of it is also spiritual; my headdresses are designed to maximize physical contact between the wearer and the hide, which facilitates the connection between the skin spirit and the dancer. It does mean that there isn't the constant support of a taxidermy form in the head. This is why I offer to periodically reshape heads and ears for free, if it's necessary. It's like having a hat reblocked.

--There are other things I do to maximize the wearability of my headdresses, especially long-term and with a lot of movement. Another reason I don't put taxidermy forms, real skulls, or other such things in the heads is because of weight. I want the headdress to be as light as possible to ease strain on the shoulder and especially the neck. I add a series of straps to distribute the weight of the hide, especially full hide headdresses of larger animals. And the straps also serve to create as much physical connection between the headdress and the wearer as possible. The wolf skin I first danced in, as well as my current one, both have straps at the head and the shoulders to carry weight, as well as all along the forelegs/my arms and the hind legs/my legs to cover me as much as possible. I've started using the bandolero style of tying the forelegs over the chest with bigger hides for even better weight distribution, though I still do the older style on large hides if preferred.

--I deliberately make the stops (foreheads) of wolf and other larger headdresses more pronounced than they would be on an actual wolf. This is because the human skull is a lot more high-domed than a wolf skull, and pronouncing the stop more helps the hide conform to the wearer's head more closely, especially if the head is mask-style.

--I don't line my headdresses with fabric or leather. On a practical level this is to allow the caretaker of the hide to be able to treat it periodically with a leather conditioner, which you can't do if there's fabric in the way. If you've ever seen vintage fur rugs with felt linings, you'll notice a lot of them are dry to the point of rotting, and that's because there's no way to condition them as long as they're stitched together. Since conditioning is a vital part of ongoing care and can be a strong bonding process for the person who wears the skin, I don't want people to be dependent on me to remove and restitch a backing every time they want to condition the hide. It's also a weight issue; if you have a big wolf hide that already weighs several pounds, you don't want to add more pounds of fabric. Plus if you're dancing around a fire, I can speak from plenty of experience--fur is WARM. You want that additional air flow in there and less weight to keep from overheating! Not having a fabric backing allows for longer dancing. And on a spiritual level, fabric breaks the physical contact between the dancer and the hide; if you're in a situation where you're able to dance with little or no clothing, you don't want that fabric to still be in the way.

***Wildlife parts may NOT be shipped outside the U.S.; please do not ask me to make an exception for you.***

The majority of my supplies are from secondhand sources, such as old fur and leather coats, or beads from old jewelry. Everything made with animal parts is given a full ritual purification according to my spiritual path. A portion of the proceeds is donated to nonprofit organizations that benefit wildlife and their habitats.
Learn more about the shop and process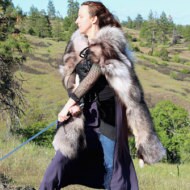 Lupa
Frequently asked questions about thegreenwolf
Wolverine headdress - real wolverine fur totem full skin dance costume headdress mask decorated with painted leather and braided yarn
Overview
Handmade item
Materials:

wolverine pelt, wolverine hide, wolverine skin, wolverine fur, deerskin, leather, acrylic paint, wool yarn, secondhand yarn, acrylic yarn

Only ships within

United States

.
Feedback: 3176 reviews
Favorited by: 59 people
Listed on Aug 30, 2016
3881 views