This item sold on November 3, 2012.
HANDCRAFTED: All of my bird houses are handmade. For this one I used all cedar materials (mostly recycled) that will last for many years with minimal care. This house is in stock, but you can also have it made to your personal specifications. Check out my shop policies on custom orders. MADE FOR THE BIRDS: This house was designed for specific birds, taking into account their nesting area needs, the distance from entrance to floor, and the size of the entrance access. Model S with a smaller opening attracts small birds like chickadees, nuthatches, titmice, warblers, wrens, etc., even downy woodpeckers; Model M with a wider access appeals to finches, flycatchers, sparrows, swallows, hairy woodpeckers, and other larger birds. (Model S is the standard; if you wish Model M, please request it.) Each house is unique, fashioned around whatever lumber and accent material are available to me at the time of construction. HABITAT-FRIENDLY: The house will always blend beautifully with the surrounding environment. It will turn gray with age (much as people do), but it will still attract birds and look cool in your yard. SAFE & FUNCTIONAL: The bird entrance is high off the floor of the house, and the hole is small, and reinforced with copper to keep babies safe from predators and house thieves. The house is also made with open air spaces for summer ventilation and drainage holes if things get messy. EASY TO PUT UP: The house can be attached to a tree, a building, or the side of a post using two screws and the slotted holes in the back, or it may be mounted on the top of a post by means of a 12-inch 1"x3" board attached to the back side of the house. Screws and board may be requested. SIMPLE TO CLEAN: A side wall opens for easy annual debris removal or to clear out unwanted pests.

Custom Options:
Please email me with requests. ENTRANCE: Your bird house will come with a 1¼-inch opening (model S) for small birds such as chickadees, nuthatches, titmice, warblers, wrens, etc. If you would like to cater to medium-sized birds, i.e. finches, flycatchers, sparrows, swallows, small woodpeckers, etc., please request the larger 1½-inch opening (model M). TOP OF POST MOUNT: If you want to place your bird house on top of a post, you may request that a 12-inch 1"x4" board be included for that purpose. ACCESSORIES: If you would like a house tag, i.e. a short name or saying burned into the front of your bird house, tell me what you want and I will do that for $5.00 extra. I will also discuss any other additions or changes that you would like to help make the birdhouse compatible with your backyard.

Finding a location:
Your bird house can be hung almost anywhere, but success in attract-ing residents depends upon many considerations, including safety from predators, distance from other bird houses, and proximity to trees, shrubbery, and other habitat that the birds use for mating, and finding food and water. Always remember that we don't necessarily know where birds would like to build their nests, so you may have to try different locations if the birds are not using the bird house.

Mounting:
You can attach this bird house to a tree, a building, or the side of a post using the slotted holes in the back of the house. Once you have found a suitable location, insert two screws in the mounting surface at the same angle and distance apart as the two slotted holes in the birdhouse. Leave about ¾ inch of each screw sticking out to hang the house on, and make sure that the screws slide into the slots. If the house wobbles a bit, take it down and turn the screws in a little bit further until the house fits securely against the mounting surface. You can also mount the house to the top of a post by screwing a 12 inch 1"x3" board into the back of the bird house and the post.

Care of the House:
You do not have to reseal or paint your bird house. It will weather with the years and turn gray, but that is normal and the birds will not like it any less. Use the door to clean out the nesting materials from inside the house before spring arrives. Do not use any household cleaners in or on the house, because these may be harmful or unpleasant to your birds. I hope that you and your feathered visitors will be able to enjoy this bird house for many years to come.

Finished Dimensions & Weight:
Side-to-side: ≈ 11 inches; front-to-back: ≈ 8 inches; height: ≈ 11 inches; weight: 3 lb. 4 oz.

Shipping:
All of my products are shipped using the USPS priority mail service which normally takes 3 business days for delivery. Within the United States, shipping .costs vary from $8.00 to $21.00. There is no charge for this expense.
Learn more about the shop and process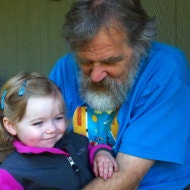 Gary Boots