This item sold on December 14, 2011.
Top image is of the actual bulb for sale.

This beautiful ornamental design is made from a standard E27 light bulb and cast with resin. As the incandescent GLS bulb is phased out, these decorative objects pay a little homage to a timeless design form. These designs are therefore on a limited run.

The bottom of the bulbs are filled with bright coloured buttons and the outer glass removed, this brings the full colour of the the buttons to the surface. Each comes with a bright waxed cotton cord.

Although the bulbs no longer serve as lights, their bright transparent qualities leave a hint of their original purpose, and transforms them into an elegant decorative form.

They look best when hung somewhere where light can shine through. You could hang them under existing lights, by a bright window or even in tall house plants. They can also decorate shelves and surfaces so they can be picked up and admired in the light.

From underneath you can see a colourful button mosaic, and looking down through it you can see a stunning kaleidoscope as the resin distorts the shapes of the buttons.

They have been selling extremely well at 'The Work Shop' in Kingston.

Sale is for single one of a kind button bulb.


Further information:

• Please Note – The cord is now tied with a neat knot rather that the metal coil pictured. This is stronger and more durable.

• Each bulb is the 85mm tall design.

• Now with a longer 70cm cord. Colour chosen to best complement the bulb.

• Each bulb is unique due to the nature of the making process, no two are ever the same. The process also means sometimes air bubbles or small scratches can occur. I carefully check each one, and if I feel there is a real fault, that bulb will form part of my discount offers.

• Discount bulbs are a great way of adding a second or third bulb to your collection and the very minor faults make them just as unique and special in themselves. Faults might consist of minor scratches or air bubbles in the resin which occurred during making.

***CAUTION*** This is not a toy – for decoration only. Not suitable for young children.
Learn more about the shop and process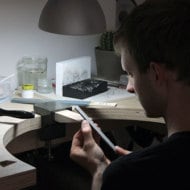 Dave Hallett
Listed on Dec 2, 2011
88 views