This is for 1-fossilized Trilobite. Each one is unique and from Morocco, most are curled, some half way curled. You can set these in jewelry, use them in your art and much more.
On average the size of a pea- which is why they are only $3.00.

Trilobite- is a primitive marine arthropod that lived entirely within the Paleozoic era. The name derives from possessing three body parts of one long central section and two lateral parts. Trilobites often had many appendages, and they were capable of swimming and crawling both. They were well developed by the beginning of the Paleozoic era, and by the end of the Silurian period, they could roll themselves up like potato bugs. They disappeared by the end of the Permian period. Their flat nature seems to indicate that they lived on the sea floor like present-day king crab. There were species of trilobite which were adapted to water surface existence. Trilobite is another important guide fossil for stratigraphic analysis.
Learn more about the shop and process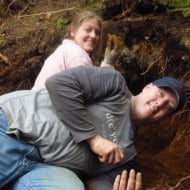 Todd and Kim
Listed on Feb 3, 2017
5532 views