BUY ANY TWO STICKERS & SAVE:
http://etsy.me/1Y9gl0t
BUY ANY THREE STICKERS & SAVE:
http://etsy.me/1TUxmeg
Hatching a scheme to smuggle human cargo through an inter-planetary forbidden zone that's just crawling with hostile aliens?
Need help transporting an over-due bounty to an angry client with no patience left for your pathetic excuses?
Has your favorite Protocol Droid gone missing and ended up in pieces in an Ugnaught junk pile?
FEAR NOT!
It's time for A NEW HOPE!
Accept CHEWIE as your CO-PILOT.
CHEWIE is honor bound to Serve, Protect & Co-Pilot your life to IMMEDIATE SUCCESS!
Did you just zip through a speed trap in hyper-drive and realize a half-second too late that Smokey is shooting radar?
Adhering a "CHEWIE is My CO-PILOT" protection talisman to your car, boat or motorcycle windscreen assures you'll travel safer, faster and virtually undetected* by speed monitoring devices!
Placing a "CHEWIE is My CO-PILOT" adhesive protection talisman anywhere in your vehicle can ward off* collisions, ease in the detection* of superior parking spaces, shield against* runaway shopping carts that might damage your fuselage (thereby grossly depreciating resale value) and otherwise guarantee* much better CAR karma!
Is your love life suddenly stalled out as if your Mojo was frozen in a solid block of Carbonite?
Slip a "CHEWIE is My CO-PILOT" adhesive protection talisman inside your billfold to experience increased wealth* and a far greater chance you'll finally get to utilize that ancient rubber barrier device for something besides late night water balloon fights! Chewie is the ultimate wing-man!
Simply display your "Saint Chewie" sticker on the bumper of your Spacecraft, Death Star Dwelling or Family Pet Carrier and watch it's mystical power protect against ALL EVIL DOERS intent on doing you harm!
Act now and purchase your CHEWIE IS MY CO-PILOT sticker for the low, low price of FIVE BUCKS and for just $5 more - we'll send along a second CHEWIE is My CO-PILOT sticker for that pick-up truck, snow machine, camper or SUV!
But wait - there's more!
Simply place a CHEWIE IS MY CO-PILOT sticker on your kid's notebook and watch his grades improve*, his skin clear* and his immediate appointment* to Audio/Visual Club & Mathletes leadership!
For pets, Chewie has been known to ward off* dangerous disease-carrying fleas & ticks, cause fresher breath* and a glossier coat* in just weeks... Younger animals have been known to have fewer* elimination accidents inside the house and older pets (and some husbands) experience less malodorous bouts of gas at bedtime.
For friends and loved ones serving in the military, CHEWIE IS MY CO-PILOT inspires, excites and defends against home sickness, foot odor and taking the world just a little too seriously. And speaking of seriously - who wouldn't want to have CHEWIE as a CO-PILOT in their foxhole when things get rough out there... Wookies ROCK in combat!
These specially designed 4.0" W x 5.5" H, laser cut, intergalactic Chewbacca inspirational stickers are made in the USA and printed on the highest quality vinyl stock (3.2 mil). They've been treated with a UV Gloss (3 mil) laminate finish over the vinyl which protects against Imperial attacks and keeps the color fast and fade free* for up to 5 years!
Accept CHEWIE as YOUR CO-PILOT today!
*Your experience may vary. Statements not verified by the FAA, the TSA nor the DMV. Sticker will not protect against laser blasts, asteroids or tractor beams. It will however look pretty freakin' SWEET on your tractor!
STICKERS ARE AVAILABLE AT WHOLESALE PRICES. E-MAIL or CONVO ME FOR ADDITIONAL DETAILS.
Thanks for visiting my page and supporting a small local business!
Learn more about the shop and process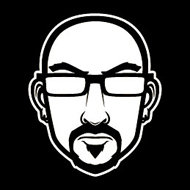 Lacko Illustration
Chewie is my Co-Pilot Protective Talisman Laser Printed Sticker & Chewbacca Star Wars Holy Prayer Card
---
Overview
Handmade item
Materials:

Digital Print, Sticker, Decal, Adhesive, Weather Proof, UV Gloss Laminate, 3 Mil Vinyl, Laser Kiss Cut

Ships worldwide from

United States

Feedback: 99 reviews
Favorited by: 318 people
Listed on Jan 21, 2017
4553 views