This item sold on April 17, 2012.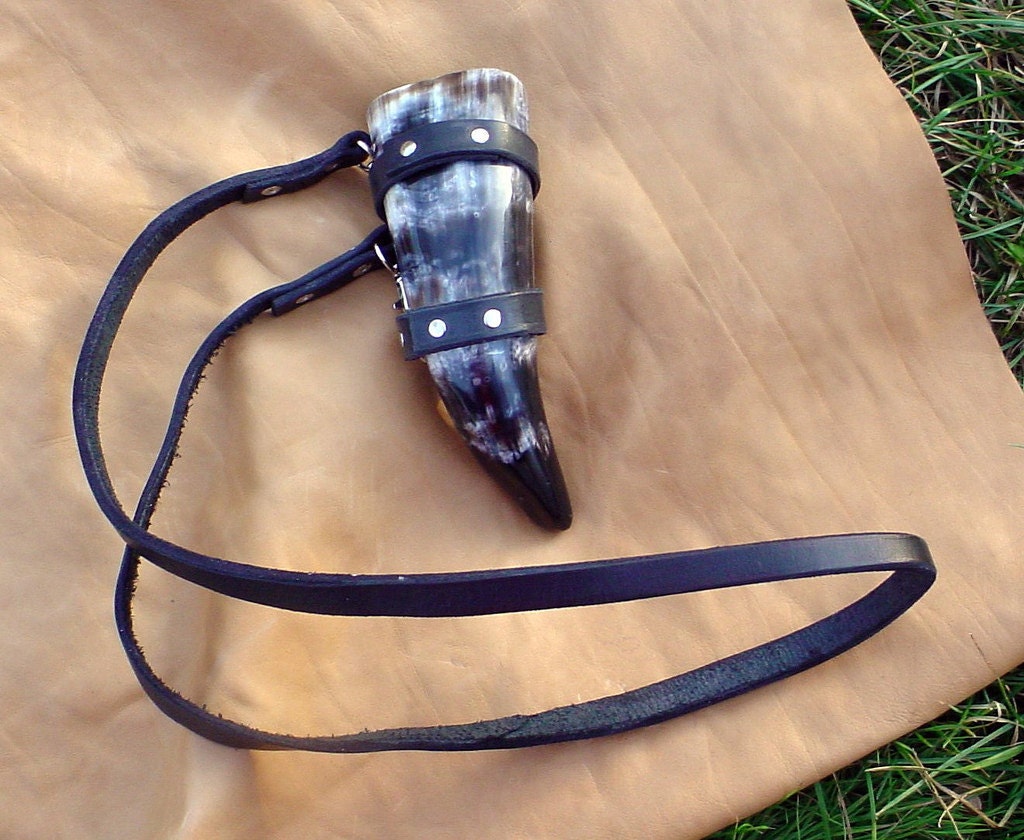 This post is reserved for Liz & Jordan. Please do not purchase this item if you are anyone else!

Features:

- Horn Type: Asian Water Buffalo
- Length (inner curve): 7 inches
- Mouth diameter (outer rim): 2 3/4 inches
- Volume :approx. 6 liquid oz
- Lined with food grade beeswax.
- Fits securely in the bindings for easy, comfortable carrying, yet can be removed & replaced with ease.

The Carrying Yoke:

Features:
- 1/2 inch wide carrying strap
- Fixed length 47 inch carrying strap
- Hand cut vegetable tanned leather carrying strap & horn bands dyed solid black. Finished with Atom Wax.
- Strap is connected to the bands by swivel snaps which allow the horn to be moved into a comfortable carrying position at all times without creating uncomfortable twists in the carrying strap.

Note: I have included photos of this drinking horn from several different view points. Please feel free to take time to view them.

Shipping costs: US Postage listed is based on estimated Parcel Post + Insurance fees. I'm usually pretty good at calculating the shipping costs before going to the post office, but in the case that costs were *less* than the estimate, I will be happy to refund the remainder or offer a credit. If you would like an estimate of shipping via Priority or Express Mail, please send me a message.

Shipping for Non-US Buyers:
If you need shipping costs for a non-US address, please message me with your location and I will add the appropriate information to the shipping profile.

PayPal is my preferred payment method. If I have not listed your location in the shipping section of this post, please send me a message with your information and I will add that information for you!

ABOUT TRUE CRAFT DRINKING HORNS
Drinking horn designs from Tue-Craft combine modern features with ancient traditions. The horn is lined with beeswax, which has been used for drinking horns since before the days of the Vikings. What you see in the photo is a high-quality drinking horn made by Pagan author & craftsman Tannin Schwartzstein. This piece comes with sturdy yet elegant removable leather bindings. This horn can be used for feasting, ritual or given as a special gift.

Just about now, you may be asking yourself what else makes my drinking horns worth your good money.

First, they have never been used. No lips have touched it. If you want to drink out of a used horn of unfamiliar origin that has been slobbered on by many unknown mouths you are a braver person than I. Second, True-Craft Genuine Drinking Horns are REALLY intended for drinking. There are many shady or ignorant dealers who sell horns intended to carry "black powder" or meant to be blown. Many of these so-called "drinking horns" with plugs in the bottoms or tops are not likely to be originally intended for beverages- these were probably made to hold gun powder. Old powder horns are likely to be contaminated with OLD GUNPOWDER RESIDUE. If you want to put that in your belly, be my guest. Drinking horns should be lined with a FOOD SAFE substance like beeswax or food grade acrylic. Powder horns and blowing horns are generally NOT lined at all, as it may interfere with their ability to keep gun powder clean and dry or make noise. Be wary of "combination" drinking and blowing horns too! Some people will boast that their horns are coated with some dubious substance they call "food grade polyurethane". Ask for the brand and the type! If there was no stamp that said "USDA SAFE FOOD GRADE" ON THE CONTAINER you are being hornswaggled! In addition, look at the carrying strap. Mine are properly attached with appropriate, good quality hardware. If you see two little eye-screws daubed with epoxy hanging off of a thong , it means the horn surface has been compromised. This *could* cause hairline fractures, or lead to tears in the horn if the hardware becomes unduly stressed.

REMEMBER: IT'S YOUR MONEY. Why waste it on inferior products when you can purchase a quality product you will be proud of for a lifetime?

The Gods deserve better. You deserve better. Anyone you'd give a drinking horn to deserves the very best!

True-Craft means quality magickal tools. Magickal tools are my full time business.
RESERVED POST Small 7 Inch black carrying strap DrINKING HoRN asatru, heathen, pagan DH-2
---