Completely handcrafted / fabricated through metalwork, in Asheville, NC. No mass production is involved. Great attention to detail, love and care is put into each handcrafted ring, making it one-of-a-kind. We love that we are crafting something very special and meaningful for you. All designs are built to last.
Width pictured: 12mm (choose between 8mm - 14mm at purchase)
*5th photo has 10mm next to a 12mm wide ring for comparison
Thickness: 2.5mm approximately
Materials: .999 Fine silver and Copper and Brass
*Materials are hand stamped along with the Maggi Designs Trademark
How to order:
If you want a handcrafted ring in this design:
*select your desired ring size and width from the drop down menu
*Please indicate the occasion, and date of the occasion
Add Custom Hand Stamping:
Want to include a custom hand stamped message on your ring? Simply add the URL below to your cart, then add the ring(s) of your choice to your cart, and purchase them together. See the stamping URL below for more details.
http://etsy.me/2aZ30Z0
Tips on sizing:
For accurate sizing, we highly recommend you have your finger sized by at least two different reputable jewelers in your area. Please be sure to tell the jewelers the ring is 'standard fit', and what 'width' your ring will be. If your ring width is 7mm or wider, have them use a wide band ring sizer. We can craft your ring to be 1/8, 1/4 or 1/2 size increments to get an exact fit. We can make your ring any size up to a size 16. If resizing is needed, we can resize your ring for a $30 resizing fee. Keep in mind, it is much better for us to resize your ring later on to be larger in size, rather than smaller in size for several reasons.
Time frame:
Please allow us 8 weeks to handcraft your ring order during the months of November – April. However, as wedding season picks up, please allow us 10 weeks to handcraft your ring order during the months of May – October. Also, feel free to Convo me if you need your ring order faster, as rush order service may be possible, although a fee will apply.
More about this ring:
This handmade wedding band is made of .999 fine silver and copper and brass. The part that touches your finger is fine silver, while the inner portion is copper and brass; since copper and brass are harder metals than fine silver, it makes the ring very strong and ensures the shape of the ring always remains intact. The way this ring is crafted makes for a very durable structure. This ring is built to last. If you are not happy with your purchase, we will work with you to ensure we get your ring exactly how you need it to be.
This ring was hammered to make it look more organic which gives it a lot more of that rustic and raw character. The ring was then hand textured, oxidized, sanded and polished to give it an antiqued finish.
Additional Information:
Please note, for any ring that has darker oxidation on it, oxidation levels and texture markings may vary from one ring to the next since it is handmade. Also note, the dark oxidation finish will eventually wear off completely, making the ring the natural color of the metals. If you ever want your ring refinished, we can do so for a $35 refinishing fee anytime.
Additionally, copper and brass will oxidize naturally to a brown patina rather quickly. Similar to the way a US penny wears. Many people love the way the copper and brass brown up, as it antiques through time. However, if you love this design, but you also love the copper and brass shade of color you see in the photos, and you want the shade of color you see in the photos to always remain that copper and brass color, simply purchase the same design from my shop using a solid 14K pink and yellow gold core. The gold will not oxidize as copper and brass will. See the silver and gold design below if you prefer gold in your ring:
http://etsy.me/2eAG4jN
Added note about silver: The difference between "fine" silver and "sterling" silver is that fine silver is 99.9% pure silver. Sterling is only 92.5% silver with the remaining 7.5% being composed of other metals, usually copper. They look the same, wear & polish the same, but fine silver is more "pure" silver.
This ring has been featured in the following treasuries:
http://www.etsy.com/treasury/MTg3OTk5ODJ8MTY4MDU4NzA3Nw/all-about-the-guy
http://www.etsy.com/treasury/NTk2NjQ4MHwxNzUwMDU1ODI5/no-cupid-no-pink-no-red-now-its-a-day
http://www.etsy.com/treasury/MTI3NDI3OTR8MTc1MjMyNzk0MQ/gift-the-one-you-love?ref=pr_treasury
http://www.etsy.com/treasury/MTI1NzAxMDV8MTc1NzEwMzEzMQ/for-the-hero-in-you-life
http://www.etsy.com/treasury/Nzc4NTcyNHwxNzg4OTI3MzU3/oh-my-mani-love-him-so
http://www.etsy.com/treasury/MTQ5MTM5NTJ8MTc5MjkxNzM4MQ/how-sweet-my-love-oh-valentine
http://www.etsy.com/treasury/MTU0MjQxMTd8MTgwOTg5MzkwNw/valentine-gifts-for-him
http://www.etsy.com/treasury/NjM1MjAyN3wxODIyMzQ0OTQx/for-him-simple-as-that
http://www.etsy.com/treasury/MTY3NjAzOTd8MTgzMjQxNzc4Mg/my-heart-belongs-to-youvalentines-day
http://www.etsy.com/treasury/MTQ3Njg3MTJ8MTgzMjkxODI1MQ/gifts-for-your-outdoorsy-man
http://www.etsy.com/treasury/MTI1MDg5NDB8MTgzNjk5NzYxNg/for-your-valentine
http://www.etsy.com/treasury/NTczMDgyOHwxODM2NjY0OTk3/valentine-gifts-for-your-man
http://www.etsy.com/treasury/MTQxMDE3OTB8MTg0OTM1MTQ1NA/man-gifts
http://www.etsy.com/treasury/MTI3NDY0NTN8MTg1NDQ3NTIxNg/gifts-for-him
http://www.etsy.com/treasury/MTcxOTkyMzJ8MTg3MTExNTk5MA/the-way-i-love-you
http://www.etsy.com/treasury/Nzc4ODY1MXwxODg2NDE2MzUz/lonely-hearts-club
http://www.etsy.com/treasury/MTAwNjU2NDN8MTg4OTU1NTk2MQ/hot-valentines-for-your-hotty
http://www.etsy.com/treasury/MTI0MzI1NDF8MTg3MjEzMzcxNw/butter-cream-and-black-licorice
http://www.etsy.com/treasury/OTQwNjgyNXwxOTAzMTEzMDQw/once-upon-a-time
http://www.etsy.com/treasury/MTQxODEyMjB8MTkwMTI4NjMzNw/valentines-day
http://www.etsy.com/treasury/ODI4NzEyMXwxOTIzMDA4ODUx/you-me
http://www.etsy.com/treasury/OTE0OTY2OXwxOTI5NDU1MDM0/his-valentine
http://www.etsy.com/treasury/ODA1MTcyM3wxOTQzMTkwNjMw/play-time
http://www.etsy.com/treasury/MTA1ODExNDd8MTk0MzUzOTU0Mw/night-light-for-valentines-day
http://www.etsy.com/treasury/MTYxMTA1NjV8MTk2NjIzODYxOQ/valentine-for-him
http://www.etsy.com/treasury/NTU0MzcyNXwxOTcwMzg3NzQ2/its-for-him
http://www.etsy.com/treasury/MTYwNjI0NTh8MTk4MTY0NTg1NA/you-are-my-dude
http://www.etsy.com/treasury/ODIyMTE5NXwxOTgxMTY0MjEz/the-man
http://www.etsy.com/treasury/MTU2NjMzNTF8MTk4MzE0MDkzMw/valentines-gifts-for-him
http://www.etsy.com/treasury/NTI0ODg2NnwxOTkwMjA3NjQ4/masculinity
http://www.etsy.com/treasury/ODg2NTQ4NHwyMDAxMTUyMDc0/valentines-for-him
http://www.etsy.com/treasury/MTY2MTU5ODZ8MTc2MjUwMzE4Mg/for-the-man-i-love
http://www.etsy.com/treasury/MTIyODc5NzF8MjEwNDgzNDcyNQ/man-cave
http://www.etsy.com/treasury/NjM1MjAyN3wyMTA5ODE3ODUw/be-my-valentine?ref=pr_treasury
http://www.etsy.com/treasury/NzIxMzgyMXwyMTExMjI1MjYy/things-i-like
http://www.etsy.com/treasury/MTgxNjMwMDJ8MjEzNTAyNTc5OQ/gifts-for-him-for-any-holiday
http://www.etsy.com/treasury/MTU0OTQ5MDR8MjE0MjExOTU5OQ/bronze-and-silver-gift-guide-for-her-for
http://www.etsy.com/treasury/MTczNzAwNDV8MjI0Mzg5Njg0MA/for-men-this-spring
http://www.etsy.com/treasury/MTgxOTgzNDR8MjM4MDkzNTc0Mw/silver-and-teal
http://www.etsy.com/treasury/MTA3NjA5fDI1MjY2MDI3MzI/heavy-metals
http://www.etsy.com/treasury/MTc0NDUzNTB8MjcyMTA0MDMzNw/pull-over-for-these-coppers
http://www.etsy.com/treasury/NzQ2Mzk2NHwyNzIzOTQ0MTU2/gifts-for-men
https://www.etsy.com/treasury/MjIxODQxNTV8MjcyNDA4OTI2OA/woodland-wedding
https://www.etsy.com/treasury/ODk1ODE5OHwyNzI0NjYyNzY5/winter-2015-trend-grunge
https://www.etsy.com/treasury/MTQ4MjczODR8MjcyNzI0NDA5OA/only-men-allowed
Learn more about the shop and process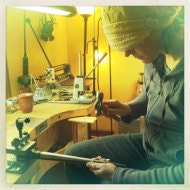 Gabrielle Maggi
mens wedding band - rustic fine silver copper and brass - handmade artisan designed wide band ring - manly ring - customized
---
Overview
Handmade item
Occasion: Wedding
Primary color: Silver
Band color: Copper
Materials:

fine silver, copper, brass, oxidation

Made to order
Ships worldwide from

United States

Feedback: 1598 reviews
Favorited by: 2318 people